Image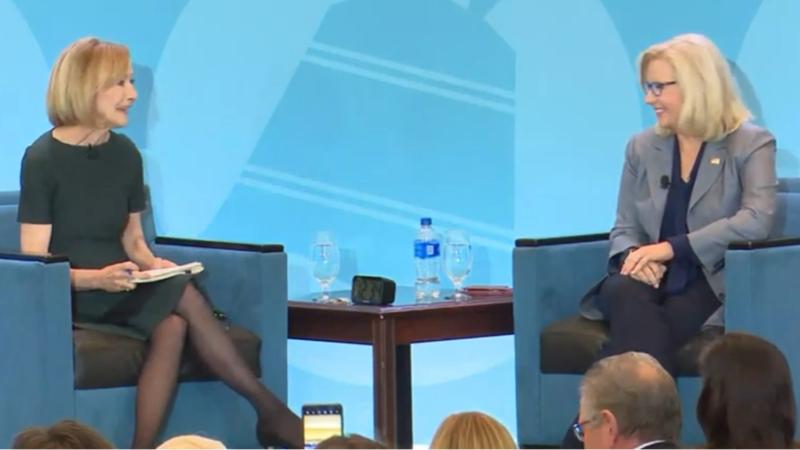 Credit: Ideastream
Republican dissident Liz Cheney speaks at CSU
U.S. Representative Liz Cheney spoke about her antipathy for former President Donald Trump ahead of Tuesday's midterm elections.
U.S. Representative Liz Cheney, a prominent Republican dissident, spoke at Cleveland State University on Nov. 1, one week ahead of Tuesday's Congressional midterm elections which could again shift the balance of power in the U.S.
PBS NewsHour anchor Judy Woodruff and the City Club of Cleveland hosted the conversation, which ranged from the Ohio senate race between Republican J.D. Vance and Democrat Rep. Tim Ryan to former President Donald Trump and the Jan. 6 committee.
Cheney, a Republican representative of Wyoming's at-large district, has been clear in her disapproval of many of the actions of Trump. She is also only one of two Republicans -- the other being Adam Kinzinger -- who was willing to sit on the January 6 House Committee investigating the attack on Congress by the former president's supporters as part of his bid to overturn the result of the 2020 election which he falsely accuses President Joe Biden of stealing.
Tuesday's midterms
When asked by Woodruff whom she preferred in the race for the U.S. Senate between Ryan and the Trump-backed Vance, her response was direct.
"I would not vote for J.D. Vance," Cheney said.
When pushed on the matter, Cheney confirmed that if she were an Ohio voter, she would vote against her own party by casting her ballot for Ryan. Cheney has endorsed two other Democratic representatives along with Ryan ahead of the midterms, the others being Abigail Spanberger in Virginia and Elissa Slotkin of Michigan.
January 6 attack on Congress
Cheney, who is the daughter of former Republican Vice President Dick Cheney, described herself in the talk as a lifelong conservative. But, in the wake of the Jan. 6 attack on the U.S. Capitol building in 2021, Cheney has shown a willingness to support some candidates of the Democratic Party as opposed to Republicans who are intertwined with former President Trump.
As the Vice Chair of the House select committee investigating the Jan. 6 protests, Cheney told Woodruff that she believes the former president, who was subpoenaed, should have to testify under oath in some manner to the committee.
"Well, the committee's in discussions with President Trump's attorneys and he has an obligation to comply," Cheney said. 
"And, you know, we treat this and take this very seriously. This is not a situation where, you know, the committee is going to put itself at the mercy of Donald Trump in terms of, you know, his efforts to create a circus," she continued. "You can look back, for example, at his first debate against Joe Biden and then, you know, what that devolved into. And we believe these matters are very serious."
Cheney said the committee is yet to determine the exact process for questioning the former president.
"We haven't made determinations about the format itself, but it will be done under oath," Cheney said. "It'll be done potentially over multiple days. We have significant questions based on the evidence that we've developed. And as I said, what we know already about the extent to which he was personally and directly involved in every aspect of this effort."
During the committee's public hearings earlier this year, Cheney accused Trump of fomenting the attack.
"President Trump summoned a violent mob," Cheney said on June 9. "When a president fails to take the steps necessary to preserve our union — or worse, causes a constitutional crisis — we're in a moment of maximum danger for our republic."
Committee chair Bernie Thompson, a Democrat, went further during the hearings, calling it an attempt to overthrow the government. 
"Jan. 6 was the culmination of an attempted coup," Thompson said. "The violence was no accident."
On Biden's presidency 
When asked about the state of the country under President Joe Biden, Cheney said that she agreed with the U.S. in its support of Ukraine, but shared criticism of how the country's southern border with Mexico and immigration has been handled.
"We do not have control of our borders," Cheney said. "And we need to have border security so that we can make sure that our immigration system, that our legal immigration system works. We need to stop illegal immigration. But we also need to recognize and remember that we should be very proud that people want to come to this nation and that's a huge strength of this country."
Possible run for the U.S. presidency?
Cheney's criticism of Trump and his allies over the Jan. 6 attack has made her a pariah amongst that part of the Republican Party wedded to the 45th president's politics and ideology. The Republican leadership in May removed her as chair of the House Republican Conference, the No. 3 position in the party.
When questioned by Woodruff towards the end of the discussion about her future, Cheney made no commitment about a potential presidential run in 2024.
In August this year, she told NBC, "I will be doing whatever it takes to keep Donald Trump out of the Oval Office." She added then that she was thinking of running for president and would "make a decision in the coming months."