Image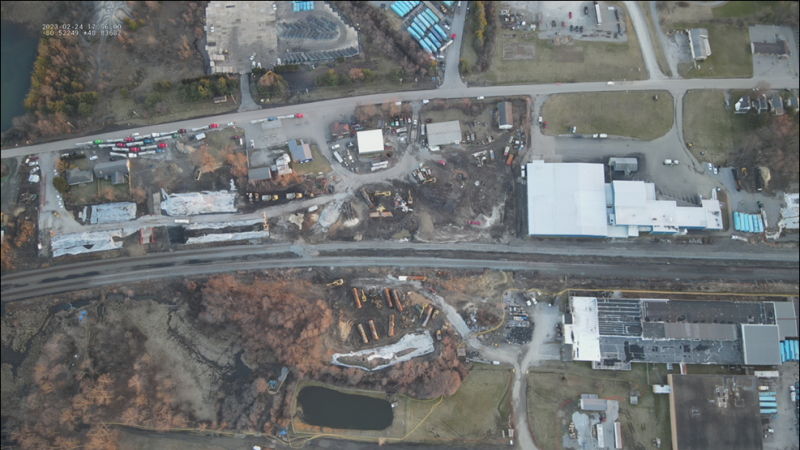 Credit: Ohio.gov
Railroad to recovery? The East Palestine disaster
Two months after the Norfolk Southern train derailment in East Palestine there is still crucial information up in the air, literally...
On February 3, a Norfolk Southern train jumped the tracks in East Palestine, Ohio. Thirty-eight cars derailed, including 11 which contained hazardous materials. Nearly 5000 residents were evacuated and clean up crews conducted a controlled burn which released harmful chemicals into the air.
Jerald Brain is a CSU student whose family lives in Columbiana County, only a few miles away from the site of the disaster. More than two months after the crash many questions remain unanswered, and residents fear they may go unanswered for years.
"I live about, you know, as the crow flies, maybe 12 miles away from the derailment," Brain said. "There's a pretty grave concern about the future of this county and everything that's going on with it, especially, you know, water and air is a big issue for our family."
Brain is one of the many Ohio residents affected by the East Palestine derailment who are still looking for answers, including to the possibility of cancers that could take years to present after initial exposure to the cause.
The immediate aftermath of the Feb. 3 crash is still being investigated. Ohio Attorney General Dave Yost recently said that Norfolk Southern has hired statewide businesses to do the cleanup, which could take two years to complete.
Put simply, residents in the areas could be at risk of exposure to dangerous chemicals released in the incident long after it's no longer in the news, and they might not know for many years after that whether and how those chemicals might affect them.
Pictures of Ohio Governor Mike DeWine drinking a glass of water on the news during a visit to East Palestine after the disaster have not allayed the concerns of people from the area.
Ohio Gov. Mike DeWine, left, Rep. Bill Johnson of Ohio, center, and Michael Regan, the head of the U.S. Environmental Protection Agency,
drink tap water in East Palestine Feb. 21, 2023 in an attempt to show it's safe. (credit: WKYC Channel 3 Youtube)
"The issue I kind of have with that is, sure, it's one glass of water, but people don't just live off one glass of water in this town," Brain said. "They feed their livestock, they water their crops with it, so it's definitely a concern."
The state of Ohio and the federal government have sued Norfolk Southern over the disaster, seeking full restitution from the railroad for the damage to the environment and cost of long term monitoring of groundwater and soil.
The suits come even as the government says testing to date has not found dangerous levels of chemicals in the air or water in the area. But residents remained concerned that long-term this could change. 
"I just really encourage everyone in this county and the surrounding areas, Beaver County, Pennsylvania as well, just get a health check, get a baseline for where you're at, because we don't know what the situation is going to unfold in 10, 15, 20 years," Brain said.