Image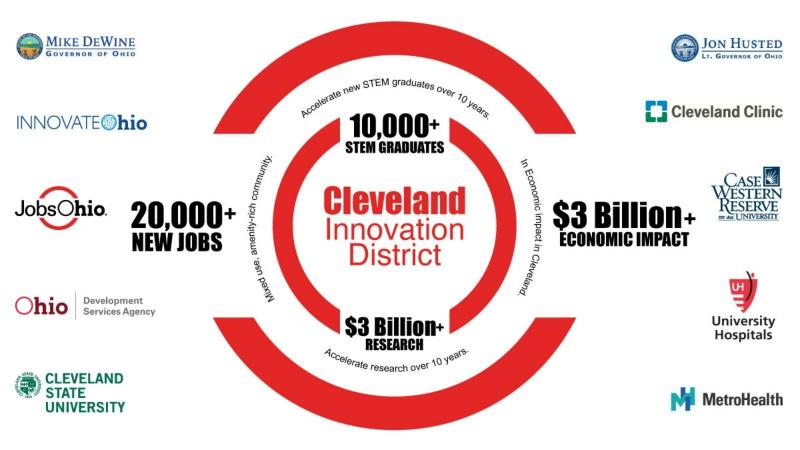 Cleveland State University
President Sands talks COVID-19, the Cleveland Innovation District in Virtual Town Hall
Cleveland State University President Harlan Sands on Jan. 27 held the first Virtual Town Hall of the Spring 2021 semester, covering COVID-19, updating the CSU community on the current academic semester, and more.
Sands opened the session on Facebook Live by discussing the recent $535 million investment in the Cleveland Innovation District, earlier announced by Ohio's Governor Mike Dewine and Lt. Governor Jon Husted.
Sands said CSU's role in the Cleveland Innovation District would focus on:
Recruiting and educating talent for careers in healthcare, emerging technologies, life sciences, and data-intensive fields

Taking the existing pathways to degrees and expanding them

Creating new opportunities for students and  providing them with a healthy amount of co-ops and internships
"We are the public research institution partner -- that is Cleveland State's responsibility," Sands said. "We are going to take it very seriously and use it to launch what we know is going to be a successful Cleveland Innovation District that is going to set us apart from any other Innovation Districts in other cities."
Sands was joined by Forrest Faison, MD, the university's Senior Vice President for Research & Innovation and Chief Healthcare Strategy Officer, to go over how the university is faring in the COVID-19 pandemic. 
Faison praised the university and its students for following all of the health and safety protocols during the Fall 2020 semester, which he believes is the reason why CSU had zero outbreaks.
Faison said that the school has expanded testing to everyone in the residence halls and to student-athletes, and is currently in the process of expanding testing to an even greater number of people on campus.
Faison also encouraged students, faculty, and staff to continue wearing their masks correctly, washing their hands, and completing the Daily Health Assessment before coming onto campus.
Faison turned the session back to Sands and announced that the Lift Up Vikes Emergency Grant program is back this semester. 
"We told you all that we would have another round of emergency grants for students, and we are there," Sands said. 
The application portal for the grant was scheduled to open on CampusNet on Feb. 3. 
Anyone who is registered as a degree-seeking student for the Spring 2021 semester with a FAFSA on file is eligible for an emergency grant.
The funds can go toward textbooks, tuition bill assistance, housing, food, technology and more.
Sands also announced that the Pass/Fail option will be available once again this semester, but only for undergraduate and graduate courses (excluding Law). 
Similar to last semester, undergraduate students must earn a "C" or higher in the course, or a "B" or higher for graduate students, to qualify for the "Pass" grading.
Students will be able to see their grades before choosing the Pass/Fail option. 
The selection deadline for all students is May 14.
CSU's athletes were also highlighted during the Virtual Town Hall for their accomplishments during the Fall 2020 semester:
All 18 CSU Varsity Programs had an average GPA of at least 3.0

The Men's Basketball Team is at the top of the Horizon League after being picked to finish 7th
Sands closed off the Virtual Town Hall by highlighting a few accomplishments among the CSU community:
Alex Luisi, CSU Care Manager, was named Outstanding New Professional

The Vikes Care Management Team won the Creative Collaboration: Institutional Impact Award

CSU students San

L

ý

and Andres Portocarrero Bonifaz spoke at the 30th Martin Luther King, Jr. Celebration on Jan. 19
He also reminded everyone that Wednesday, March 10 and Thursday, April 8 are reading days, when all classes will be canceled. The reading days were implemented to replace Spring Break, which was moved to January to better protect students, staff, and faculty during the COVID-19 crisis. 
President Sands will host the next Virtual Town Hall on Feb. 10 at 1:00 p.m on Facebook.
You can find a recording of the Jan. 27 Virtual Town Hall here.