Image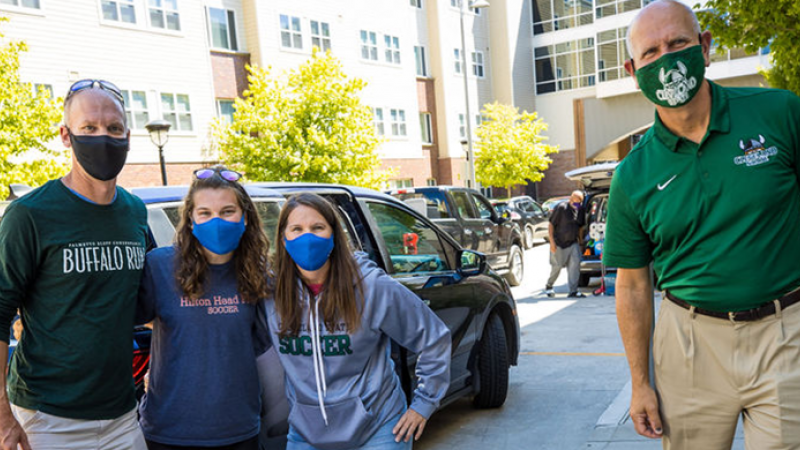 Credit: Brian Hart / BThomasHart Photography
President Sands shares personal experiences from Corona pandemic
The Coronavirus has taken many lives and presented universities and society with many challenges they haven't had to face before. Leadership plays a major role in confronting these new obstacles and developing workable solutions that sustain the institution while overcoming the difficulties.
Cleveland State University President Harlan Sands has implemented several strategies to motivate and lead the Cleveland State community through this pandemic. Even as his personal life has been altered, he is still able to encourage and guide the institution. 
"Like everyone, I have been adjusting to working from home and working remotely, and it's gone really well," Sands said. "I have two teenagers at home with me, and a college freshman who would much rather be in college with his classmates." 
Sands said he enjoys spending time with his family. He mentions the moments where they just want to go, but understand the importance of staying in.  
"I think that if there is any silver lining to this pandemic," Sands said, "it's the fact that my wife and I have had more time to spend with our boys." 
Sands noted the sum of his life experiences prepared him for life as the president of the university and that working with a team has also helped him make decisions as a leader. 
"I am fortunate enough to have a network of advisors and colleagues that help me think things through," he said, adding that during these times, it's important to make good decisions and keep focused on basic principles.
"For me, those principles are thoughtfulness, analysis and decisiveness," Sands said.
During this crisis, he said, he has had to make decisions on a quicker timetable than he usually would. With the advice from his council, he feels confident in the ability to get through the pandemic as a unit.
"I have been incredibly impressed with the amount of support that I have gotten from students, faculty, staff, trustees and the community who are steering the course for Cleveland State," he said. 
Sands is also a member of several groups of university presidents that meet to discuss topics concerning their respective universities. One of his groups, the Urban Serving Universities, is a subcomponent of the Association of Public Land-grant Universities. Composed of 13 presidents, the group meets on a regular basis. Another of his groups, the Inter-University Council, meets twice a week or more to talk about issues that are common among the universities and how to think through them. 
Sands said his aim is to keep students engaged and support them in any way that he is able.