Image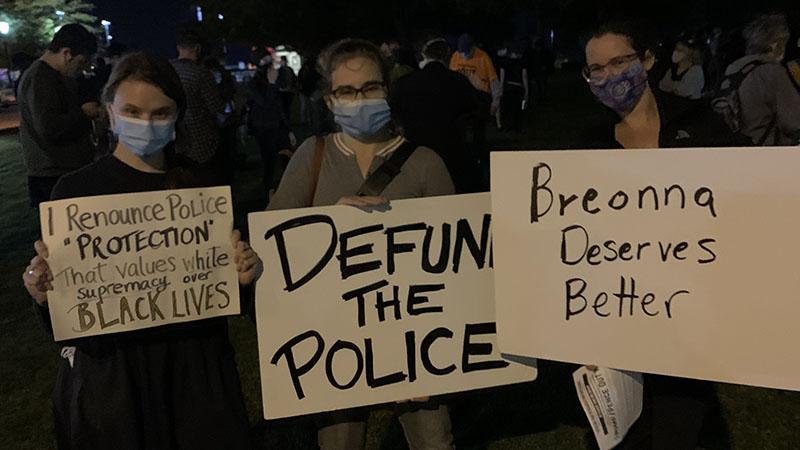 Credit: Aurora Harris
Peaceful protesters gather at Cleveland Justice Center in honor of Breonna Taylor
The grand jury's decision in the death of Breonna Taylor was cause for peaceful protest downtown.
People gathered at the Free Stamp in Downtown Cleveland on Wednesday, Sept. 23, to peacefully protest after a Kentucky grand jury declined to charge officers in the fatal shooting of Breonna Taylor.
Former Louisville, Kentucky police officer Brett Hankison was charged on three counts of wanton endangerment, and the city of Louisville will pay out $12 million to the estate of Breonna Taylor and has committed to police reforms. The grand jury did not indict either of the other two police officers involved in the shooting that resulted in Taylor's death.
"Black women need more protection," one 21-year-old woman said at Wednesday's protest in Cleveland. "Breonna Taylor deserves justice."
People voicing their disapproval of the verdicts chanted "no justice, no peace" at the Justice Center, holding signs that read, "Breonna deserves better."
The death of the 26-year-old Black woman on March 13 ignited protests that were further inflamed with the death of George Floyd on May 25, when he became the new face of police brutality against Black people in America.
Floyd was killed by Minneapolis police during an arrest for allegedly using a counterfeit $20 bill. Police officer Derek Chauvin knelt on Floyd's neck for eight minutes and 46 seconds.
Supporters of Black Lives Matter at Wednesday's protest in Cleveland plan to attend the presidential debate in the city on Sept. 29 at the Health Education Campus of Case Western Reserve University to continue to make their voices heard.
"Everyone needs to come to our protest at the election," one 20-year-old man said. "Our voices need to be heard and Breonna's name will not be forgotten."