Image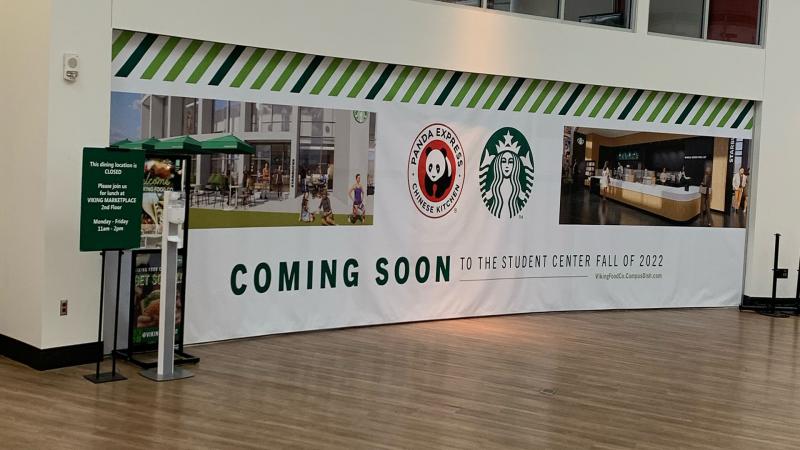 Credit: Kaylee Catalano
New dining options are coming to CSU in fall 2022
Nicholas Vande Velde, executive director of housing and dining services at CSU, explained the new dining options coming to campus.
Cleveland State University is getting new dining options in fall 2022.
Nicholas Vande Velde, Cleveland State's executive director of housing and dining services provided some details.
"Long-term, we hope that there will be more than one food location (in the old Chili's). It's the last area for us to finish developing," said Vande Velde said. "We're working diligently to develop that space because it has a lot of seating for students to dine."
He also said CSU was planning to remove the bar from the space Chili's was in and put it in the Viking Public House, which will be on Euclid Avenue where Burgers 2 Beers was located, in order to create a student pub area.
"We are going to turn it into a student spot where they can come, interact and have a drink," he said.
Removing the bar from the Student Center also allows for additional space for more food options in the future. However, as of now, CSU is keeping those options open for further expansion as the university has plans to bring additional housing to campus. 
"As we identify where housing will be, then we should decide where we put additional dining," Vande Velde said. If the new housing is more centrally located, CSU plans on putting at least two dining options in the space Chili's occupied. If not, it will likely only put one dining option in this space.
Panda Express will go into the location of Grille Works, on the same floor as Hissho Sushi.
A Starbucks will replace Viking Grounds, with remodeling making for a more comfortable seating area for students. 
The last official dining option on the list, Barrio, will be going in where CSU's Papa Johns is currently located.
And it's not just new names coming to campus, but new options at the dining locations already on campus. 
Vande Velde said that a survey of 1,100 students indicated that an expanded Asia focus on the menu was top of the food wishlist.
"We are hoping to keep our current sushi provider, Hissho, but with a deeper assortment," Vande Velde said. "We've asked them to add a pho or ramen option — something we don't have on campus."
Vande Velde also outlined plans for an artificial intelligence (AI) store for campus.
"We started the process of getting the first artificial intelligence store on campus," he said. "It will end up on the east end of Euclid, by housing. That will go in as fast as it can be built, and the goal is to have it open some time in 2023."
This AI store is similar to an Amazon store. To shop there, students will need to make an account with the store on their phone. They will be charged for any items they grab as they exit the store.
Lastly, Vande Velde announced that CSU will soon get its own food truck. 
"The food truck will come online at some point this month. We are just waiting for it to be delivered. It's built and ready."
The food truck is going to be an extension of the Viking Public House menu.
As the campus continues to grow and develop, Vande Velde said CSU plans to open an additional dining hall at some point in the future to meet students needs.