Image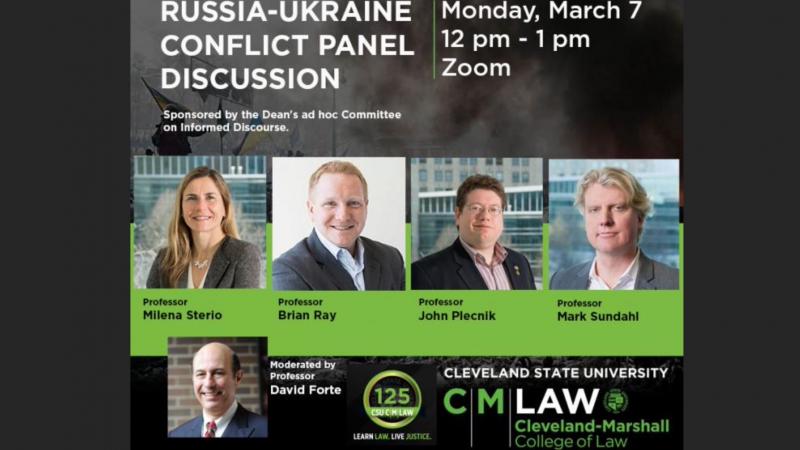 Credit: Cleveland-Marshall College of Law
Law professors explain CSU's position on Russia's invasion of Ukraine
The Cleveland-Marshall College of Law organized a symposium after the university condemned the invasion, noting -- in a city that is home to more than 25,000 people of Ukrainian descent -- that "we are all Ukrainians."
"There should be no doubt that we stand in solidarity with our Ukrainian American friends and all the people of Ukraine," said Lee Fisher, dean of CSU's law school, on the morning of a symposium on international law the Cleveland-Marshall College of Law organized after Russia's Feb. 24 invasion of its neighbor.
The March 7 panel discussion at Cleveland State featured several CSU law professors and was organized after the university publicly backed Ukraine in the ongoing conflict.
"Cleveland State University joins the higher education community in condemning the invasion and standing with the people of Ukraine and its academic community," Cleveland State's President Harlan Sands told the university community in an email on March 1. 
"The greater Cleveland metropolitan area is home to more than 25,000 Ukrainians – one of the largest Ukrainian communities in the state – and we know the war is being deeply felt in this part of our community."
Since the attack, Russian President Vladimir Putin has continued his aggression, bombing cities and killing innocent civilians in what Putin calls the "denazification" of Ukraine, a rationale condemned almost universally.
A month after the Russian president ordered his forces into Ukraine, the conflict rages on as Ukraine's President Volodymyr Zelenskiy continues to lead a defiant and outgunned resistance with little support beyond sanctions, arms supplies and the outrage of much of the international community.
Present for the symposium were professors John Plecnik, Brian Ray, Milena Sterio,Mark Sundahl and Professor David Forte as moderator.
Professor Sterio opened the discussion with a summary of Russia's attack on Ukraine, suggesting that some of Putin's reasons for using force should be closely examined. 
Key to Putin's rationale for the attack was the Minsk Protocol, drafted by Russia and Ukraine in 2014 to end war in the Donbas and Luhansk regions of Ukraine.
"Putin has now claimed that those protocols have never been implemented and that they are invalid," Sterio said.  "Under international law, just as a brief parenthesis, that is not a valid argument," she continued. "Just because a treaty has not been properly implemented, does not somehow signify that (such a treaty) is invalid." 
Sterio did acknowledge, however, that Russia had complained for years about NATO's move eastward following the collapse of the Soviet Union in 1991.
"And last but not least, Putin has, for years, complained about the threat of a NATO expansion," Sterio said.
As NATO had negotiated with Russian leadership throughout the 1990s for the organization to refrain from expanding east, it has become clear that Russia's wishes were not fulfilled. Poland, Romania and the Czeck Republic have been members of NATO for over a decade. 
However, Russia's annexation of Ukraine's Crimea in 2014 was of particular concern to NATO and Ukraine's supporters.
The second speaker to enter the discussion was professor John Plecnik.
"I know that every member of our faculty joins the president of CSU in standing with and praying for the people of Ukraine," Plecnik said, reiterating the law school's solidarity with Ukraine in the attacks.
While NATO countries have not yet intervened with military use, Plecnik addressed the many financial sanctions that have been placed on Russia, in defense of Ukraine. 
"These financial sanctions actually date back to 2014," Plecnik said. "Professor Sterio referenced the invasion of Crimea. There actually were more targeted, less serious financial sanctions, going back to Crimea in 2014. They were mostly export restrictions, targeted industries such as military and technology, and sectoral sanctions." 
Sectoral sanctions only affect a certain geographic region, according to Plecnik, as he addressed the long history of sanctions against Russia.

He said the main concern of Putin and some of Russia's wealthiest people, known as "oligarchs," is the 6-billion dollars that have been affected by sanctions. However, the main reason Russia's largest bank, Sberbank, has not yet been "fully-blocked" is due to Europe's dependence on Russian energy exports.
The U.S. banned energy imports from Russia on March 8. But for Europe, which is extremely dependent on Russian gas and oil, delinking from its eastern supplier will be much more difficult. 
Cyberwar
Professor Brian Ray addressed the issue of cyber war and "netwar."
Ray said the prediction that Putin would launch cyberattacks against Ukraine has not yet played out according to the expectations of analysts.
"It didn't happen, and it hasn't happened yet," Ray said. "No one's really sure (why not) and it came as a surprise. Initially, the thinking was that Russia was potentially trying to preserve the communication infrastructure within Ukraine, in order to maintain their own assets." 
Russia has now began to "use bombs" to take down the communications networking of Ukraine, instead of threatening with a hands-off approach. 
What is unknown though, Ray said, is whether Russia is somehow still maintaining an assault against Ukraine's communications without using military force. 
Space Infrastructure
Dr. Mark Sundahl provided context from a space law point of view. 
"I will assume that everyone understands that all of civil society relies on space infrastructure, or telecommunications," Sundahl said. "And also the military. This includes the Russian and Ukrainian military relying on satellites for communication, logistics, navigation, missile guidance, surveillance, and the satellites providing these services are currently being used by both sides." 
Sundahl noted that Ukraine has asked U.S. remote sensing companies for photographs of Russian engagement in the conflict. 
In the case of satellites being targeted by kinetic or electromagnetic weapons, it is already being done, Sundahl said. And Russia threatening to pull out of the International Space Station has left many wondering what Moscow's next steps would be should it follow through on its threat.
"Elon Musk, founder of SpaceX, stepped up and said that he would be glad to replace the Russian modules to keep the space station in orbit," Sundahl added. 
As the war enters its second month, Putin's objectives remain unclear, while Ukraine's resilience has been unexpected.
What is certain is that CSU stands with Ukraine and condemns the actions of Russian President Vladimir Putin.