Image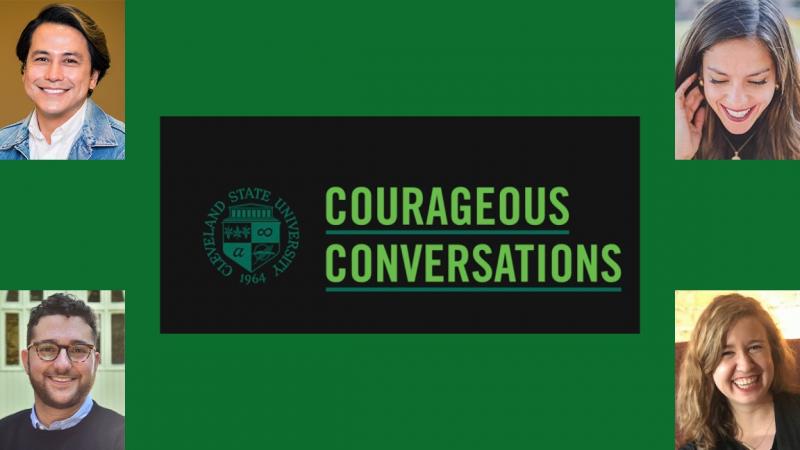 Credit: Cleveland State University
Invisible disabilities are more impactful than we can see
CSU graduate student Luis Gomez moderated the last "Courageous Conversations" panel of the semester, which covered invisible disabilities with the company of others who live with them.
Luis Gomez is a graduate student at Cleveland State University who intends to seek a career helping others, even when those persons to the casual observer don't look as if they need help. 
Working on his Masters of Social Work and interning at CSU's Office of Disabilities and Testing Services, Gomez moderated the last of the semester's "Courageous Conversations" speaker series, on the topic of invisible disabilities.
"The Americans with Disabilities Act (ADA) describes a disability as a mental health or physical condition that causes considerable impairment when performing major life activities," Gomez said.
An invisible disability falls into this category, but is often not readily apparent, sometimes even to those living with them.
The World Health Organization (WHO) estimates that over six billion people worldwide have a disability.
"It is hard to conceptualize what we can't see," Gomez said of the category of invisible disabilities.
Some of them listed during the panel included learning differences, deafness, autism, prosthetics, traumatic brain injury, bi-polarism, post-traumatic stress disorder, depression, anxiety, diabetes, attention deficits, fibromyalgia, arthritis, sleep disorders, Crohn's disease, epilepsy, multiple sclerosis and cystic fibrosis. 
Official recognition of disabilities like these is one thing. But as the moderator pointed out, that often doesn't make it any easier for people, especially young people, to get the support they deserve, or even go public about their condition.
Panelist Amy Bitebit Washington, explained how social stigma undermined her self-confidence.  
Washington is the Executive Director of the Crohn's and Colitis Foundation. She oversees the organization's Northern Ohio chapter, and she lives with Crohn's as part of her daily life. 
"One in 100 people are affected by Crohn's disease or ulcerative colitis," Washington said. "Even though you may not have it, you probably know somebody that has one of these two diseases." 
Washington described her personal experience with Crohn's, a type of inflammatory bowel disease, that was diagnosed 10 years ago.
"When I was diagnosed, I did not know anybody that had Crohn's disease or Colitis," Washingtown said. "I sort of pretended like I didn't have it. It was one of those situations where I felt like if I pretended it wasn't there, it would go away. And probably about a year into my diagnosis, I started to feel pretty symptomatic, and eventually needed to go on medication." 
Washington felt isolated, her medication had side effects and she was anxious.
Washington began therapy and was eventually introduced to the Crohn's and Colitis Foundation where she now works. She says she is more comfortable in an environment where people know what she has gone through. 
Another panelist was Benjamin Zimmer, a licensed independent marriage and family therapist and co-owner of Larchmere Center for Well-Being. 
"My invisible disability is panic disorder," Zimmer said. "I was raised in a very culturally Jewish environment where neuroses and being anxious is kind of a part of the gig. So I don't think that I really understood that it was something okay to name that I was struggling with." 
As a therapist, Zimmer spends much of his time helping others get through similar things to what he has undergone in his own life. 
The final speaker, Sydney Bauer, is an CSU Office of Disability Services (ODS) specialist and part-time instructor who also finds her career aligning with her own invisible disability. 
"The one that I figured about at first is called Chiari malformation," Bauer said. Chiari malformation is a condition in which brain tissue extends into the spinal canal. "Basically it squishes itself down somewhere it really shouldn't be and causes a slew of side effects." Bauer also learned that she has ADHD, something that society did not recognize when she was a child in the 1990s.
"I also work more on the mental health side in my role at ODS," Bauer said. "So, I teach a course with all students who have either accommodations or identify as a hybrid-student either by counseling or ODS. And then I also work consultatively through ODS to provide one-on-one support from occupational basis plans for students." 
After each speaker told their story, they discussed how they managed their invisible disability. 
Being transparent at work is what has been helpful to Washington, as she did not seek formal accommodations. 
"Just knowing that (I had support) if I needed to leave work early or not come in because I did one of my injection shots and it made me not feel well," was helpful Washington said. 
For Bauer, accommodations were not an option for her from primary school through to joining the workforce. 
"I was in a really high-stress, acute care environment and I was getting written up for missing work because I was so tired all the time," Bauer said. "I would throw myself in and get really engaged, then I would basically just crash and burn." 
Because of her inability to energize, Bauer was given extended amounts of time off by her doctor. At first she didn't like the approach, but she now realizes that it is a relief that she needs. 
Much of what each speaker does with their time professionally has intersected in a positive way with their own invisible disabilities. 
Although it may not seem like they, and many others, have something going on, it is important to remember that what may not be visible is often the hardest challenge in a person's life. 
For more information on invisible disabilities, visit: https://invisibledisabilities.org/what-is-an-invisible-disability/