Image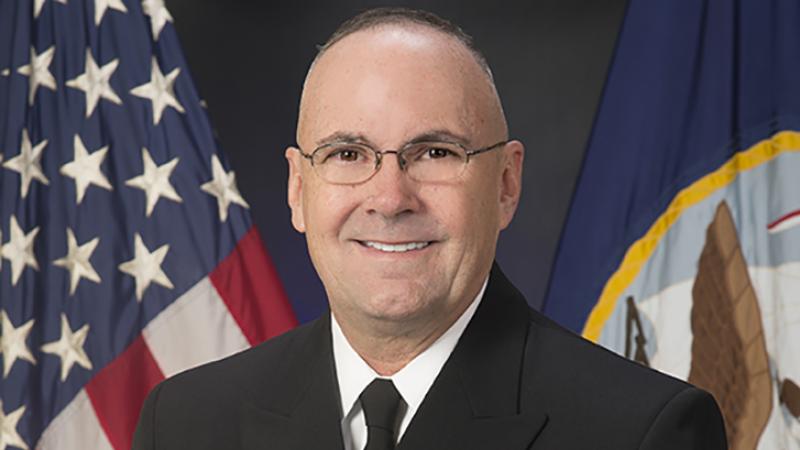 Photo courtesy of Dr. Forrest Faison III
Dr. Forrest Faison III discusses pandemic response
What an extraordinary time for Dr. Forrest Faison III to begin his tenure as Cleveland State University's chief healthcare strategy officer and vice president of research and innovation.
The recently retired vice admiral may have thought his retirement from the U.S. Navy would bring an opportunity to slow down, relax and spend more time with his family after a 39-year career.
Faison surely got the chance to spend more time at home with his family, but these first two months in Cleveland have been anything but slow and relaxing.
"I tell people, 'Sometimes, God plans your life differently than you do,' and that's pretty true here," he said with a laugh. "There's been some long days, but it has been very rewarding."
Faison arrived at Cleveland State on March 2 as the coronavirus pandemic began to take hold in the United States and Cuyahoga County confirmed its first cases. The timing could not have been better for the university; President Harlan Sands put him to work right away.
"President Sands knew I had experience in pandemic response and complex operations," Faison said, "so he asked me to lead the team that would put that together, which is pretty much what I've done since I've been here." 
The task was tall for a first day, but Faison's previous experience coordinating responses to pandemics such as Ebola, Zika, SARS and MERS had prepared him, and he said he felt comfortable leading the charge.
One key difference between those previous outbreaks and the current COVID-19 pandemic, Faison explained, is the base of knowledge lacking within the scientific community about the behavior of SARS-CoV-2, the novel coronavirus which causes COVID-19.  
"We have been very lucky because it hasn't mutated, which makes it a little bit easier to develop a vaccine," he said. "But there's just so much that we don't know about this virus yet, and that's been frustrating."
According to Faison, that lack of knowledge leads to the second unique challenge presented by the coronavirus pandemic — fear.
"Fear manifests in a lot of different ways," he said. "Because we don't know a lot, we've had to respond with something that I've never seen in my lifetime, which is this quarantine."
"The last time our country did this was the Spanish Flu of 1918 — that's 100 years since we've been quarantined," he continued. "When you do that to people, it creates fear. Fear of getting sick, fear of losing your job, etc."
Faison explained that one of his main focuses has been combatting that fear with effective communication in the way of weekly town halls with President Sands and remote learning email updates.
"You can never communicate too much," he said. "When I talk to other organizations that are not doing that, it's hard for them to combat fear. Communication is the tool you use to combat fear." 
Moving Forward
Whether it will be in the summer or in the fall, students will eventually return to downtown Cleveland and resume classes at Cleveland State. Faison said that return is rife with opportunity for the university, but also poses its fair share of challenges.
As Faison plans a return to campus — which, he notes, is quite a bit harder than leaving  — that same lack of scientific knowledge poses a significant challenge in establishing procedures which allow in-person instruction to continue without putting students and faculty at risk.
"We are talking about what role testing plays," he explained. "Since we don't know whether or not the antibodies confer permanent immunity; who do you test and how often do you test them? Those are the unknowns we are working through with this virus."
According to Faison, Cleveland State's efforts to coordinate a safe return to normal operations will be used as a model for the several surrounding public universities in Ohio.  
"The state has asked us to take the lead in doing the exact same thing for the other public universities in the state," he said. "Whether you go to Bowling Green, Kent State or Cleveland State, the things we're thinking about doing to keep the campus safe will be the same, which makes sense."
After students, staff and faculty do return, Faison said the lessons learned throughout the COVID-19 pandemic response will present opportunities that "are going to change the face of how college is done."
"A lot of our students work, a lot of students want to spend time with their families," he said. "Why not do those courses asynchronously and allow students to fit those courses into their lives instead of the other way around?"
However, Faison said the recent shift to remote learning also served to highlight the positive aspects of in-person instruction and life on a university campus.
"There's real value in coming to class; there's real value in coming to the campus because that's where you'll have those social interactions and make contacts for the future," he explained. "We want to preserve those important aspects but also take advantage of better ways to educate our students and prepare them for life."
Faison added that he sees the recent influx in unemployed Ohioans as presenting Cleveland State with an opportunity to focus on adult learners and certificate programs to help workers prepare for a new career.
After the lockdown does end and normal operations resume at the university, Faison said he is looking forward to interacting with students and placing Cleveland State at the forefront of medical innovation in the country.
"Healthcare is undergoing an incredible transformation in our country right now," he said. "Cleveland is a city that is trying to grow, attract industry and keep its people healthy. There are a lot of challenges in that, and Cleveland State is in an amazing position to help deal with those."
Faison went on to explain his plans to build out health education programs to open new career paths for students while using the university's practice of engaged learning to have those students providing healthcare in their communities.
In the meantime, Faison said his experience with pandemics tells him that this, too, will pass. He encourages students to keep looking ahead and not lose sight of why they came to Cleveland State in the first place.
"Keep focused on the future," he said. "Life is a one-time good deal, and just because we have a short-term issue here, doesn't mean it should derail or delay your future."