Image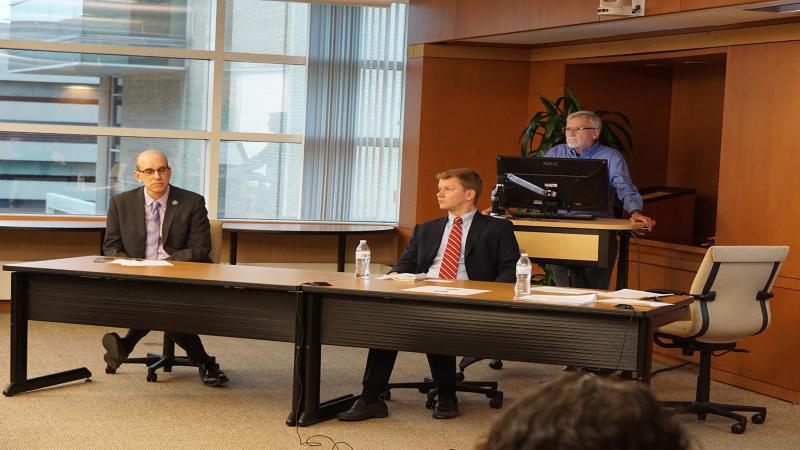 Credit: John Jirik
'Dobbs, Deniers, & Democracy' panel dissects US midterms
CSU's Prof. Edward Horowitz, Ph.D., hosted the panel of political and media experts who discussed the Nov. 8 midterms, their impact on Ohio and U.S. politics in general.
A panel discussion at Cleveland State University on Nov. 15 entitled "Dobbs, Deniers & Democracy" dissected the Nov. 8 U.S. midterm elections with a focus on Ohio, and heard how the state elections and national politics intersect and diverge.
The Levin College of Public Affairs and Education hosted the event, which Edward Horowitz, Ph.D., an associate professor in the School of Communications at CSU, chaired. Joining Horowitz on the panel was Mark Salling, Ph.D., senior fellow and research associate in the Levin College at CSU, Glenn Forbes, supervising producer for newscasts at WKSU, Ideastream Public Media, and Morgan Trau, Ohio Statehouse reporter for News 5 Cleveland.
The four experts discussed how the midterm election results could affect the political climate of the U.S. and Ohio, what former President Trump's reelection campaign could mean for the Republican 2024 primaries and how gerrymandering likely impacted the midterm outcome in Ohio.
The first item on the agenda -- Trump announcing his reelection campaign -- was opened with remarks from Salling. He explained that only Trump understands why he announced his campaign for 2024 so early.
Forbes suggested that Trump may be trying to get ahead of Florida Gov. Ron DeSantis for the Republican primaries. Trau agreed with this theory, with both saying they think the Republican primaries will come down to a battle between the former president and Florida's governor. 
"There's a lot of popular support for a new wave of candidates in both parties," Forbes said. "But certainly, there's a large segment of the Republican Party that does not want this battle. They would rather see Trump give DeSantis his blessing and move on from there." 
Caption: Members of the CSU student body, staff and faculty attended the political discussion. (John Jirik) 
Following the discussion of Trump's reelection campaign came the future of Ohio's political climate and how gerrymandered districts play a large role. 
Gerrymandering is the practice in which a political party draws electoral district boundaries to favor itself. 
Trau explained that there were no toss-up Republican seats in the state government, allowing the Republican supermajority to remain intact largely due to Republican gerrymandering of districts in Ohio.
Salling supported Trau's comment, adding that the "percentage difference" between Republican and Democrat voters was not as large as many people think. 
 "When you introduce redistricting, it means that the Republican majority is really strong in a large number of the districts and the Democrats are strong in a limited number of districts and as a result you get a Republican dominated legislature," Salling said. 
The discussion of redistricting and gerrymandering comes comes despite a referendum in 2015 in which Ohioans called for a fairer set of electoral boundaries. The Brennan Center for Justice at the time described the Ohio electoral maps "as among the most gerrymandered in the nation." The Ohio Supreme Court has since thrown out attempts by a Republican-controlled commission and Republican-dominated state assembly to further tilt electoral maps in the GOP's favor.
The future of politics, including abortion in Ohio was another major topic of discussion for the panel. 
The Supreme Court case Dobbs v. Jackson Women's Health Organization (2022), which overturned Roe v. Wade (1973) and shifted abortion access to states, was a large part of what drew voters to the polls on Nov. 8.
Ohio's heartbeat bill -- which bans abortion in Ohio after the first fetal heartbeat is detected, as early as six weeks into a pregnancy -- was passed before the Supreme Court decision removing a woman's constitutional right to abortion. Ohio's Attorney General Dave Yost, a Republican, announced June 24, the day the conservative-dominated court overturned Roe, that the state's heartbeat bill "is now the law."
Trau told the audience that when she interviewed Ohio's reelected Gov. Mike DeWine, his reluctance to answer questions about abortion rights suggested that more anti-abortion legislation is likely in Ohio. Passage, for example, of the "Human Rights Protection Act" (House Bill 598) would lead to a total abortion ban in the state. 
"There are also some others (legislative initiatives) that would outlaw IVF (in vitro fertilization) and could potentially stop different types of contraception, like IUDs," Trau said, referring to intrauterine devices, which prevent a fertilized ovum from developing. "Those are ones that designate life at conception. Those are the ones we are probably going to be seeing between the election and the new year." 
Horowitz and the panelists closed their discussion with their thoughts on who may run for president in 2024, mentioning Yost and Michigan's Gov. Gretchen Whitmer, Democrat, as possible candidates.