Image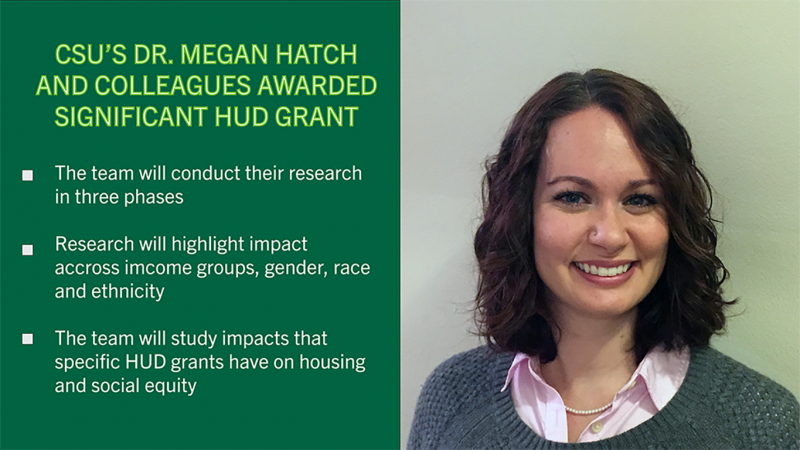 By Claudia Ugbana
CSU's Dr. Megan Hatch and her colleagues zero in on equity
The U.S. department of Housing and Urban Development awarded Dr. Megan Hatch and colleagues nearly $250,000 in grant funding.
Cleveland State's Dr. Megan Hatch and co-researchers were awarded nearly $250,000 in grant funding from the U.S. Department of Housing and Urban Development (HUD) to study the impact that specific HUD grants have on housing and social equity.
For the next two years, the team will aim to uncover the effects that the Community Development Block Grant Program (CDBG) and HOME Investment Partnerships Programs (HOME) resources have on equity outcomes.
The CDBG provides grants to develop viable urban communities by providing decent housing and a suitable living environment, and by expanding economic opportunities, principally for low- and moderate-income persons.
HOME provides grants to implement local housing strategies designed to increase home ownership and affordable housing opportunities for low and very low-income Americans.
Hatch said her research is primarily focused on vulnerable populations, and her hope is that the team is able to look at programs that have significant impact on economic development.
"It all came together nicely," Hatch said. "A lot of my research has been on rental housing, evictions, source of income discrimination and landlord tenant laws, and my co-authors are more focused on economic development and public administration research."
She and her colleagues want to investigate the intersection of social equity and development in a bid to find commonalities.
"We can focus on social equity and housing," Hatch said. "But we can also look at programs that are traditionally thought of as economic development programs and how they fit together from an equity perspective."
The team is using data from Dallas County, Texas, but they've designed the study so it can be implemented across the U.S.
"We really believe that what we learn [from this research] will be replicated and applicable in other communities such as Cleveland," Hatch said.
The team will conduct their research in three phases:
First, they will develop catalogues of neighborhood deprivation and economic growth potential in targeted areas.
Second, they will examine the differential impact of CDBG and HOME activities on a broad range of housing and social equity outcomes.
Third, they will identify the threshold effects (the minimum point of action for change to occur) of CDBG and HOME activities required to impact equity outcomes.
Through their research, the team plans to bridge this gap in knowledge that will help HUD and local CDBG administrators strategically address issues related to equity.
"It is really important to me to work on projects that can help our community and I'm very excited that we have the opportunity to do that," Hatch said.