Image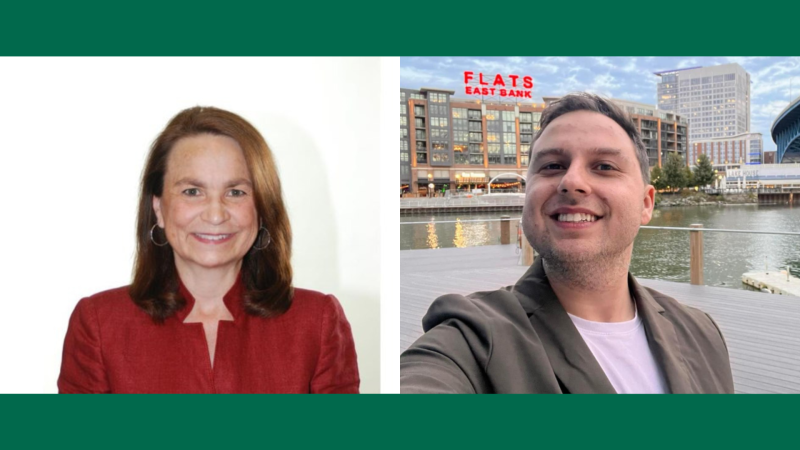 Plain Dealer and Instagram
CSU pays tribute to two colleagues who recently passed away
Cleveland State University President Dr. Laura Bloomberg paid tribute to Julie Rittenhouse and Kevin Bogdanowicz in messages to the campus community in the past week.
Cleveland State University President Laura Bloomberg, Ph.D., gave a heartfelt telling of the passing of two dear friends and colleagues of the community, Julie Rittenhouse and Kevin Bogdanowicz. These two honorable members of our community at CSU will be missed by many.
Julie Rittenhouse
Rittenhouse, 66, served as the Senior Director of Corporate and Foundation Relations in the Office of Advancement at Cleveland State University for many years, enhancing the lives of countless Clevelanders and students alike. Rittenhouse passed away surrounded by family on Oct. 11. She is survived by her five siblings and 17 nieces and nephews. 
Rittenhouse served the community dutifully and brought positive change to the academic careers of many.
"Her understanding of our collective mission and desire to help our students succeed drove her creative and innovative approach," Bloomberg said.
The letter shared that the university is working with Levin College of Public Affairs and Education Dean, Roland Anglin, to hold a remembrance celebration for Rittenhouse on Nov. 6 from 3 p.m. to 5 p.m. in the Student Center.
A Memorial Mass was held at 11:00 a.m. Nov. 3 at St. Patrick Parish in Cleveland with a reception to follow. The family requested that in lieu of flowers, charitable gifts be made to St. Jude Children's Research Hospital.
Kevin Bogdanowicz
Kevin, 34, was described as a valued member of CSU HR staff, because of his dedication in his critical contact role at the university. 
"Kevin could be counted on to help employees across campus with a warm and caring approach, no matter what the question or situation might have been," Bloomberg wrote.
In his personal life, Kevin made people laugh as he explored the world through his creativity. He was a music fan, and he brightened the room with his positivity.
The family and friends gathered in his honor on Friday, October 27, from 4 to 8 p.m. at Tomon and Sons Funeral Home, 7327 Pearl Road, Middleburg Heights. A mass was held on Saturday, October 28 at 11 a.m. at St. John Neumann Catholic Church, 16271 Pearl Road, Strongsville. In lieu of flowers, charitable gifts can be made to the Cleveland Animal Protective League.