Image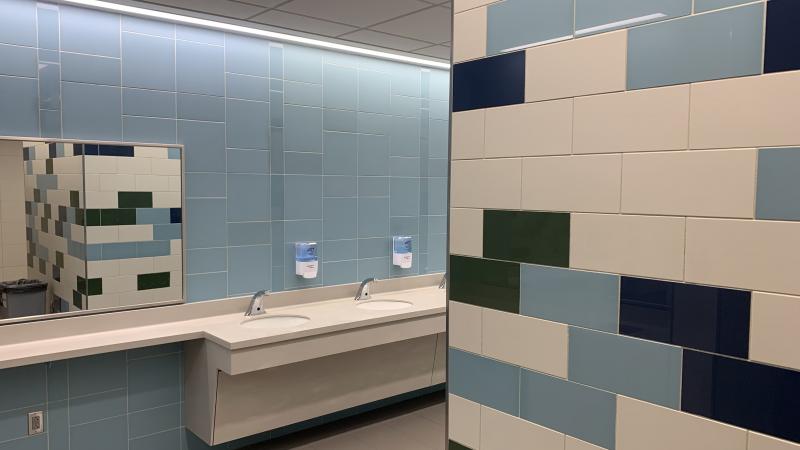 Credit: Eric Seitz
CSU opens first multi-user gender-neutral restroom
Students and faculty react to news of the step the university is taking toward further gender inclusivity.
In its effort toward greater gender inclusivity, Cleveland State in August opened the campus's first multi-user gender-neutral restroom.
Located on the fourth floor of Berkman Hall, the new restroom features 14 stalls with floor-to-ceiling stall doors to ensure maximum privacy.
"I had no idea CSU installed a gender-neutral bathroom until just last week," Stella Caulfeld, a junior political science major, said. "I think it's a great step, but they should've made a bigger deal of it."
Members and allies of the LGBTQ+ community often promote the construction of gender-neutral restrooms because transgender individuals feel more comfortable using them than sex-segregated restrooms.
"I have a trans* friend who is not comfortable using sex-segregated bathrooms for either males or females, so [the new restroom] is great for her," Hayden Storton, a sophomore urban studies major, said.
While the university provides several gender-neutral single-user restrooms across campus, this is the university's first gender-neutral multi-user restroom, a facility still rare at U.S. colleges. In addition to its 14 stalls, CSU's new restroom features a lactation room, a separate sink area, and a modern design.
"​​Gendered multi-stall bathrooms can be dangerous spaces for trans* people, and single stall family restrooms can reinforce the "othering" of trans* folks when it's the only safe option available for them," said Kara Tellaisha, LGBTQ+ Student Services coordinator at CSU.