Image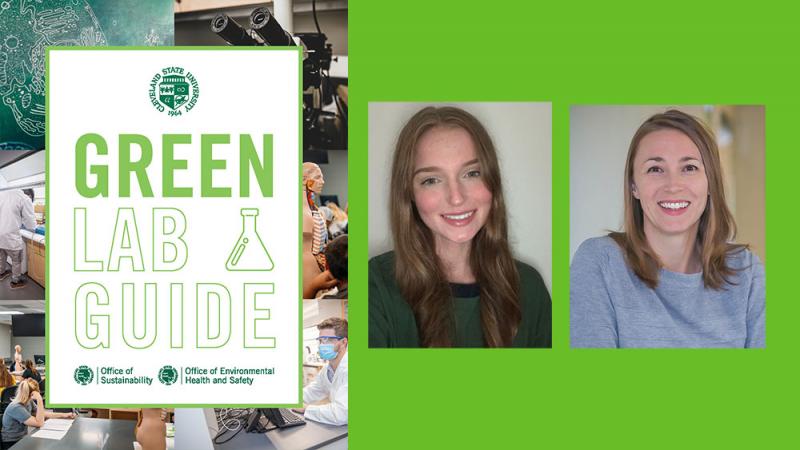 Credit: Cleveland State University
CSU launches Green Lab Program to create more sustainable labs
The Green Lab Guide was developed by junior biology and environmental science student, Grace Weyman Heller, and provides helpful habits on how to be mindful when working in labs.
The Office of Sustainability at Cleveland State University in February launched a Green Lab Guide developed by CSU student Grace Weyman Heller, a junior double majoring in biology and environmental science.
Heller has always been passionate about the environment, which is what prompted her to participate in developing this program. She hopes that it will instill sustainable habits in students even after they leave Cleveland State.
"As students are learning these sustainable habits you are raising a bunch of very conservation wary scientists, so it's kind of like creating a new generation that is more conscious of how to help," Heller said.
She developed the guide in partnership with the Office of Environmental Health and Safety which runs all lab safety training programs at CSU.
The guide will provide a checklist for students and faculty to follow while in the labs and help them be more mindful of the resources being wasted according to Jennifer McMillin, the director of sustainability at the university.
"One of the things we were able to do was put a module into the online lab safety training so anybody who is a new lab user has to take this online training," McMillin said.
Through her research, Heller found that one of the major sources of waste in the labs was air constantly flowing through fume hoods even when the lab was not in use.
"When you leave them open, even when you are not using them, it actually wastes a lot of energy," Heller said. "I didn't even know how important it is to shut the fume hood, it was just not a thing that I was aware of."
To combat this problem she and the administration included it in the guide's checklist and developed stickers to put on the hoods in the labs. The stickers say 'Shut the sash!' as a reminder for students and faculty to close the hoods.
Heller said that although most of the changes in the labs are aimed at altering habits, more recycling measures will also be encouraged, including a styrofoam recycling program.
"Styrofoam is very difficult to recycle and I think that is something a lot of labs did not think we were gonna start up again."
Heller also looked into the possibility of purchasing more sustainable equipment in the labs.
"As they need new equipment they can purchase ones that are more sustainable and Energy Star Certified," Heller said. "So there is a push towards that and I think that will be a big change we will see."
McMillin said more efforts like the Green Lab Guide will be made to create a more sustainable campus. Among them, the Office of Sustainability at CSU is looking into ways to reduce the number of single occupant vehicles coming to campus and at the possible installation of solar panels to reduce energy waste.