Image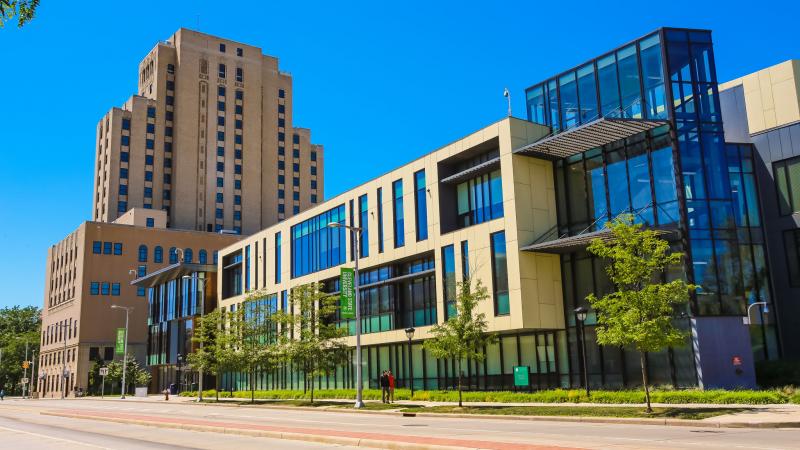 Credit: Cleveland State University
Cleveland State releases plans for 'CSU 2.0'
The plan includes increasing the number of students and faculty, consolidating colleges and bringing focus to a College of Health Professions.
Cleveland State University announced the school's plans to increase student opportunities in a Townhall on Facebook Live March 26, 2021. 
CSU President Harlan Sands outlined multi-million-dollar investments in research, faculty positions and initiatives to advance student success, develop new programs and build new partnerships.
"Our engaged learning theme and our brand is real, not just a tagline," Sands said.
The plan, titled CSU 2.0, aims to attract 4,500 additional students and add some 100 faculty including 200 new hires by 2025. 
CSU 2.0 is built on four strategic themes – distinction as a leading public research university, setting the university apart for student success and engaged learning, strengthening its role as an anchor institution while also becoming a "beacon" institution and building financial strength.
A leading public research university
CSU 2.0 introduces significant investments in faculty and research initiatives. According to a press release posted on the school's website, the university plans to hire 200 new faculty in areas like health, smart manufacturing, applied social sciences and data analytics. The university hopes to increase external research funding from $30 million to $50 million by 2025 and will invest $25 million in faculty start-ups, lab infrastructure and seed funding.
The university also plans to consolidate the colleges from eight to six. Law and Engineering are unchanged. The plan envisages a newly organized College of Health Professions; an enhanced College of Urban Affairs, Social Sciences and Education; a reconstituted College of Arts and Sciences; and an expanded Business College.
Student success and engaged learning
By setting itself apart from its competitors on student success and engaged learning opportunities, the university set a goal of increasing enrollment by 4,500 to 20,000 students by 2025. According to the press release, the plan will add a $1 million annual investment in need-based financial aid and double the number of students living on campus to 3,000. The launch of an Office of Career Development and Exploration and ensuring all students have an opportunity for a paid internship or co-op.
"It is very critical that we differentiate ourselves even further on student success and we have done things that already have us down the road," Sands said. 
An anchor institution for Greater Cleveland
While Cleveland State already serves as an anchor institution for Greater Cleveland, CSU 2.0 strengthens that role by increasing the number of programs offered in key fields such as healthcare and IT and doubling the number of graduates in 19 STEM fields. 
"We have the talent on our faculty and staff to do this, we have a beautiful and well located campus in the heart of Cleveland," Sands said. "The city itself is an ideal location for students to choose to come here in the coming years and that's where all the trends are. We are going to take advantage of it."
Build financial strength
CSU 2.0 will build on previous success financially by reducing costs where possible and making facilities more efficient. The plan calls for the remodeling of resource allocation in a way that better aligns resources with the priorities of the college deans and vice presidents, while also providing incentives for growth.
"We have some work to do on the way we deliver services. We must evolve and we will do it properly. Identify the kinds of partnerships that could help us," Sands said. "Our core business is educating students and doing leading-edge research and searching for knowledge and we want to focus on as many assets and resources as we can on those missions."
CSU 2.0 is the culmination of a process begun in 2018 and aims to continue Cleveland State's upward trend of success. While the school is already seeing a record number of applicants, the ambitious goals of CSU 2.0 are within reach, according to the president.
"We launched this from a position of strength and what we need now is you, each of you," Sands said. "We are going to engage you both collectively and individually to gain your support, to get your thoughts and bring you together so that we can achieve the ambitious goals that we have at Cleveland State University."