Image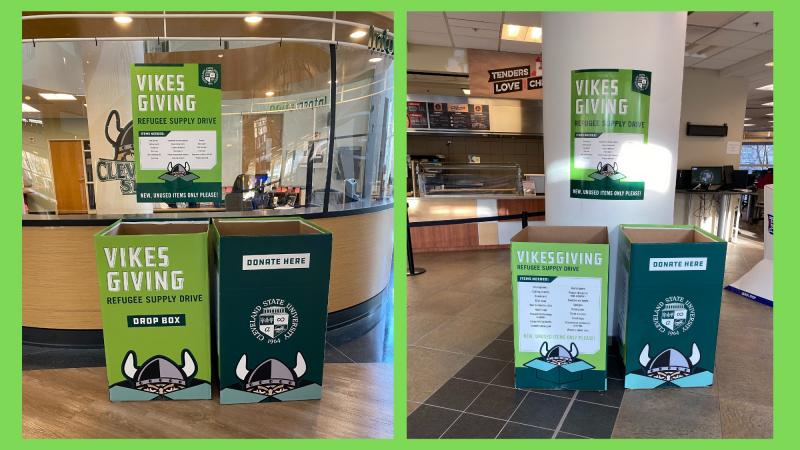 Credit: Lucia Rosace
Cleveland State holds refugee supply drive across campus
The Center for Refugee and Immigrant Success is holding a supply drive through Monday, November 22. Donation drop-offs can be found in the CSU Student Center and Berkman Hall.
The CSU Center for Refugee and Immigrant success is holding a supply drive for the 300 Afghan refugees who arrived in Cleveland during the last few months.
Through coordination with three local nonprofits, the Center for Refugee and Immigrant Success (CRIS) has compiled a list of the most needed items which can be found on their website. 
The 300 arrivees are considered "parolees" by the U.S. government. Because they were evacuated so urgently after the U.S. withdrew from Afghanistan, the official refugee process was delayed. 
"These are families coming from hardship, they are strong survivors," said Dr. Grace Huang, the Co-Director of CRIS. "They really want to contribute to our society, all we need is to welcome them for opportunities." 
CRIS is an interdisciplinary project founded in 2019 with the goal of furthering the success of refugees and immigrants. The project focuses on learning about the refugee crisis and educating others on how they can help integrate and support the people coming to the U.S. 
The faculty of CRIS are always looking for ways to give back to the communities they study, whether through outreach or student practicums. 
Dr. Huang, a professor in the College of Education and Human Services, has led multiple programs for her students to work with refugees, including one-on-one services provided to refugee students at CMSD. 
How you can help CRIS and get involved
CRIS has set up two donation boxes for items to be dropped off. The first is located in the student center by the information desk; the second can be found on the first floor of Berkman Hall. Both boxes will be collecting drop-offs until Monday, Nov. 22. 
As one of 19 resettlement cities in the country, Cleveland is expected to receive at least 1500 more Afghan refugees in the coming months. CRIS hopes to continue providing aid in that process through student involvement. To keep the donation boxes out for longer periods of time, they need moderators. 
As moderators, responsibilities would be to monitor the items donated to ensure they are all culturally appropriate as well as divide the items among the three nonprofit groups so the donations can be allocated equally. 
The center's goal is to have a team composed of volunteer student groups, CRIS and CSU marketing to help continue in their mission. 
To get involved with CRIS, reach out to Elena Andrej, Dr. Vickie Coleman Gallagher or Dr. Grace Huang. Contact information can be found on CRIS's faculty page.