Image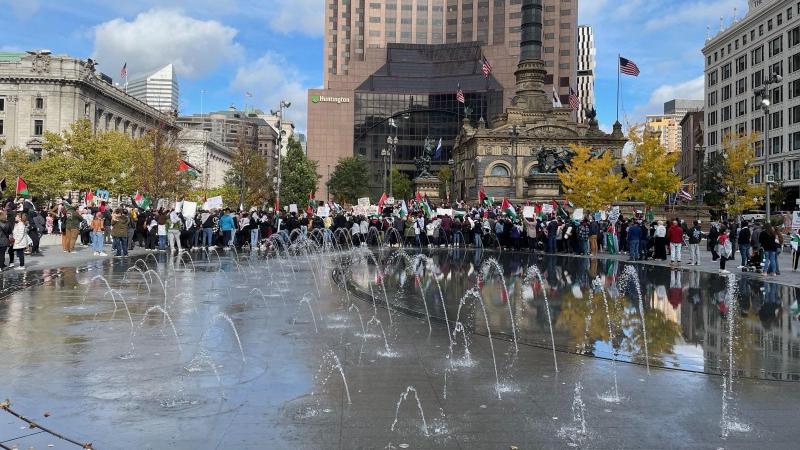 Credit: Riley Roliff
Cleveland rally calls for ceasefire in Palestine
Speakers addressed the violence and oppression Palestinians face in Gaza, now and historically, calling for their liberation.
Chants and cheers rang out across Public Square in downtown Cleveland Saturday as several hundred people rallied in support of a ceasefire in Palestine.
The rally, sponsored by 16 community organizations, turned into a march across the Detroit-Superior Bridge following a series of speeches in Public Square.
The speakers addressed the violence and oppression that Palestinians have faced in Gaza, historically and now, following Hamas' Oct. 7 attack on Israel and Israel's counter-offensive. The Hamas incursion left 1,400 Israelis dead. More than 200 others are believed to have been taken hostage. Since the attack, Israel has launched numerous airstrikes, killing thousands of Palestinians, and tightened its blockade, precipitating a further humanitarian crisis in the besieged enclave, a narrow, 25-mile stretch of land sandwiched between Israel and Egypt.
Gaza is a Palestinian territory that was blockaded by Israel and Egypt in 2005. Together with the occupied West Bank, it makes up the Palestinian state, recognized by 139 of the 193 U.N. member countries. Gaza is home to more than 2 million people, the vast majority, refugees, descendants of Palestinians forced from their lands when the Israeli state was established in 1948.
Members of the Cleveland Palestinian community noted in a Cleveland City Council meeting last week that the Oct. 7 attack should be understood in the context of "the cruel and brutal oppression and illegal occupation that the Palestinians have been enduring for decades from the Israeli apartheid state."
In what United Nations human rights experts have labeled as "crimes against humanity" which have "a risk (of becoming a) genocide against the Palestinian People," Israel responded to Hamas' attack by launching a continuing series of airstrikes against Gaza, ahead of an expected ground invasion. 
Israel says its airstrikes are targeting Hamas, but, according to officials, observers and media in the region, Israeli forces have hit residential areas, refugee camps, places of worship and schools. More than 5,700 Palestinians have been killed, over 2,300 of whom were children in what UNICEF said was a "stain on our conscience."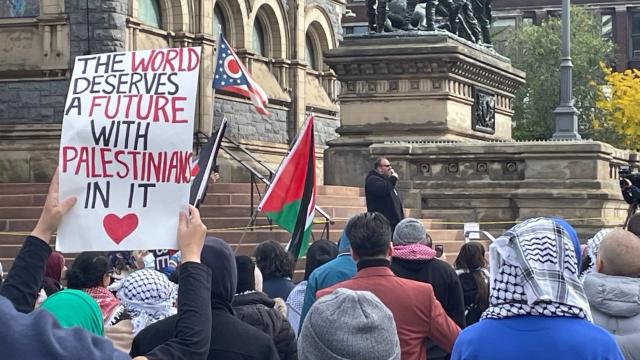 Faten Odeh, the interim executive director for the Cleveland and Northern Ohio chapter of the Council on American-Islamic Relations (CAIR), told The Cleveland Stater that Saturday's rally was demanding "a ceasefire for Gaza, an end to the Israeli apartheid and an end to the 75-year-long occupation of Palestine."
"We, the American people, help fund (Israeli violence) through our U.S. tax dollars," Odeh said, referring to the billions of dollars in weapons and military support that the U.S. provides Israel each year.
Joining the list of speakers at the rally was Dr. Shereen Naser, a Palestinian-American, psychologist and associate professor at CSU. With a baby in one hand and her speech in the other, she told the crowd that "the fight for Palestinian liberation is the fight for oppressed people everywhere."
"The white phosphorus illegally used in Gaza is the same white phosphorus rained down in Vietnam by the U.S. (during the Vietnam War)," Naser said, referring to allegations made by Human Rights Watch and denied by Israel that it used white phosphorus, an incendiary weapon whose use against civilian populations is banned by the United Nations. "Palestinian protesters are subject to the same tear gas used on protesters in the U.S.," Naser continued. "The wall built at the border of the United States and Mexico was built by the same people that built the apartheid wall in Gaza."
Naser reminded the rally of an earlier protest, on Oct. 16 outside the White House, where Jewish groups blocked entrances and called for for U.S. President Joe Biden to push for a ceasefire in Palestine. 
"We are telling the world that we will no longer allow oppressive systems to run rampant in our communities without accountability," Naser said, and that Israel "can no longer use our labor and our money to murder our people."
CSU alumnus and Palestinian-American Malaak Rashid also spoke at the rally. 
"We refuse to allow the United States to provide moral cover to the Israeli government and its escalating war crimes," Rashid said. "We demand not only that they change course and break the status quo, but also demand for a ceasefire and pursue a just and lasting peace before more Palestinian lives are lost."
Students for Justice in Palestine criticize CSU's open letter
CSU student group, Students for Justice in Palestine (SJP), on Oct. 25 criticised on Instagram an open letter from CSU President Dr. Laura Bloomberg and the Chair of CSU's Board of Trustees, David Reynolds, in response to Hamas' attack on Israel.
The letter acknowledged Hamas' attack, noted CSU's counseling resources, and said that Bloomberg has encouraged CSU's official leadership to connect personally with students impacted by the rising violence in Israel-Palestine and point them towards resources. The letter also attached a joint statement released by the U.S. and other nations which condemned Hamas' attack and announced their intention to "support Israel in its efforts to defend itself and its people against such atrocities."
SJP's Instagram post noted their concern that the letter "did not contain a single mention of the thousands of Palestinians who have lost their lives in this long-standing conflict," and questioned "why similar statements have not been made during similar loss of human life in Gaza over the last 15 years."