Image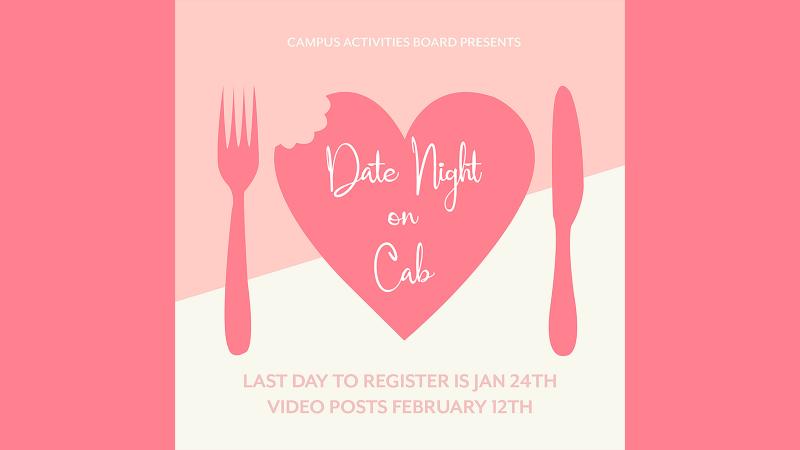 Credit: Campus Activities Board
Campus Activities Board to host Valentine's "Date Night on CAB"
100 registered participants will receive three Hello Fresh meals paid for by CAB and will prepare their meals alongside a guided video.
Amid a week of Valentine's festivities, the Campus Activities Board will be hosting a "Date Night on CAB" event Friday, Feb. 12, by providing 100 registered participants with a HelloFresh meal kit and a video recipe to follow.
"This event was meant to give students a fun way to celebrate Valentine's Day safely from their homes without going out to busy restaurants," said Carley Barnett, CAB's Viking After Dark Executive Chair.
CAB planned to have registration opened for this event from Jan. 17 to Jan. 24 in order to have the meal kits delivered in time for the weekend of Valentine's Day. Due to limited spots and high interest in the event, the registration was filled up and closed by Jan. 19.
To register, participants filled out a Google form providing their name, address and student ID. Students were then asked to choose between a traditional meal of cranberry Dijon pork tenderloin with mashed potatoes and roasted green beans and a vegetarian meal of gnocchi with spinach and grape tomatoes topped with garlic butter breadcrumbs.
[PHOTO: From the Date Night on CAB Registration form, the first choice of meals from HelloFresh to be prepared alongside board members' videos.]
"They picked between the pork tenderloin and gnocchi so they would at least be making one meal that is going to be in the video," Barnett said. "We are making two videos so that whether you picked the vegetarian or traditional, you have the same experience."
Once the meal kits are delivered on Feb. 12, CAB will be uploading two videos of their board members making the two meals on their YouTube and InstagramTV channels. 
"HelloFresh does come with directions, but it will be a little more of an event atmosphere so that they can follow along with it," Barnett said. "We did not want to do Zoom because it is a date night event, I know everyone probably does not want to be on their Valentine's Day date night together."
On top of the first choice of a pork tenderloin or a gnocchi meal, participants were also able to choose two more meals out of the following list of six options as part of their meal kit:
Gouda vibes burgers with tomato onion jam and potato wedges

beef flautas supreme with pico de gallo, lime crema and guacamole

cheesy black bean enchiladas with green pepper, cilantro, pico de gallo and lime crema (vegetarian)

Italian garden veggie soup with kale, pearled couscous and garlic bread (vegetarian)

apricot, almond and chickpea tagine with zucchini, basmati rice and chermoula (vegetarian)

Middle Eastern steak and rice pilaf with tzatziki, almonds and smoky roasted veggies
[PHOTO: From the Date Night on CAB Registration form, first through the fourth options to be chosen for two additional meals from HelloFresh.]
[PHOTO: From the Date Night on CAB Registration form, the fifth and sixth option to be chosen for two additional meals from HelloFresh.]
"How it worked out with HelloFresh is I had to order a minimum of three meals per kit because they don't do just one meal to make it worth it for shipping," Barnett said. "So students actually got three meals out of this event, two servings per meal, so it's like six servings of food."
According to Barnett, each meal kit is a $68 value which covers the three meals as well as shipping costs. Students who registered for the event were also entered into a raffle for over $500 in prizes.
[PHOTO: From CAB, participants were entered into a raffle for an array of prizes after registering for "Date Night on CAB."]
CAB is hopeful that this event will be a success and may serve as a model for future events as students have already shown great interest in the idea of collaborative meal preparation.
"Hopefully HelloFresh will work out and we can continue to do things with them. Students were definitely missing the free food component of CAB," Barnett said. "We know well that students like our events, but a lot of it is the smell of food rising to the second floor of the student center, which we can't do anymore, but it was a way to bring that back into it."