Image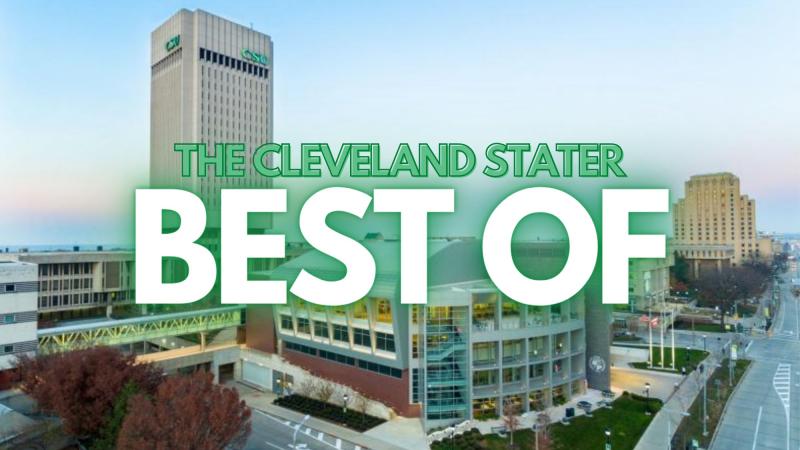 Credit: Lucia Rosace
'Best of' The Cleveland Stater spring 2022 #2
In this edition of the "best of" The Cleveland Stater, we highlight the mandate of new CSU president, Dr. Laura Bloomberg, appointed by the Board of Trustees without a national search after Harlan Sands was let go with an almost $1 million "separation agreement." In other news, we find out why CSU is backing Ukraine following Russia's invasion, and we look at the hard road ahead for new men's basketball head coach, Daniyal Robinson.
---
Image

Faculty were ready for change; Bloomberg takes over CSU 2.0
By JADEN STAMBOLIA
Faculty gave Dr. Laura Bloomberg a standing ovation at the CSU Faculty Senate meeting April 27 when she was introduced as the new president of Cleveland State University, the second woman to hold the position.
The CSU Board of Trustees expects her to push through with the college revamp known as CSU 2.0 which had exposed tensions between faculty and her predecessor, Faculty Senate President Robert Krebs told The Stater.
---
Image

Bloomberg replaces Sands at helm of CSU
By MARY DUDZIK
Harlan Sands and the CSU Board of Trustees mutually agreed April 26 that Sands would step down as president of Cleveland State University over differences regarding how the university should be led.
The CSU Board of Trustees appointed Dr. Laura Bloomberg as the university's eighth president. The move was unexpected as just a year ago the board had indicated its complete confidence in President Sands' leadership.
---
Image

CSU awards Sands almost $1 Million in 'Separation Agreement'
By MARY DUDZIK
Sands and CSU parted ways, sort of, when he agreed to step down. However, under the terms of his exit as president he had the option -- which was part of his existing contract -- of moving to a tenured faculty position in the Cleveland-Marshall College of Law where he would start at $348,075, 75% of his annual presidential salary, $464,100.
The terms of Sands' separation agreement were first reported by WKYC. CSU confirmed that Sands intends taking up the offer.
---
Image

Law professors explain CSU's position on Russia's invasion of Ukraine
By DANIEL NEWMAN
A panel discussion March 7 at Cleveland State featured several CSU law professors who explained CSU's public support for Ukraine after Russia invaded Feb. 24.
Since the attack, Russian President Vladimir Putin has continued his aggression, bombing cities and killing civilians in what he calls the "denazification" of Ukraine, a rationale for the war that is condemned almost universally.
---
Image
Daniyal Robinson will have to rebuild CSU men's basketball nearly from scratch
By Tony Pesta
A new era for Cleveland State men's basketball is coming as first time NCAA Division I head coach Daniyal Robinson rebuilds The Vikings program nearly from scratch. 
Robinson most recently served as an assistant coach at Iowa State University before accepting April 5 the head coaching job at CSU. Robinson has over 20 years of experience as an assistant coach at the collegiate level but has never been a head coach.
---
For the full stories and more, visit The Cleveland Stater online and follow the news @ClevelandStater on Twitter, Instagram and Facebook. 
Have any news tips, comments or suggestions? Contact us! Either on social media or directly via email: cleveland.stater@csuohio.edu.