Image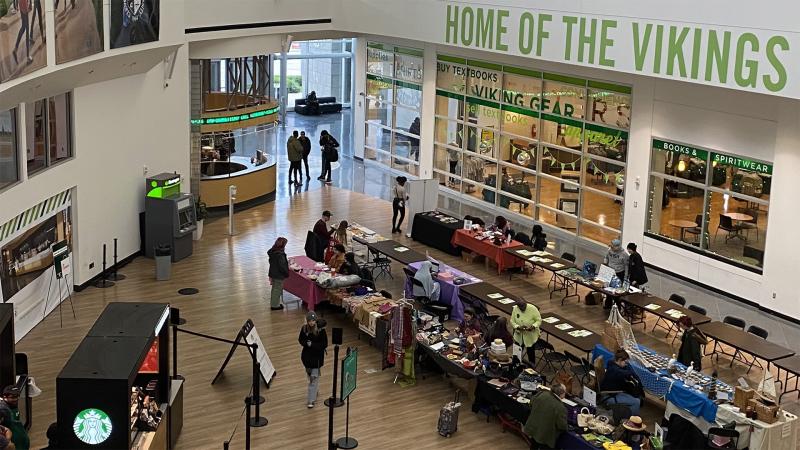 Credit: Kirsten Beard
After COVID isolation, students return to in-person activities
For many students, on-campus events have helped them overcome their social anxiety and satisfy their desire for social interaction.
Sitting at a table at the Fruit Stand, a popular hangout for students at Cleveland State University, Emma Diedrich scrolled through the calendar on her phone. Her hands were blistered and calloused from rock climbing the night before. After lockdown restrictions were lifted last year, Diedrich made it her goal to try something new every day, and her busy calendar was testament to that.
She sat and scrolled, fruitlessly searching for a free space in her schedule. Beads of water accumulated on the outside of the smoothie bowl she'd ordered, and, as it melted, the red of the strawberries and the blue of the blueberries bled into the magenta of the untouched raspberry-acai smoothie base at the bottom of the bowl. 
This time last year, classes were online because of the COVID-19 pandemic. Like so many other students, Diedrich spent months sitting at home in her room, staring at a screen, and isolating herself from the rest of the world. 
She doesn't even like smoothies – she just wanted to try something new. 
"All I did last year was stay home and watch Netflix," Diedrich, 18, an organic chemistry major, said. "I'm never home now. I'm out doing something all the time."
Diedrich is just one of many college students who is participating in face-to-face social activities after isolating during the pandemic.
According to a Student Voice survey from April 2022, out of the 2,000 undergraduate students who participated, 22% of students rated their mental health as being "poor" as opposed to "fair" or "excellent." Nearly 15% of students indicated that their mental health got worse at the beginning of the pandemic and simply stayed that way.
Olivia Pethtel, an assistant psychology lecturer at Cleveland State University, says social isolation brought on by the COVID-19 pandemic has taken a toll on the mental health of college students. 
"The mental health of college students has declined, as far as levels of anxiety and depression go, because of social isolation," Pethtel said. "Social events and outings are really important because it gets you out of that depression. It forces you to break that isolation and have fun."
Pethel also explained that participating in social activities is rewarding because of the way our brains function.
"We're wired to be social creatures. We function best in groups," Pethtel said. "There are mechanisms in our brain that reward us when we're participating in a social group activity."
While social anxiety spiked during the height of the pandemic, Pethtel believes students now are more social than ever. 
"They're going out and forcing themselves to overcome that social anxiety," Pethtel said. 
For many students, on-campus events have helped them overcome their social anxiety and satisfy their desire for social interaction. Transfer student Alyssa Gruttadauria, a theatre major at Cleveland State University, has been no exception.
Gruttadauria went to the Campus Activities Board's (CAB) Glow Party event back in March of this semester. With over 1,200 students attending, it was CAB's biggest event of the year – and Gruttadauria's first-ever CAB event. 
"It was a little overwhelming at first, being around so many people," said Gruttadauria, 19. "It was a good first event to go to. I'm glad I went. I had a good time."
Gruttadauria explained that she goes out more often now than she did before the pandemic began.
"I missed being with people in close-proximity. I think I want to go out more often because we haven't been able to," Gruttadauria said. "I think I'm going to try to do it more often."
Back at the Fruit Stand, Diedrich finally took a bite of her smoothie bowl. She checked her watch and frantically grabbed her backpack. She had to leave to go to an event being held by her sorority.
"We're social beings, and we can't just keep to ourselves," Diedrich said. "You have to get yourself out there and meet people if you want to find yourself."