Image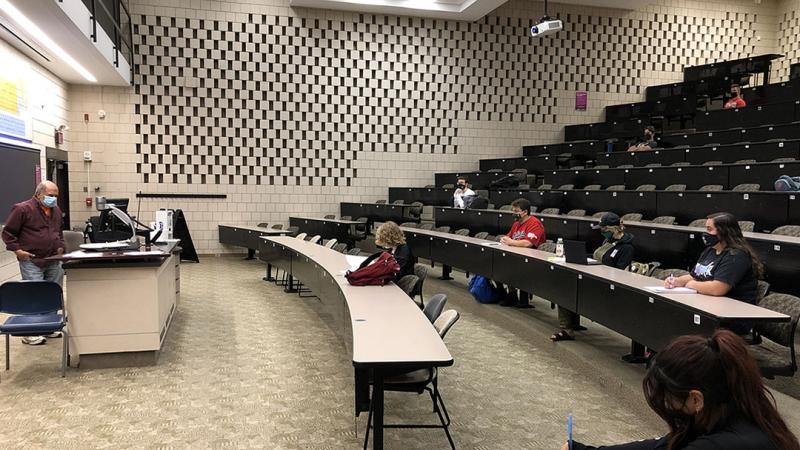 Credit: Jeremy Biello
Students give CSU administration a solid pass on COVID-19 protocols
Many students appreciate the university's dedication to safety
The return to on-campus instruction in the midst of the ongoing coronavirus pandemic has come with a bevy of guidelines and mandates to keep everyone as safe as possible, while trying to establish a new normal for the foreseeable future.
Early reactions from several students indicate that the actions taken by Cleveland State University have been both well-received and much-appreciated.
Joe Mastrangelo, 23, is an occupational therapy doctoral student who noticed the attention to detail CSU has shown in virus prevention, and said it provided him with "ease of mind."
"I feel very safe on campus health-wise," Mastrangelo said. "It's nice to know they're actually taking initiative with something like this and making sure we're all safe."
It's all the little things, such as protective film placed over every keyboard in the library, according to Mastrangelo, that give him the impression that Cleveland State is a safe place to take in-person classes.
Freshman Arielle Miller, who is studying business management, is one of many commuters at CSU. Her parents' safety is her main priority.
"I am commuting so I want to keep my parents safe," Miller said. "If [CSU] didn't have the implementations of wearing a mask, of being six feet apart, I probably would be all online."
Miller, like Mastrangelo, said that she too has noticed the safety protocols in action and is comforted by them.
"They're always spraying stuff down," she said. "In all my classes everyone has their mask on, everyone's six feet apart, everything that I've seen has been good."
COVID-19 has been a contentious issue in our country since the moment it arrived, and Cleveland State's community is made up of thousands of free-thinking individuals, each with their own perspective on the virus.
Russell Lang, 19, is an environmental science major, and although he may have differing views on the coronavirus, he said campus safety is still important to him.
"I feel like they've been doing a really good job with everything," Lang said. "From what I know the guidelines are really strict. They might be a little too strict in some cases, but that's for everybody's safety and I respect that."
"I'm not really too worried about [catching] the virus but I am concerned about other people's safety. I try to respect everybody's rules."
Lang said he wears his mask as a courtesy to others, not out of fear of COVID-19, and that everyone he has seen on campus so far has been respectful of the guidelines.
The guidelines laid out by Cleveland State allow the university to continue to offer on campus classes. Early reactions indicate that students are taking the changes in stride, which bodes well for the future of the semester. Adherence to the guidelines by all students and faculty will give CSU the best chance of continuing in-person instruction.