Image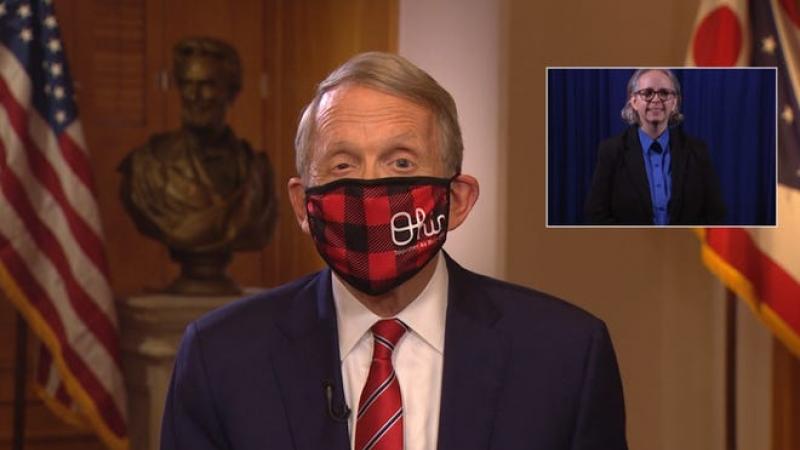 Credit: Screengrab from the Ohio Channel
Ohio governor issues COVID-19 curfew
Governor Mike DeWine also reissued and updated coronavirus-related mandates as the pandemic surges in Ohio.
Ohio Governor Mike DeWine on Nov. 17 issued a statewide curfew order from 10 p.m. to 5 a.m. that began on Thursday Nov. 19 will run 21 days as the state battles a third wave of the coronavirus.
"This surge is much more intense, widespread and dangerous," DeWine said ahead of the curfew. "Every single one of our 88 counties has a high rate of virus spread. Areas of our state that were previously untouched, our rural areas, are being hit especially hard."
The imposition of a curfew followed DeWine's Nov. 11 statewide address, his third concerning the coronavirus pandemic.
"We're not shutting down, we're slowing down," said Governor DeWine. "The curfew is aimed at helping to reduce the number of person-to-person contacts because the only way virus lives is when it goes from one person to another. We have to flatten this curve again and get this under control."
The governor also reissued mandates that include restricting gatherings to a maximum of 10 people. He \introduced a new Retail Compliance Unit and said that he would decide at a later date whether to shut down bars, restaurants and fitness centers.
Governor DeWine reissued the mask mandate from July 23 with three additional provisions:
Retail stores will be required to post signage at all public entrances demanding face-covering compliance

Stores will be responsible for ensuring customers and employees wears face-coverings

The Ohio Bureau of Workers' Compensation will issue a Retail Compliance Unit to inspect stores and ensure compliance. Non-compliance will result in a written warning and upon second offence closure of the store for up to 24 hours
Public and private social gathering, still restricted to 10 people, will also include new restrictions. Those in attendance are mandated to remain seated and masked unless eating or drinking. Things like "dancing and games" at parties or receptions are now prohibited.
DeWine reminded Ohioans of the state's first two waves, recapping how the curve was flatted in spring after a lockdown and how a spike in summer was attributed to a lack of mask wearing in urban areas. Mask orders were issued in those areas and cases dropped. The governor said this third spike is different.
The spike in cases is not because of more testing as some claim DeWine said, adding that testing in Ohio has hardly doubled yet cases have significantly increased.
"During the spring and summer virus surges the most COVID patients we had in the hospital at one time was a little over 1,100," Governor DeWine said. "Last week we were at almost 2,000 COVID patients in our hospitals, and today, one week later, we are now approaching 3,000."
Deaths from COVID-19 in Ohio are also on the rise. In October, 86 Ohioans died and in the first week of Nov., 104 Ohioans died.