Image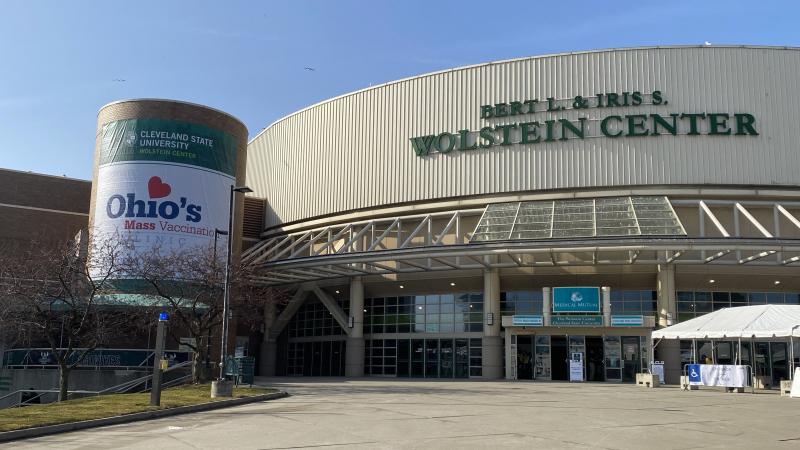 Credit: Sheila Kiss
Mass vaccination clinic provides hope in the fight against COVID-19
The center will be open seven days a week from 8 a.m. to 8 p.m. for eight weeks and the state hopes to vaccinate 210,000 Ohioans in that period.
Ohio's first long term COVID-19 mass vaccination site was opened on March 17 at the Wolstein Center on Cleveland State University's campus bringing volunteers, soldiers, health care professionals and the community together.
Ohio Governor Mike DeWine spoke at the center on the rehearsal day on March 16 when 1,500 people were projected to receive the vaccine. The site will be run by FEMA, the Department of Defense, the Ohio Department of Health and the Ohio National Guard, and was organized in about a two-week period of time according to DeWine.
"This is really an example of Ohioans coming together, to make a difference," DeWine said. "I have had the opportunity to travel all over the state in the last ten days and what we have seen in community after community is volunteers coming together."
The center will be open seven days a week from 8 a.m. to 8 p.m. for eight weeks and the state hopes to vaccinate 210,000 Ohioans in that period.
Volunteers from Cleveland State and communities all over Ohio were invited to help out at the center.
Taylor Tharp is a 25-year-old medical student at Ohio University who volunteered and was directing traffic outside of the Wolstein Center on Wednesday.
"We are all in this together and we can't get out of this pandemic without everyone trying to build herd immunity and trying to help one another," Tharp said. "So I just gave my time back to try to help others and help get everyone vaccinated."
She also said that she is looking forward to giving her grandparents a hug and going back to normal life.
Another volunteer outside of the center was Ellen Grevey, who is a student and employee at CSU's Marshall College of Law.
"I am sort of proud of it even though I have nothing to do with it, and I wanted to support it and also see how it worked, and it's working really great," Grevey said. "It's incredibly well organized, although it came together fast."
On the first day of vaccinations the center was expecting to inject 3,000 doses, ramping that up to 6,000 doses per day in the coming weeks.
Chris Roberts is a 40-year-old insurance agent who was vaccinated on the first day of the center being opened.
"It's clear that people are excited," Roberts said.  "It was way faster and way easier than I thought it was going to be."
Kristy Keating is a 51-year-old merchandiser who also came to the center on Wednesday to get vaccinated.
"I think the risk that you take by not getting the vaccine and getting COVID is greater than the risk you take from taking a vaccine," Keating said.  "I am just excited to be a part of this." 
First Sergeant Michael Johnson is a liaison for the Ohio Volunteer Reserve National Guard working with public affairs. He described what it is like inside the vaccination center and how the vaccinations have been going since the opening of the center.
"The response from our customers has been extremely positive," Johnson said. "It's almost like a party in here at times. People are excited, but they are also happy that they don't have to spend their whole day trying to get through something that is much needed."
Captain Matt Eck of the Air Force spoke about the site's relationship with the CSU community.
"Cleveland State has been an amazing partner," Eck said. "It's been really nice to be right here at this location on Cleveland State's Campus and we just feel so welcomed by the Cleveland State staff, students and the entire community."
Eck said the site had administered 22,000 doses as of March 20.
For the first six weeks of the operation the Pfizer vaccine will be distributed and for the last two weeks the Johnson and Johnson vaccine will be available, Governor DeWine said.
To schedule an appointment at the Wolstein Center to get vaccinated you can register at the following link or by calling 1-833-4-ASK-ODH (1-833-427-5634).