Image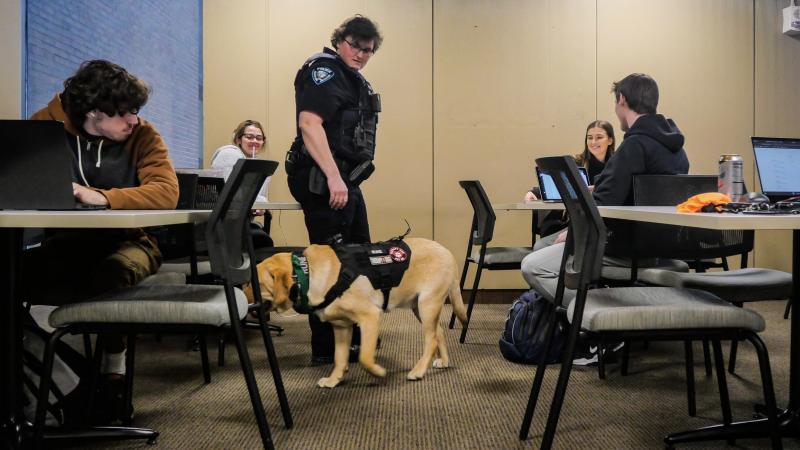 Credit: Kat Magalski
Rune and Thor connect the CSU police and campus community "one paw at a time"
Cleveland State's Police Department is one of many campus and city police departments to launch a therapy dog program to better connect to the community, while reducing the anxiety levels of students, faculty and staff and breaking down barriers.
Padding along, Rune makes his way over to the boss's office, patiently waiting for his morning treat from Chief Beverly Pettrey, the chief of the Cleveland State University Police Department. Once he's had his snack, Rune begins his official day, as one of CSUPD's two therapy dogs.
Officer Toni Jones, a Cleveland State police officer and Rune's handler, is at his side, and after the year-old yellow lab makes his way around the university's police station and visits his fellow officers and coworkers, the pair are off to visit classrooms, faculty offices and common areas throughout the CSU campus.
When people see Rune and Officer Jones coming, they don't see a police uniform and weapons. Instead, their eyes light up as they see a pup and his handler. The anxiety level goes down, and the connection between the campus community and the people tasked with keeping us safe grows a little bit stronger.
"Everybody has a dog or everybody knows somebody that has a dog, right? So I have people coming from all parts of the country and all parts of the world like, 'Oh my gosh, I miss my dog. Can I pet yours?' Absolutely," Officer Toni Jones, 43, said. "He's a conversation piece, and I think he breaks down those barriers and people don't just see this."
Cleveland State's police department is one of many campus and city police departments to launch a therapy dog program to better connect to the community.
As well as reducing anxiety levels, Rune and his brother Thor – the department's other therapy dog who's currently working the night shift with Officer Thomas Lear – have simultaneously broken down barriers between the police and campus community and have played a major role in bringing the Cleveland State community together.
"He bridges that gap between police and the community," Jones said about Rune. "I mean, let's face it, if I'm sitting here by myself, are you really gonna have a conversation with me? Probably not. Right?"
"If I'm sitting in a police car, are you going to have a conversation with me? Probably not. Unless you're lost... Maybe," she continued. "But these guys bring a whole different mix. They see you as a human and they see this guy here."
Rune and Officer Jones connecting with Lajuan Flores, left, and Alice Jones, center,
Office of Institutional Equity staff members, at the Administration Center on Feb. 16. (credit: Nicole Preuer)
After Chief Pettrey proposed bringing a therapy dog program to Cleveland State, Officer Jones seized the chance to do something different and new. She worked with Chief Pettrey as they researched agencies and successful therapy dog programs. This led to Officer Jones getting into contact with the Franklin County Sheriff's Department, which has been running a successful therapy dog program since 2017. CSU modeled its program on the county's  – even down to the particular dog breeder.
When Officer Jones and Officer Lear first brought Rune and Thor –  whose names were picked out by the university –  to Cleveland State in April 2022, they were immediately put into service after their initial puppy training at Ridgeside K9 Ohio Dog Training in Canton, Ohio. 
The pair of very good boys have also recently finished their year-long training to become certified therapy dogs, which they received through Franklin County Sheriff's Department's therapy dog school and the Alliance of Therapy Dogs.
While Rune and Thor each have their own niches on campus, in the words of Officer Jones, they both work to bring the campus community together "one paw at a time."
"We have made more communication and connections in the past year with these guys," she said.
Rune visits CSU President Laura Bloomberg at the Administration Center on Feb. 16. (credit: Kat Magalski)
Officer Jones also emphasized that this therapy dog program would not be successful without the support of the university's administration and the campus community at large.
"This program would not be successful if we didn't have backing from our administration down to our chief's office. Everybody has played a part in this," Jones said. "Without our communities, these programs won't work unless you have community involvement, and we've had a huge community involvement." 
And where do the pups go after a hard day's work making everybody at CSU a little happier?
"I'm just fortunate enough to take them (Rune) home with me," Jones said.