Image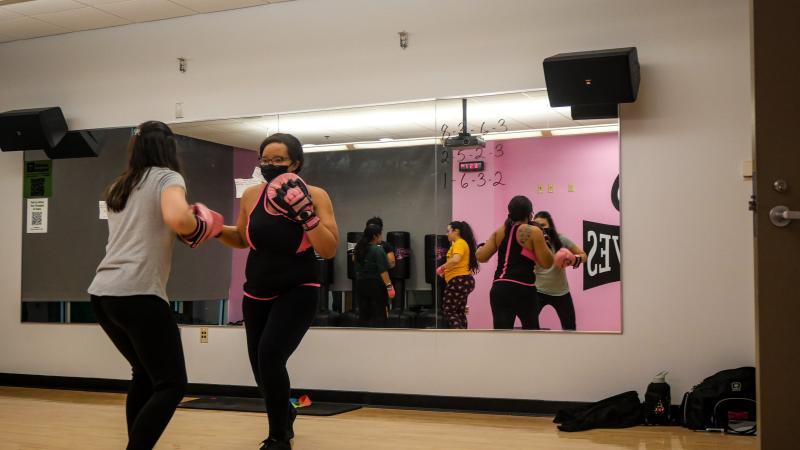 Credit: Kat Magalski
It's time to fight like a girl
Pink Gloves Boxing is a female-focused boxing class that emphasizes empowerment and provides a safe space for people to exercise. For many CSU students, it means a sense of community and trust.
A typical day in the life of most Cleveland State University students consists of driving to campus, struggling to find parking, attending classes, and returning home. Aside from brief peer and faculty interaction, most commuter students do not find community between those lines. The campus is simply a place to learn and earn a degree.
Behind the guise of a commuter school, CSU showcases a plethora of organizations, activities, and teams for students to find their place on campus. One of these programs is Pink Gloves Boxing, a female-focused boxing class that emphasizes empowerment and provides a safe space for people to exercise.
"A lot of the time, especially with CSU kind of being a commuter school, a lot of people come to campus for class and then go home. It can feel very alienating," Mikayla Colston, coordinator of marketing and advertising at CSU's Recreation Center and a Pink Gloves and F45 instructor, said. "I hope that Pink Gloves allows students to know that they are not alone."
Colston began as a Cleveland State student in 2016, following in her mother's footsteps who originally attended as a commuter student. Soon after Colston moved onto campus, her roommate introduced her to Pink Gloves Boxing. Inspired and excited by the chance of community and empowerment, Colston joined the team a year later by becoming a Pink Gloves instructor.
"From my experience, Pink Gloves allowed me to meet new people and make those connections. It helped me flourish in college," Colston, 25, said. "It allows people to be able to have that opportunity to connect with others."
Over the past six years, Colston has worked alongside other instructors to encourage students to not only become stronger physically, but mentally. Participants work their way through seven tiers, beginning at "Boxer" and ranking up to "Champion."
At the conclusion of each semester, students celebrate their accomplishments with "Tier-Up," an event where each ranking joins together to demonstrate what they learned. They also earn an award for completing their tier, for example, Tier 2 concludes with branded pink gloves.
"It's a chance for the tiers to interact and for the lower tiers to see what's to come and just how impressive they'll become," Colston said. "Everybody's cheering each other on a lot of times; it's just like a big celebration for getting through the 10 weeks."
In addition to the "Tier-Up" ceremony, students can also participate in events like "Gift From The Heart," where participants create gifts for their peers, or end-of-term dinners.
Students practice different exercises throughout the class, between collaborating with their peers and strength training. (Credit: Kat Magalski)
The support within the Pink Gloves training room radiates from one individual to another. Nishat Miage, a student at CSU majoring in health sciences pre-PA and minoring in biology and psychology, is one of the lively smiles in the room.
Miage has climbed her way up to Tier 4 after she "fell in love" with the program two years ago at the recommendation of a friend.
"Pink Gloves has made me more confident and stronger both physically and mentally," Miage, 23, said. "My favorite part is the people in it, but [the program] always keeps you on your toes and has new and fun challenges each class to help you grow."
Over the course of 10 weeks, students are trained according to their experience and ability. Each session lasts an hour and a variety of classes are held a week, specializing in one or more tiers. No class is the same, with lower tiers focusing on basic movement and higher tiers centering on combinations and working in pairs. 
The classes are available not only to students, but to faculty and members of the public as well. Additionally, the doors of Pink Gloves Boxing are always open for individuals who want a safe environment to exercise – not just women.
"We are more focused on the aspect of empowerment and encouraging each other," Colston said. "We have had nonbinary and transgender people participate as well. It's a safe space for people to work out and feel comfortable."
Although the Pink Gloves training room appears to just be a small corner to many, inside it holds the home that many students seek to discover. Between a vibrant pink wall and an expansive mirror occurs trust, community, and self-discovery.
"Your only competition is yourself," Colston said. "It's all about allowing us to grow from where we were before."
Pink Gloves Boxing offers free demonstrations for the first two weeks of a semester for anyone interested in the program. 
Classes are held twice a week for 10 weeks, with prices spanning from $85 for students, $105 for CSU Recreation Center members, and $125 for non-members. For the first tier, an additional $10 is added to costs due to the supply of boxing gloves, hand wraps, a bag, and more.
Official dates have not been announced for the next session, but it is anticipated to begin two weeks into CSU's summer semester.
For more information on Pink Gloves Boxing, visit their website.