Image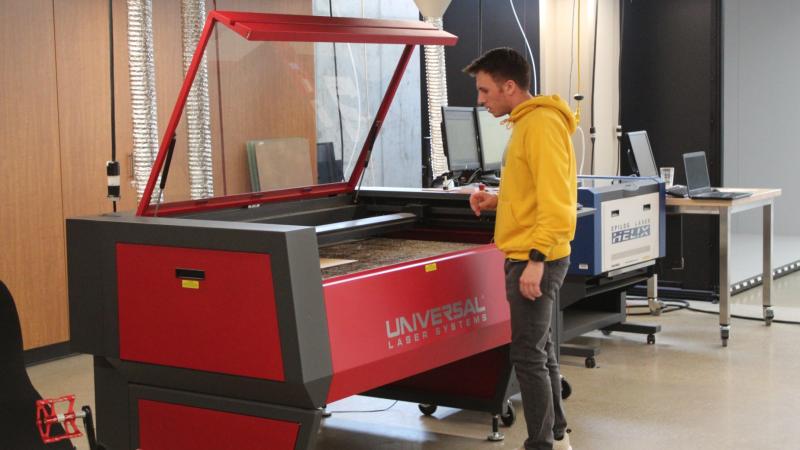 Credit: Mason Cole
Students find creative solutions at CSU's MakerSpace
The Dan T. Moore MakerSpace is a valuable resource for students in the Waskewicz College of Engineering at Cleveland State University. Manager Matthew Johnson wants the rest of CSU to know it can be beneficial to them as well.
When car troubles plagued Cleveland State University student Sydney Moore, a creative solution popped into her head. While most students and faculty would buckle and take their car to a mechanic at the first sign of a problem, Moore, a freshman studying mechanical engineering, planned on making a trip to CSU's MakerSpace.
"I've actually been considering coming down and using the 3D printers for a piece that is missing on my car," Moore said. "That's one of the practical applications that I really like about it. You take the dimensions of something you need, you put it in the computer, you print it out. It's super easy and really cost effective too."
Moore is one of many students who uses the Dan T. Moore MakerSpace in the Washkewicz College of Engineering not only for class, but for personal purposes as well. The space is a valuable resource for engineering students to gain experience in their field. But it's also much more than that.
The CSU MakerSpace opened in 2018 with the help of Dan T. Moore, a board member of the college and entrepreneur who donated $250,000 towards the creation of the space. The MakerSpace houses all of the prototyping and fabrication equipment needed for the engineering process. It contains a woodshop with various saws and drill presses, a metal shop with grinders and other tools for fashioning metal, and a common area with multiple 3D printers and virtual reality devices. As of 2023, the MakerSpace contains an estimated $1 million worth of equipment for students to use.
The woodshop area at the CSU MakerSpace has saws and drill presses for students to use on projects.
Image from Feb. 28, 2023. (credit: Mason Cole)
Matthew Johnson is an adjunct professor in the college of engineering and the manager of the MakerSpace. He stresses to his students the importance of taking advantage of what the space has to offer.
"It's really important," Johnson said. "I think for engineers, it's not just important that they know how things work, they need to make things work, and this space provides that."
Most students in the engineering department will find their way to the MakerSpace to work on class projects. But Johnson hopes that students from across campus will find the space and use it in their own time to improve their skills, gain experience, and, well, just build stuff.
Laken Voss, a freshman majoring in mechanical engineering, plans to visit the MakerSpace to access its high-tech tools outside of class.
"I know that there's a lot of 3D printers down here and laser printers," Voss said. "And I think that could be really cool to use on my own time."
While the MakerSpace is used by many engineering courses, it is available for any student, regardless of major, to use. To help promote the availability of the space, Johnson often partners with students from other majors at CSU to complete projects while showing the importance of engineering in many different fields.
"So I have some business students that may come in because they want to create a rough prototype," Johnson said. "And they've got an idea. And they don't really need to create a working model, they just need to create something that they can show about their idea. So that may involve, depending on what it is they're doing, a 3D print. Sometimes it involves woodworking."
The metal shop contains grinding and welding tools which allows students to fashion different types of materials.
Image from Feb. 28, 2023. (credit: Mason Cole)
Students who want to use the woodshop or metal shop have to set up an appointment with the MakerSpace so that an expert there can help them use the machines safely. But the open area at the entrance of the space is free for students to use when they please.
"In our open space it's first come, first served, no experience required," Johnson said. "Just walk in. You want to learn how to laser, you want to learn how to 3D print, we can do it in like 20 minutes. There's very little you can do to hurt yourself or hurt the equipment. Out here in the big space, there's tables you can use, there's meeting rooms you can use, all of that's available to students."
Johnson has increased the MakerSpace's presence on social media in hopes of making more students aware of its services. But, Johnson also knows that cross campus collaboration is important to drawing more students to the space.
"We did a partnership with the botany department," he said. "There's like 100 different species of trees on campus, and they wanted a way to put markers at every one of those trees. We did a project with them to send students over and create the markers at the MakerSpace. So I try to look for these cross campus collaborations that are more intentional."
Johnson is hoping that more students like Moore, car problems or not, will find their way to the MakerSpace during their time at CSU. While she has to use it for classwork, Moore also appreciates that the tools are available to use anytime on campus.
"There's a full woodshop and metal shop down here which is a super good resource," Moore said. "Honestly, I wouldn't know where to access those tools otherwise. And, not necessarily within my major, but for things outside of that, I think it's a really cool resource to have those tools on campus."