Image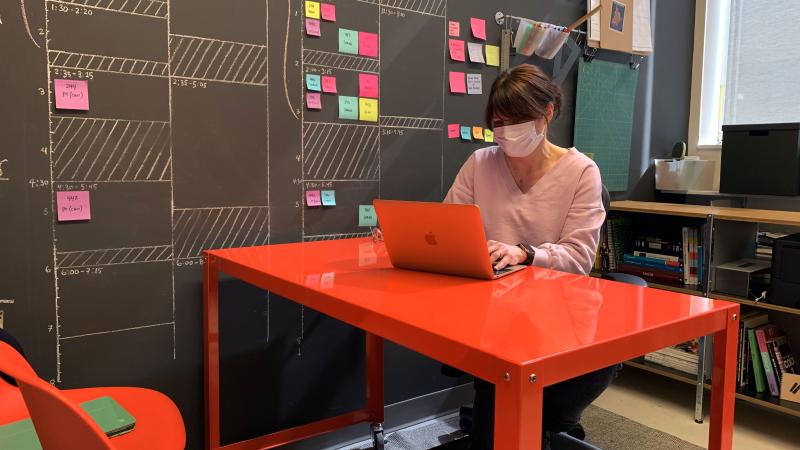 Credit: Eric Seitz
People of CSU - Design faculty member Jenn Visocky-O'Grady
Meet the woman behind the growth of CSU's graphic design program for the past 20 years.
"I just like talking about design and the power of design, and I like talking about creative stuff with creative people."
Jenn Visocky-O'Grady, a professor of graphic design at Cleveland State University, views her position as less of a teaching role and more of a coaching role. When asked if teaching comes naturally to her, she said, "I think talking comes naturally to me, so I'm lucky that my form of teaching is communicating and interacting."
Visocky-O'Grady has served as a professor in the Department of Art & Design at CSU since 1999. She is a former department chair and faculty senator, and she is currently the university's faculty mentoring fellow.
In her time at CSU, Visocky-O'Grady has seen a radical change in the Department of Art & Design. When she was hired, she was the department's sole design faculty member, and now graphic design is by far the largest major in the department. She cites this as a testament to the wild growth in the popularity of the field of graphic design over the past twenty years.
Visocky-O'Grady loves teaching at CSU because getting a degree at CSU has the power to change someone's life — a quality she refers to as "social mobility." 
"It's incredibly rewarding to see someone go from making messes in the first stages of a project, to all of a sudden, it's like 'Wow, that really looks like something!' Like you can see them learning," she said.
She loves to teach design because college is a revolving door of students.
"I get to be surrounded by young people who have a different eye on street style and aesthetics that I might not pick up on, having been around for a longer time."
She says one of the trickiest parts of design is to continue to stay relevant in a universe that's constantly changing, so seeing students immerse themselves in graphic design trends allows her to stay current as well.
Going straight from defending her master's thesis at Kent State into her first full-time job at Cleveland State, a lot of her career has overlapped with itself. Visocky-O'Grady and her now-husband Ken Visocky-O'Grady began their own design firm together early in both of their careers.
They would go on to attend graduate school and coauthor multiple design books, before eventually raising their child together. These endeavors often crossed over with one another, making for busy days, nights and weekends. For Jenn, it became a balancing act.
"It was easier to write at 4 in the morning than it was to have client meetings."
Her ability to manage all of her commitments even sometimes extends to the classroom, as she likes to pass on non-design related tips to her students to help them succeed in the real world, rather than just as students learning a curriculum. Her tips range from helping Introduction to Typography students with their morning routines to giving capstone students tips on how to dress for job interviews.
For current and former students of Jenn Visocky-O'Grady, many things may come to mind when they think of their professor — her big-idea way of talking; her fun sense of style; her hatred for the typeface Arial. But perhaps nothing sums up Jenn better than the directive she gives students at the end of each class period — "Go make good stuff!"