Image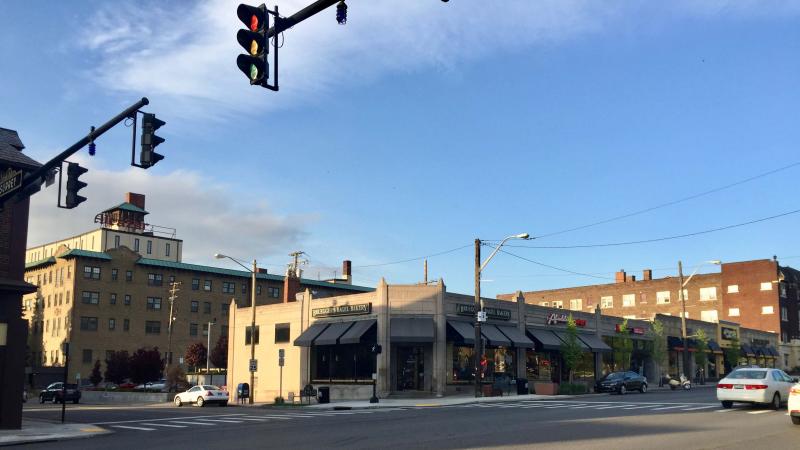 Credit: Warren LeMay / Wikimedia Commons
The Gateway to the Heights
(This article was written for Leo Jeffres' Specialized Writing class.)
Overlooking University Circle, Cedar-Fairmont  leaves the lowlands that take travelers into downtown and climbs to an area with a popular mixture of businesses and residents. As you drive up the hill you escape from the city feel of Cleveland and pass through a gateway to the heights.
Cedar-Fairmount found its name in the late 1910s because of the area's connection to Cleveland's streetcar line. Once the Heights Center Building was completed in 1916, the area formerly took on its new title. By 1921 Cleveland Heights was officially a city, which helped the area start to expand.
In 1923, a new apartment hotel titled the Alcazar Hotel opened its doors right off Cedar Road. The Alcazar originally appealed to the wealthy residents of Cleveland, but by the late 1950s larger suburban houses were attracting the wealthy who would normally live in apartment hotels. Today, most of the hotel is home to the elderly, with some rooms still being rented out.
Around the Cedar-Fairmount area lie many residential complexes, including the notable Barton Deming Euclid Golf project. Euclid Golf was a golf course for five years before Rockefeller gave the Cleveland Street Railroad Co. permission to connect the Cedar Road line to a new streetcar line on Coventry. Rockefeller then picked Deming to construct the new Euclid Golf residential allotment.
One of the more popular spots in the Cedar-Fairmount area is the now expanded Nighttown restaurant and jazz club. The building originally opened as a small diner in 1920 before becoming a deli, beauty parlor, and a candy store. Some 40 years after the original opening, the building was sold to Cadillac Amusements which was operated by the mob, renaming the building the Silhouette Lounge. Five years after opening, the feds shut down the lounge, and John Barr opened the still popular club, which has expanded from the original 40-seat room to now having the ability to seat 400.     
In 1969 the city of Cleveland Heights laid plans for a redevelopment plan of the Cedar-Fairmount area led by a new apartment complex that was supposed to connect to the Cleveland Transit System. This plan ultimately failed, and the Cedar-Fairmount area has remained a historic area in Cleveland Heights since.
Although the renovation plans for the area did not go through as planned, the Heights Medical Building and Doctors' Hospital was demolished in 1969. The building had previously made the area a medical hub. Since the building's demolition, the area has remained a parking lot for apartment residents and local businesses. 
Looking forward, plans have been made to start a new renovation project on the Cedar Road-Euclid Heights Boulevard intersection at the Top of the Hill. The project will look to turn the former Doctor's Hospital into a new residential area. While preserving the historical aspects of The Gateway to the Heights, the project will add a new feel to the area.