Image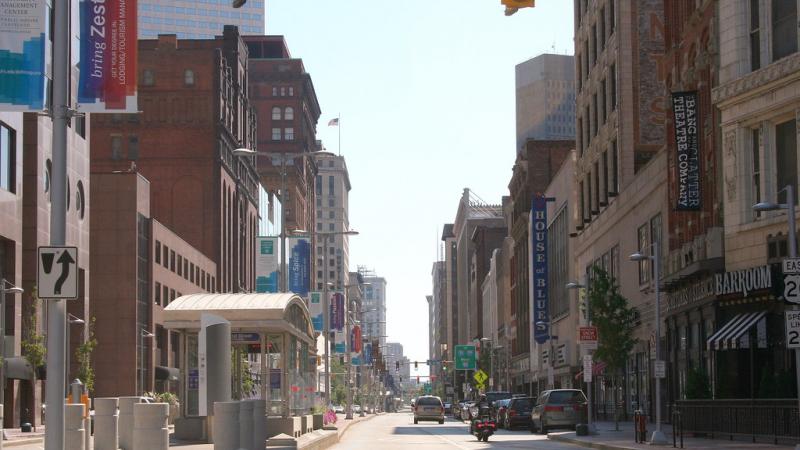 Euclid Avenue: The center of the city
(This article was written for Leo Jeffres' Specialized Writing class)
Cleveland, Ohio's rich history is as inspiring as it is long, and Euclid Avenue, which runs through the center, provides a snapshot of many important times.
Cleveland was founded in 1796 and was a success because of its location near multiple bodies of water. The turn of the century brought prosperity to the city, which made it a hot spot for the wealthy.
As Cleveland gained notoriety, so did Euclid Avenue. It gained popularity as a tourist attraction and became a place where the elite lived. Oil tycoon John D. Rockefeller, as well as political figures and other prominent celebrities, owned mansions along Millionaire's Row.
Cleveland didn't fare as well as other cities like New York after the Great Depression of the 1930s, and Millionaire's Row is an example of how the city declined. After the money shifted to other areas, the homes were made into hotels and places with rooms for rent. What was once a gleaming city of shiny, new opportunity turned into an area where the poor lived.
Further east on Euclid sits the oldest building in Cleveland. It is named "the Dunham Tavern" and it was built in 1824, later being updated in 1842. Originally built as a home, it was converted into a stagecoach stop and a tavern. After many years, it was remodeled and then reopened in 1941. It was named a Cleveland Landmark in 1973.
In the other direction, a short walk from Cleveland State University sits The Arcade, one of the first constructed indoor shopping malls in America. Even though it was built in 1890, it was remodeled in 1939. Its famous glass skylight is more than 300 feet. Since 2001, the building's top levels are now a hotel, the Hyatt, and the bottom layers have shops and a food court.
Two prominent centers of leisure and entertainment anchor different ends of Euclid Avenue.  On the west, Playhouse Square is one of the top theatrical centers of the country, only second to Broadway in New York City, and on the east, University Circle also contains many important and exciting cultural attractions.
University Circle is home to Severance Hall, many museums, Lake View Cemetery and University Hospital, which is internationally famous as one of the best hospital systems in the world. Always under construction, University Circle draws 2.5 million visitors a year. Even though Cleveland has had its share of troubles, it could always count on University Circle to draw in visitors.
Severance Hall opened in 1931. It is the home of the world-renowned Cleveland Orchestra. Many notable composers like Igor Stravinsky and Sergei Rachmaninoff traveled to Cleveland when their music was performed. The inside is an elegant homage to Egyptian décor with papyrus and lotus flowers. The acoustics were originally not impressive. After a major renovation in 1958, the hall now carries sound gloriously.
In 1998, Severance Hall underwent an expensive restoration that earned it the "National Preservation Honor Award." It was even featured in the 1997 film "Air Force One" because its architectural beauty could be compared to other old buildings in Europe.
A glance back through Cleveland's history shows a rapid rise in success followed by hardships and then a steady climb back up with hard work and dedication. Even though the city has been the brunt of many jokes in the past, residents have demonstrated they are loyal and hard working.
The city that gleams with steel and sparkles with bright stage lights might not be as large as it once was, but its quality of life is hard to match, and Euclid Avenue is at the center.