Image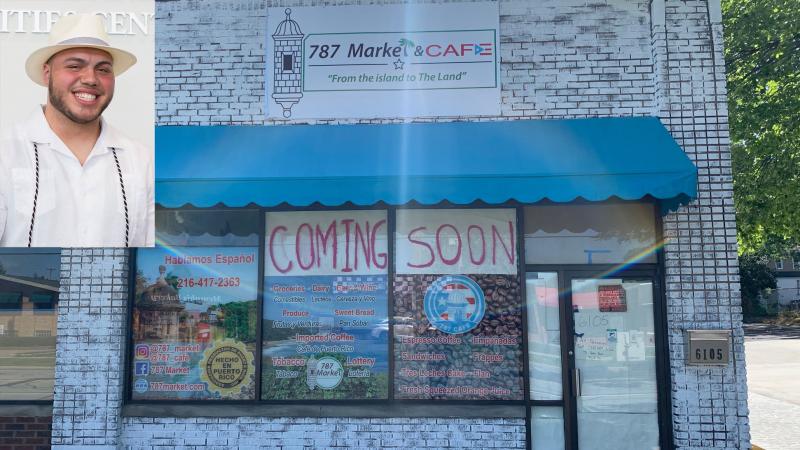 Credit: Harry Quiñones
Business major Harry Quiñones' side hustle is bringing authentic Puerto Rican tastes to Cleveland
The young entrepreneur plans to open his 787 Market this November.
The Monte Ahuja College of Business event series, "How to Create a Side Hustle", recently featured fourth year business major and entrepreneur Harry Quiñones.
Quiñones addressed how he has juggled school and kept working towards opening his own business.
"787 market is a Bodega which is a small Hispanic grocery store," Quiñones said. "It is a very popular type of shop where there is a big Hispanic population."
The presentation was part of a multi-event series put on by the college in which business students at Cleveland State University get to present their business ventures to their peers.
These events have given aspiring business students the chance to learn from one another and use real world practices in their career paths.
Quiñones' 787 Market will stand out because of its made-to-order menu of authentic Puerto Rican dishes, such as espresso, sandwiches, plantains and pastries.  
"I will have the store component where I will sell groceries and specialty ethnic foods," Quiñones said. "Then I have the café where I serve hot made food there."
Born and raised in Cleveland, it was the summers Quiñones spent in Puerto Rico where he first discovered his taste and love for the culture.
Then, on a trip he took to visit family in Florida back in 2016, Quiñones found his inspiration for 787 Market.
"I was inspired by the trip because when I was down there, I fell in love with the entire Hispanic culture in Miami," Quiñones said.
A Cuban restaurant called Havana 1957 was the inspiration for him to open a place like that for his own Puerto Rican culture.
"You stepped into Havana 1957 and you felt like you were visiting Cuba," Quiñones said. "I want to bring that same kind of experience to Cleveland."
The itch to become an entrepreneur stuck with Quiñones as he opened his first business, which was his own sandwich stand in the west side market called the Latin Sandwich Company when he was just a senior in high school.
"That was my first real business experience, I got my corporation papers done and found a business partner and had everything in order," Quiñones said.
That same year Hurricane Maria hit Puerto Rico. That became a pivotal moment in Quiñones entrepreneurship journey. He feared for the safety of his family back in Puerto Rico.
They weren't even able to speak to their family members for weeks until phone lines went back up, and Quiñones didn't know when he would be able to return.
"I didn't know when I would get to go back which even more led to me wanting to bring the authentic experience over to Cleveland," Quiñones said.
In 2018 many Puerto Rican families came to live in the Cleveland area, igniting his passion even more.
"I saw the emergence of different clubs and social media groups all for Puerto Rican culture," Quiñones said.
In 2019 Quiñones started putting his plan for 787 Market into action. He merged the idea for a market and café into one and ran with it.
As of now, Quiñones has secured the building space and the interior is nearly complete, but there have been hurdles to overcome too.
"Hognestly getting permits in Ohio has been a very hard challenge," Quiñones said. "One big reason is because Ohio is a control state and owns all the liquor sold, which makes selling it very difficult."
He is putting the finishing touches on the market cafe and plans to open by the end of November. 787 Market is located at 6105 Memphis Ave. in Cleveland.