Image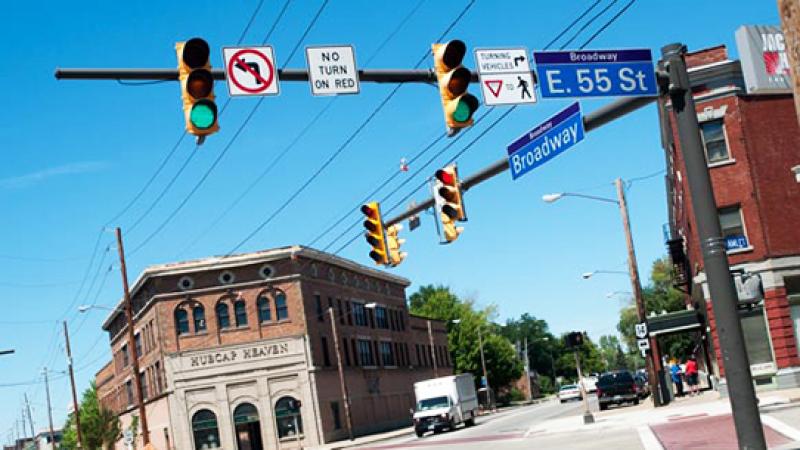 Photo courtesy of FreshwaterCleveland.com
 Broadway Avenue/Slavic Village: The Rise, Fall and Rebirth
(Editor's Note: This article was written for Leo's Jeffres' Specialized Writing class.)
If you travel down Broadway Avenue through Slavic Village nowadays, it's hard to imagine what came before the ruins of one of Ohio's most historic paths through Cleveland.
Once known as a booming, rich route of relevance, this community has been battling the negative narrative that has cast a shadow over its town as poverty and crime grab the daily headlines.
Back in its heyday, Slavic Village was an iconic part of the Buckeye state.
Once touting 100,000 residents, it was known for its strong Czech community heritage to the west, and Polish following in the east.
Broadway Avenue flourished with industrial sites like the Broadway Lumber Co. and Joseph Turner and Sons Manufacturing Co., and such ethnic and entertainment venues as Bohemian National Hall and New Broadway Theatre. Broadway Avenue was also the home of important technological companies like Ohio Bell Telephone Co., and motor companies like Buick, Ford and Chevrolet.
Many of these sites were within walking distance to homes.
After construction of the Ohio and Erie Canal, and with the additions of streetcar routes and key city buildings such as St. Alexis Hospital before the turn of the nineteenth century, Broadway was drawing the attention of many. In 1902, The Cleveland Public Library adopted the Broadway Branch at 5407 Broadway Ave. and more churches popped up to match the surge of Czech immigrants. These sites were the foundation of what was a rising economy during the early 1900s.
One of the most iconic buildings in the area, St. Stanislaus, located just seconds away from Broadway on East 65th Street, resides in the southern neighborhood formerly known as Warszawa and is considered the prominent church for Cleveland's Polish population. The storied community often returns in the fall to the Broadway neighborhood to celebrate their heritage and culture.
Built in 1873, St. Stanislaus is truly a sight to behold. From its massive castle-like exterior, to its breath-taking indoor shrines and fixtures, the church is a relic and staple of Northeast Ohio, and a must-see for any Catholic visitor of the area. The venue also hosts the annual Polish Festival each year, offering visitors games, activities and a host of cultural cuisine, including pierogi, duck soup and potato pancakes.
Parma resident Sara Hensley recalls the beauty of St. Stanislaus during her 1990s childhood in Slavic Village.
"The church itself is actually breathtaking," Hensley said. "From the architecture reflecting the era in which it was built, to the ornate detailed engravings and woodwork. We enjoyed our time there, it was always warm and welcoming as everyone was well acquainted. Most of the families had been attending St. Stanislaus over generations."
Hensley and her family left the church in 2001 after the shocking murder of Father William Gulas.
"It just wasn't the same without him," Hensley said.
Another iconic mark on the Broadway community was the erection of the Broadway Bank building in 1883 (now Hubcap Heaven). This began the rapid rise of economic acceleration as the banks continued to grow, touting six such buildings in just a two-block radius of East 55th and Broadway in 1920.
The massive immigration that was fueling the community would soon end with the beginning of World War I. But Broadway continued to flourish into the late 1920s before beginning its slow decline.
Fast Forward to 2020, and it's quite a different story.
If you head southeast down Broadway off of Interstate 77, you'll struggle to see any resemblance to the 1900s era. The largest presence of Czech heritage is the Czech Culture Center at 4339 Broadway. One of the few churches left standing is the Holy Name Catholic Church. Most of the industrial and large-scale manufacturing jobs have been replaced with some small-businesses, though a significant number of industrial jobs still exist in the northeast sector.   
The décor is covered with much brick and wood. Some buildings are worn, torn and broken down. Our Lady of Lourdes High School closed down in 1969, merging with the present Cleveland Central Catholic High School. The litany of banks that once defined the area have been reduced to one large Third Federal building.
If you head northeast alongside Interstate 77 and 90 highways, you'll see a small sample of machinery shops like Armont Machine Repair and metal engraving businesses like Family Bronze. Just outside Broadway Avenue is the world's leading steel and mining company, ArcelorMittal. This is what remains of what was a large-scale part of what kept Cleveland running in the 1900s. If present day folk took a stroll down this path, some 120 years ago, they would be greeted with plumes of smoke and fire as factories churned out mass production.
By 1990, just 8,852 people lived in North Broadway, a decline of 45 percent, signaling the troubling times. One of those casualties was the aforementioned St. Alexis, which closed its doors for good in 2003. 
In 2010, the slow fade of residents peaked around 9,000 in the North Broadway area, but was replaced with a surge of around 3,000 African Americans who flocked in after the foreclosure crisis. Slavic Village's housing crisis reached its peak by 2013 when the neighborhood had more than 1,200 abandoned properties.      
While times are undoubtedly troubling, new opportunities may bring life back to this historic community.
Recently, the Cleveland Land Bank, Slavic Village Business Associates, and a handful of real estate groups partnered to gentrify the location due to its valuable proximity to downtown Cleveland. The goal would be to provide a new area for young professionals to live downtown at a more affordable rate. The process would focus on placing liens on delinquent housing, foreclose them onto the land bank and then redistribute them to qualified owner occupants with a limit on how many properties they can own.
Featured in Crain's Cleveland Business in late October 2019, Cleveland-based apartment developer, NRP group, has joined forces with University Settlement, a well-known social service provider in the area. The Slavic Village Gateway project calls for a re-haul of a vacant five-acre site at 5163 Broadway Ave. It will be replaced with a pair of four-story apartment buildings on the east side of the block, consisting of 18 one-bedroom units, 48 two-bedroom units and 22 three-bedroom units, including 10 townhomes.

Aaron Pechota, NRP Group senior vice president announced the plans in a news release last October.
"Slavic Village Gateway represents an amazing combination of affordable housing and supportive services that can have a transformational impact on both residents and the surrounding neighborhood."
Pechota is confident the Slavic Village Gateway Project will go a long way to revitalizing the city.
"It is really directing significant investments to a neighborhood that hasn't seen it in decades," Pechota said. "I'm positive. I have been doing this for 15 years now, and its large enough where it's going to spur on other developments."
The project is slated to begin construction in the middle of 2020.
The restoration of the area is a welcome sight to see for shops and small businesses trying to shine light on the good of the historic community. Chefs Penny Barend and Melissa Khoury have owned Saucisson Meats on Fleet Avenue for a little over three years now. After a successful couple years, the "Lady Butchers" hope the renovation projects will further the mission to spread the good news of Slavic Village.
"The neighborhood gets a fair amount of negative press," Barend said. "A lot of times, when really great things happen here, nobody really hears about it. That's why we are trying to get the narrative changed because there are a lot of positive things going on over here."   
Barend has seen that positivity first hand. She bought a Slavic Village development restored home located 10 blocks from the shop.
"It's really neat," she said. "The house is older, but it has a lot of amenities you would look for in a first home. It has all new windows, the electrical, plumbing, and all the things you would have to do to a first home to make it liveable. It doesn't have the fanciest floors or the top of the line cabinets, but it's a totally cute house."
Barend said she believes the passion of non-profit groups like University Settlement and others have laid out the blueprints to a bright future.
"I feel like they are just really, really committed to the area," Barend said. "Some of them live over here, and some of them don't, but they try really diligently to build the community and take care of the neighbors. They are helping us sort of change the narrative of the neighborhood."
While the area may never return to its pinnacle like back in the 1900s, projects like Slavic Village Gateway and a tight, well-knit community seeking to bring back the glow of the neighborhood will go a long way to helping reignite the passion and pride that was once known as Broadway Avenue. 
  St. Stanislaus Church.                                                                                    Photo courtesy of Cleveland Press Collection
A postcard of St. Alexis hospital.                                                                      Photo courtesy of Cleveland Press Collection