Image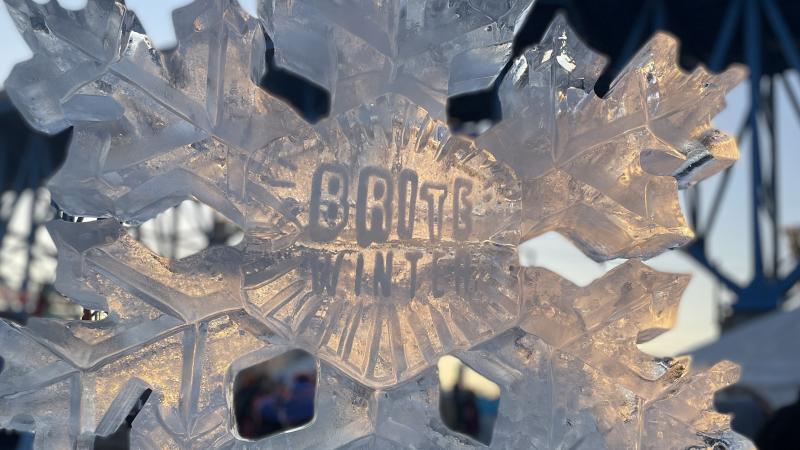 Credit: Karyssa Rose
Brite Winter festival warms up frosty East Bank Flats
The chill of a Cleveland winter couldn't stop festivalgoers of all ages from flooding the Flats on Feb. 25, 2023.
The Brite Winter music festival rang in its 13th year as some 10,000 people came out in the cold to see Cleveland-born punk-rock groups perform.
Three stages sprawled across the East Bank Flats, each with enormous speakers and luminous lights. Concertgoers huddled closer to the platform as the sun set behind the Willow Avenue bridge.
Skuff Micksun, performing on the Cleveland Scene Skyline Stage, sang from the heart as his ensemble played behind him. It was his first time playing at the non-profit show. The road to get there "had a lot of traffic," he said.
Skuff Micksun, center, and his band prepare for their first-ever set at the annual non-profit show, Brite Winter, on Feb. 25 in Cleveland, Ohio. (credit: Karyssa Rose) 
"We applied to play at Brite Winter several times and this year we finally got in," Micksun said. "It's been a great experience and I wouldn't change it for the world."
While Micksun finished up his powerful set, Signals Midwest was getting ready to play on the main, West Bank, stage. This year's festival theme was anchors away. The West Bank stage sat among interactive art pieces, including a rocking boat and a staggering lighthouse. 
Soon the crowd was rocking too, as Signals Midwest singer Maxwell Stern, a Cleveland State graduate, filled the chilly air with his pop-punk vocals. 
"We love performing in Cleveland. It's a different kind of atmosphere, even in the frigid weather," Maxwell said.
The festival has continually brought Clevelanders new music, mostly local bands, and this year more than 80% of attendants reported experiencing a new band or artist. More than half of the people at the show had been to a Brite Winter festival before. And those looking to get involved for free can participate in the yearly Brite Workshops, where participants can collaborate on creative art installations. 
Brite Winter focuses on having affordable tickets so that practically anybody can attend the frosty festivities – this year the general admission ticket cost $10. The low ticket prices are made possible by the hundreds of donors who contribute to the show every year, and local sponsors like The Rock and Roll Hall of Fame, the Ohio Arts Council, Platform Beer Co., and many more.
"We hope to play here again next year," Micksun said. "The crowd was amazing and we had a great time!" 
The line-up for 2024 has not yet been announced, but those interested in being the first to know can find more information here.