Image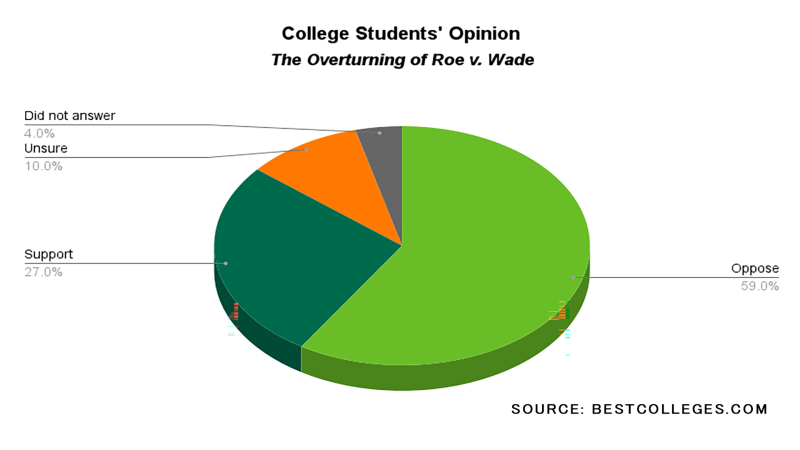 Lydia Kacala
Comment - CSU students talk Roe v. Wade
Cleveland State University students give their opinions on the Supreme Court's overturning of Roe v. Wade (1973), which recognized a woman's constitutional right to an abortion.
The Supreme Court overturned Roe v. Wade and a woman's constitutional right to abortion in its June 24, 2022 ruling in Dobbs v. Jackson Women's Health Organization. 
Roe v. Wade (1973) protected the right to an abortion under the 14th amendment, which protects a citizen's "right to privacy."
The Cleveland Stater asked students in a non-representative survey to voice their opinions on how the decision affects them on and off campus, and what the Supreme Court's decision means for them and what it might mean for people with unwanted pregnancies. 
Molly Weir, a senior, focused on the change in life plans for someone carrying an unwanted pregnancy, saying a pregnancy can completely alter the course of someone's life. 
"This could potentially shift career and life goals the person may have," she said. "A forced pregnancy will potentially change all future plans the person may have had." 
In the wake of the Supreme Court's decision, lawmakers in Ohio are already pursuing laws that, if passed, could lead to a total abortion ban and a felony charge for anyone found guilty of "criminal abortion" or "abortion manslaughter." Ohio lawmakers are also considering a ban on in vitro fertilization (IVF) and could outlaw the use of birth control devices such as IUDs.
Lauren Schwan, a junior, said the court's decision could destroy trust in the healthcare system and its workers. 
"I think that it's dangerous, very dangerous to not have those opportunities and also not to have that level of trust with your doctor to be able to say 'I need this service,'" she said.
In a BestColleges survey of 1,000 students across the United States, 59% of respondents opposed the Supreme Court's decision to overturn Roe v. Wade.
College campuses play an important role when it comes to difficult discussions surrounding abortion. They can provide people with a support system, especially when there are students that moved away from theirs.
"I feel like CSU is very caring towards students and wants them to succeed," Schwan said. "I think that having a community like this, like a college, is helpful. You can always find somebody who can help."