Image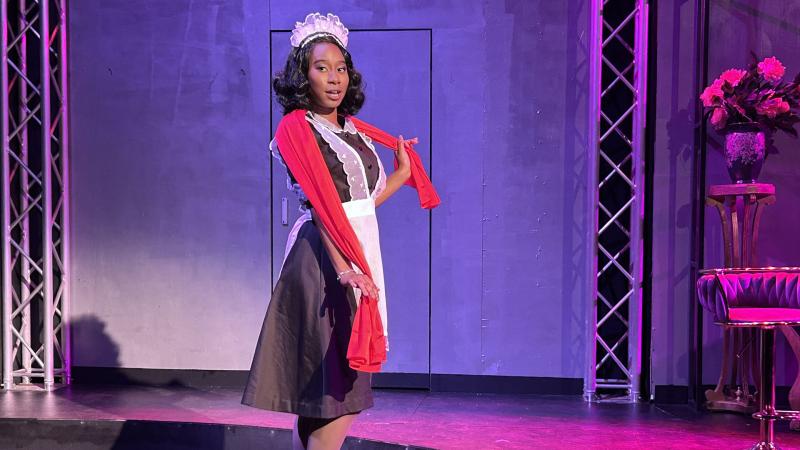 Credit: Kasey Sheridan
"By The Way, Meet Vera Stark" brings the 1930s to 2023
The poignant two-act comedy hit the stage at CSU on Thursday, April 20, taking audiences on a journey through time.
"By The Way, Meet Vera Stark," a comedy by Lynn Nottage, made its debut in the Helen Lab Theatre on April 20 and ran through the end of the month. Guest director of the CSU student-led show was Sheffia Randall-Nickerson.
The play follows the life of an African-American Hollywood icon Vera Stark, played by junior theatre major Cassandra Miller, as she follows her dreams of becoming a film legend — but it comes at a great cost. 
About the show
When the audience meets Vera, she's working as a housemaid to Gloria Mitchell, "America's little sweetie-pie," played by junior theatre major Kat O'Donnell. It's the 1930s and Gloria already has a prominent Hollywood career. 
The show was written by Lynn Nottage and made its debut at Second Stage Theatre in New York in 2011. Vera's character is loosely based on African-American actress Theresa Harris, who appeared in nearly 90 films throughout her lengthy Hollywood career.
Vera's career, as Nickerson-Randall explained, was complex, begging the question: would she have made it further if she had had the same opportunities as her white employer, Gloria?
"What if she was given this opportunity, or that opportunity?" Randall-Nickerson said. "What could've happened to Vera?"
The show starts with Vera at her humble beginning as a starlet and the second act gives an overview of her career through "clips" of a 70s talk show.
"The show reveals a lot of things about our potential, and what happens when we have opportunities," Randall-Nickerson said. "What happens when barriers are built up? What could happen when those barriers are taken down? That's something I feel strongly about."
Image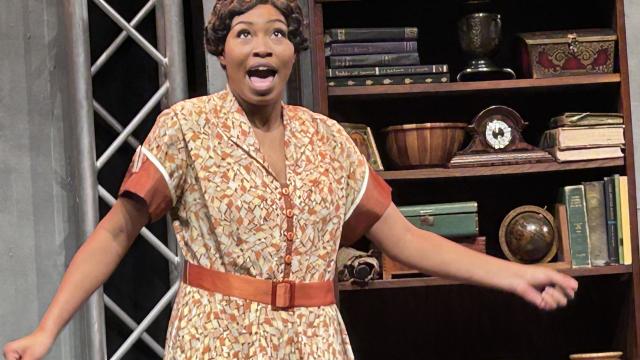 Trinity Thomas as Lottie. (Credit: Kasey Sheridan)
CSU junior Trinity Thomas played two characters,  Lottie McBride, Vera's roommate, and Carmen Levy-Greem, a member of the panel of scholars who analyzed the aforementioned clip from the talk show during the second act. She believes the show is a story that's timeless.
"It's an amazing story that reflects where we were then and how far we have come," Thomas said. "It puts issues and struggles on the forefront and does it in a way that's both comedic and resounding."
Thomas also spoke highly of guest-director Randall-Nickerson. 
"She's been hands-on since the beginning," Thomas said. "She's very specific about getting us comfortable with understanding the times as well as the mannerisms and the way we carry ourselves. She and the entire crew did an incredible job with bringing the magic of the show to life."
"By The Way, Meet Vera Stark" is the first show Randall-Nickerson has directed through CSU's theatre department. Originally from Chicago, she studied musical theatre at Baldwin Wallace University and has directed shows at Cleveland Public Theatre and Karamu House.
"I've wanted to work with CSU for a long time," Randall-Nickerson said. "CSU has a reputation for churning out amazing talent, so I was really excited to work with the faculty and, of course, with the students." 
My thoughts
The show, from start to finish, was brilliant. The costumes, designed by CSU's costume shop supervisor Terry Pieritz, were incredible. From Gloria's 1930s red dress to Vera's 1970s pantsuit, every costume really helped to transport audiences through time.
Image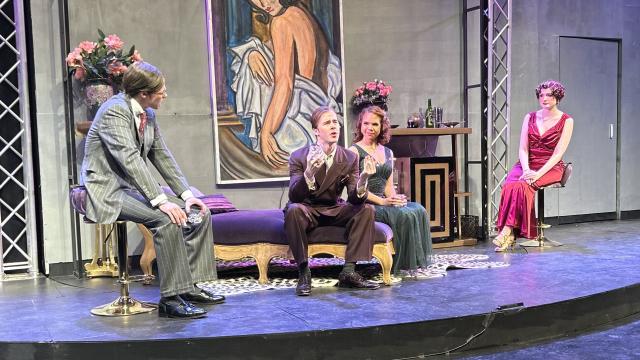 This scene from Act 1  gives some idea of the brilliance of the set and costumes. (Credit: Kasey Sheridan) 
As a CSU theatre major myself, I may be biased, but the performances were stellar. Randall-Nickerson's hands-on directing style really shined as Miller brought Vera to life with her effortless charm and internal conflict on full-display. Thomas was absolutely hilarious as Lottie and had the entire audience roaring with laughter on more than one occasion. 
The entire ensemble, as a whole, was nothing short of brilliant. It's also worth mentioning that the show features a brief film, starring Vera and Gloria, and it was really great to see such an impressive collaboration between CSU's theatre and film departments brought to life on-screen. I really thought I was watching a film from the 1930s!
The show itself is one I wish I'd heard of sooner. The struggles Vera faced, combined with the typecast roles she got stuck with throughout her career, really spoke to how talent doesn't really matter in an industry dominated by white, and mainly male, producers and directors. It's nice to think that we as a society have come a long way since the 1930s, but "By The Way, Meet Vera Stark" is a, no pun intended, stark reminder that even now, in 2023, the adversities Vera faced are still very real, and we still have much work to do. 
"By The Way, Meet Vera Stark" is a genre-bending comedy, full of laughter and delight, with a poignant message. If you didn't get a chance to see CSU's production, I'd highly recommend you pick up a copy of the script or keep an eye out for any productions of it moving forward.
CSU's theatre department has yet to formally announce its 2023-2024 season, but I'd highly recommend you try to see a show or two next year and witness your fellow students' talents onstage for yourself.