Image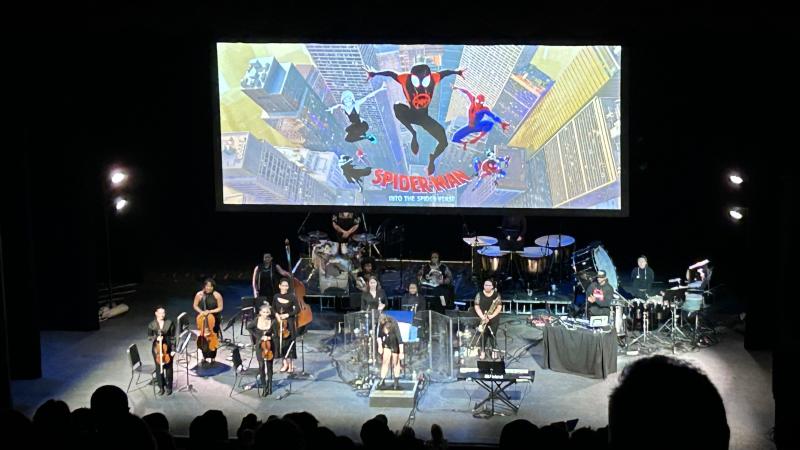 Credit: Kasey Sheridan
Spider-Man Orchestra swings into Playhouse Square
The "Spider-Man: Into the Spider-Verse" Orchestra swung into Cleveland on Saturday, Oct. 21, delighting fans with live music and a showing of the eponymous film.
Playhouse Square's Key Bank Theatre in downtown Cleveland hosted the "Spider-Man: Into The Spider-Verse Orchestra" on Oct. 21, delighting Spider-Man fans and musicians alike.
The soundtrack, scored by Daniel Pemberton, combines cinematic orchestral elements with futuristic, electronic sound mixing. 
"It's one of my favorite scores I've ever written," Pemberton said. 
The spectacular orchestra accompanying the film was the Broadway Sinfonietta, an all-women and majority women-of-color orchestra based in New York City, conducted by Emily Marshall. DJ Damage joined the women onstage with a light-up turntable setup.
Image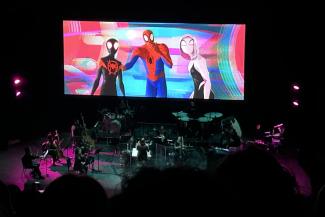 The show featured a light setup that changed with the screen, and performers could be seen as the scenes above them panned out. (Credit: Kasey Sheridan)
The super-talented musicians provided the score as Bronx teenager Miles Morales swung across the screen behind them, meeting other Spider-People and defeating the evil Kingpin and other deadly foes. 
The tour began on March 17, 2023, in the Kings Theater, in Brooklyn, New York. When the conductor addressed the crowd and announced that they were watching an all-women, majority women-of-color orchestra, the crowd erupted with gasps and applause (you can watch the audience reaction on the Sinfionetta's website). 
"Spider-Man: Into The Spider-Verse" made its debut in 2018 and won Best Animated Feature at the 2018 Golden Globe Awards and the 2019 Oscars.
Just when the film ended and the crowd was standing for an ovation, the orchestra shocked the amazed onlookers by playing through the film's entire eight-minute credit sequence, ending the performance with a nostalgic rendition of Spider-Man's iconic theme.
For more information about the tour—including upcoming dates and additional details  about the performers—visit the Broadway Sinfionietta's website.