Image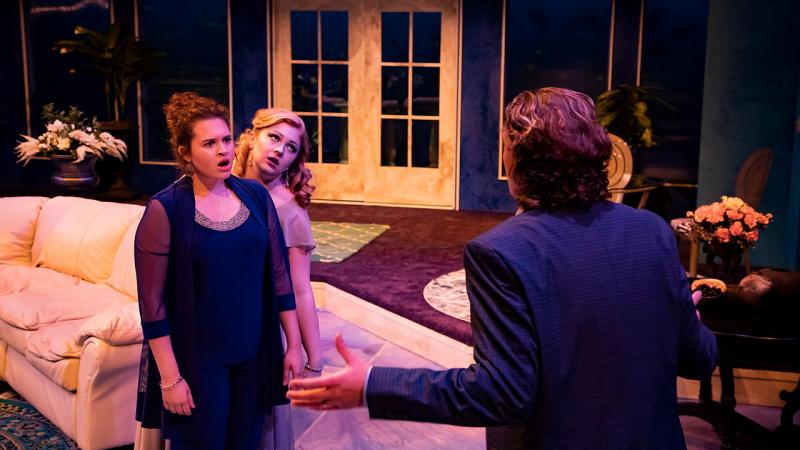 Credit: Steve Wagner | CSU Department of Theatre and Dance
CSU theater department returns to live performances with Blithe Spirit
The Cleveland State University Department of Theatre and Dance is having its first live performance in over a year, following the COVID-19 pandemic.
CSU's production of "Blithe Spirit" had its opening night on Oct. 21, making it the first live performance since the beginning of the COVID-19 pandemic.
Directed by faculty member Russ Borski, the production stars seven Cleveland State students, with several other students working as the production crew.
"Getting to be a part of the return to live theater is such a privilege," said theater major Claudia Cromly, who portrays Elvira in the production. "On opening night, I was almost brought to tears just hearing people cheering when the lights went down — I could feel the relief from the cast and crew."
Playing at Playhouse Square's Outcalt Theatre, the show runs for two weekends, starting on Oct. 21 and running through Oct. 31. Showtimes are Thursday, Friday and Saturday at 7:30 p.m. and Sunday at 2:00 p.m.
"Blithe Spirit," written by Noël Coward in 1941, is a non-musical comedy about a socialite author who is (literally) haunted by his dead first wife after hiring a seemingly fraudulent medium to perform a séance in his house. Director Russ Borski has adapted the work for the twenty-first century, setting it in present day in Long Island, New York.
Abiding by the protocols set forth by Playhouse Square, the theater department requires all attendees to either show proof of vaccination or present a negative COVID test at entry. All cast and crew members are vaccinated.
"Our production of Blithe Spirit is a true labor of love," said director Russ Borski. "This is a great group of talented and dedicated students who have cared for and took over this beautiful adaptation of Noël Coward's classic play. The update to 2021 pandemic Long Island shows the integrity of the original script and its durability through its 75 year history!"
Tickets for the second and final weekend of showings can be purchased at https://www.playhousesquare.org/events/detail/blithe-spirit.