Image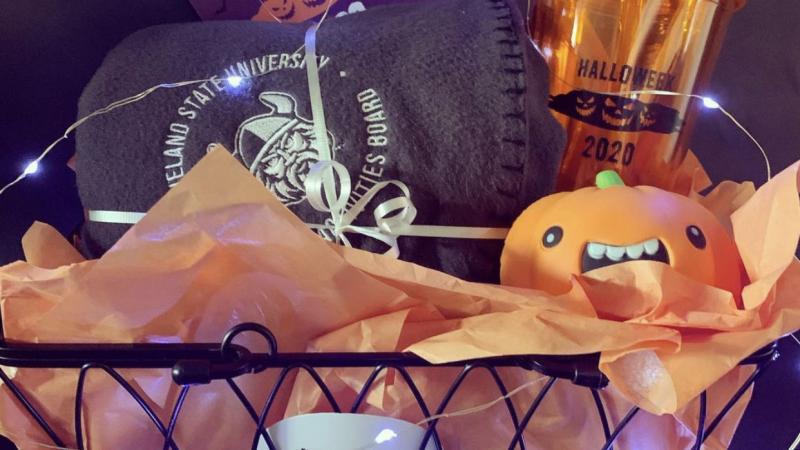 Credit: csucab Instagram
CSU celebrates Halloweek
CSU's Campus Activities Board held a week of Halloween activities instead of the annual Fenn Tower of Terror.
Halloweek at Cleveland State this year took a departure from the usual Fenn Tower of Terror and other Halloween activities due to COVID-19. The Campus Activities Board (CAB) held a virtual event in its place.
It featured activities that students could participate in virtually with a chance to win prizes. 
"COVID-19 has definitely made an impact on events during Fall semester. We always have to be ready to make quick changes and it totally made us think of new and creative alternatives for events," said Reem Abumeri, CAB's diversity chair. 
Halloweek kicked off on Oct. 27, with the event Next Level. Students were able to show off their gaming skills in a Fortnite or Smash Bros tournament. Winners of the tournament were given the chance to win a Nintendo Switch gaming system. 
"The event went pretty well! We saw attendance higher than most e-sports events on campus. All the participants were really eager to play, and I think they all had a good time, whether they won or lost," said Eric Seitz, CAB's pride and spirit chair. 
The Haunted Mather Mansion Tour took students on a virtual tour of the mansion where they learned stories about the mansion's history. 
The Day of the Dead was then honored on Oct. 29. Students learned about this Mexican tradition. Hispanic culture expert Eileen Tores explained to students in a virtual event the meaning of the tradition. Students also learned how to make masks with a chance to win $300 worth of gift cards.
Despite the coronavirus pandemic, CAB was determined to stage a diversity of events.
"Unfortunately, COVID-19 has been difficult to assure lots of students what's going on," Abumeri said. "For my position specifically I always think quality over quantity is more important." 
Mind Tricks with Gary Ferrar was a  live virtual event that took place with chat room challenges for students to take part in. At the end of the show an iPad was raffled. 
The Scary Safe Mask Contest wrapped up Halloweek. Students were given the opportunity to create their own Halloween themed mask. CAB held a supply drive-thru pick up for students entering the contest. Winners received a $50 visa gift card. The best overall winner received an Amazon Fire Cube TV and the most creative submission received a movie projector.