Image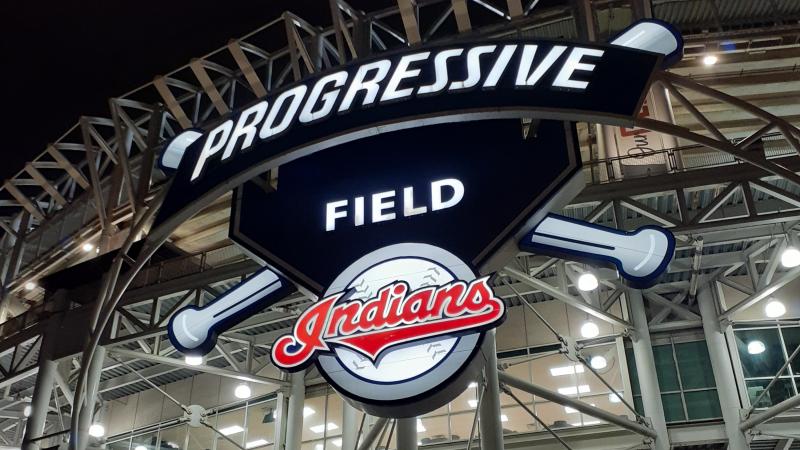 Credit: Abraham Farraj
Cleveland Indians change name after 106 years to Guardians
In July, the city's major league baseball team made the announcement via Twitter that it would no longer be known by the controversial moniker following the 2021 season.
Click below to listen to this story as a podcast.
On Sept. 27, the Cleveland Indians won their last home game before becoming the Guardians. They beat the Kansas City Royals 8-3 to close a run that started in 1915, and they will continue next season with a new identity.
Students at CSU reflected on the decision to change the name and the lasting impression the Indians moniker left on them as fans.
"I think it's kinda cool … It goes along with the bridge now; the bridge that has the Guardian actually on it. The only thing now is that I have to find new Indians things to wear because they're not gonna use the Cleveland logo or anything like that. So, that kinda sucks … I'm excited for it. It's going to be very different."
- Peyton Gandolf, senior promotional communications major
"Honestly, I'm not a fan of it. I didn't think it needed to be changed or anything. I think people got the meaning of the team name wrong. I don't think there was anything that needed to be changed." 
- Brett Louis, junior finance major
Attitudes have shifted over the 106 years that the Indians name was retained, with most fans in support of a name change. Protests throughout the years have often been met with counter-protests and have been antagonistic at times with some even erupting into physical confrontations.
In 1915, Hall of Fame player Nap Lajoie was nearing the end of his career. He was sold to the Oakland Athletics and the Cleveland franchise was to be renamed at the request of owner Charles Somers. "Indians" was selected as a tribute to Louis Sockalexis, the first acknowledged Native American in baseball history, though that story is disputed.
In 1954, the "Chief Wahoo'' logo first appeared on the team's caps and was used sporadically through 1962. The aforementioned protests against the logo began in the 1970's at the Indians' home ballpark and continued at their spring training site. Some of these confrontations have even resulted in legal action.
In December of 2020, The New York Times reported that the Indians would finally be changing their name. On July 23, it was confirmed by the team via Twitter that starting in 2022, Cleveland's baseball team will be known as the Cleveland Guardians.
Cleveland's new name was inspired by two large landmark stone edifices near the downtown ballpark, referred to as traffic guardians, on the Hope Memorial Bridge over the Cuyahoga River. The team's colors will remain the same, and the Guardians' new logos will incorporate some of the architectural features of the bridge.
Guardians is the fifth name in franchise history, joining the Blues (1901), Bronchos (1902), Naps (1903-1914) and Indians (1915-2021).