Image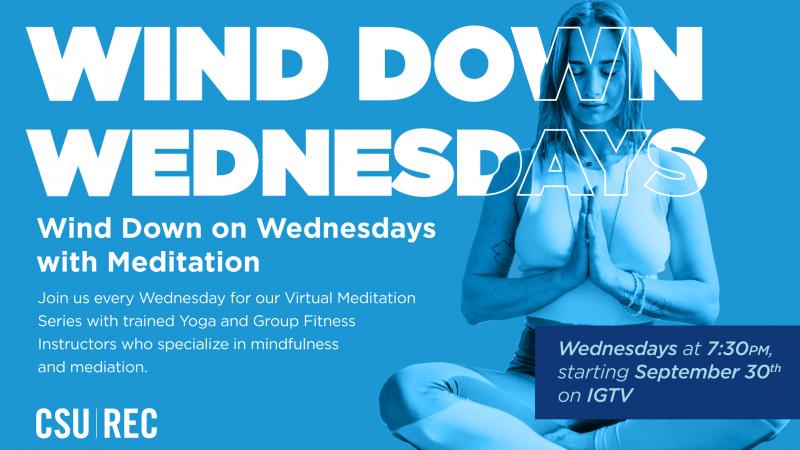 Credit: CSU Rec Center Marketing Department
Wind Down Wednesdays gives students an opportunity to destress
The month of November is here, which means the students of Cleveland State have made it through the first two months of the semester. With just a few weeks left to go in the fall semester, it is a time students tend to find themselves hitting a wall and becoming more stressed.
The Cleveland State Rec Center is certainly aware of this.
That is how the Wind Down Wednesdays program was born. It serves as a virtual meditation session to help students relax themselves as the semester comes to a close.
"We believe meditation and mindfulness is a very important part of our everyday wellness that many may overlook," Rec Center coordinator MacKenzie Lamar said. "Our goal for this program was to bring those tips, tricks and techniques for proper meditation and reflection to everyone's fingertips."
Students will have the ability to participate in the program from anywhere or at any time!
"Students can participate weekly on our IGTV [Instagram TV] by tuning in live at 7:30 p.m. on Wednesdays, or even engaging with the video on our Instagram page and saving it for later," Lamar said.
Students will need to have an Instagram account so they can log on to the website or app in order to participate. From there, all students need to do is go to the Rec Center's Instagram page and locate the video on the feed.
Students should expect to get a lot of value out of the program, in learning new techniques to help on their own as well as a period to let their mind be free.
"The program not only focuses on taking the time to meditate but also incorporates an educational piece into each week," Lamar said. "The program focuses on comfortability, proper breathing, letting go of thoughts during meditation, centering yourself, box breathing and more!"
The program will be live on @clestaterec on Instagram every Wednesday at 7:30 p.m. for any students looking for a great way to be mindful and relieve stress.
You can find more information about Wind Down Wednesdays and other Virtual Rec! offerings here.