Image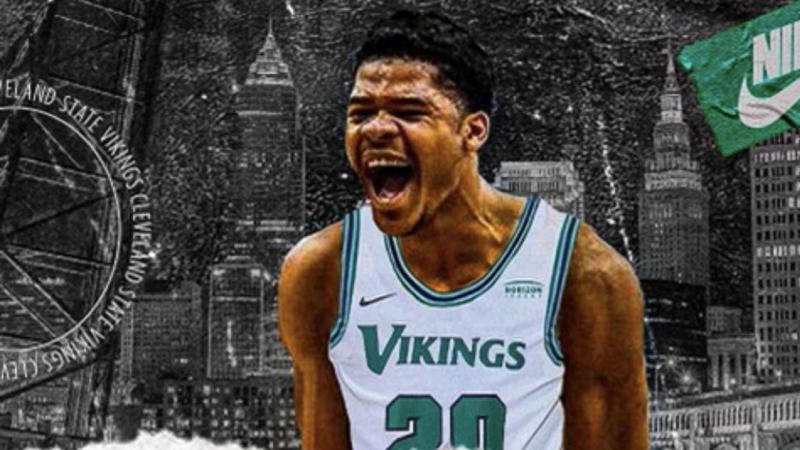 Credit: Ramar Pryor
St. Vincent-St. Mary junior guard Ramar Pryor verbally commits to Cleveland State
"I'm really excited to be at Cleveland State. I feel like it's home and I just can't wait to be there."
Ramar Pryor of St. Vincent-St. Mary High School in Akron plans to head up I-77 North and play basketball for Cleveland State University in 2022.
The 6-foot-2 junior guard announced his intention with a verbal commitment on Feb. 2 via his Twitter account.
"First off I would like to thank God and every single person who has helped me get to this point," Pryor said. "I would like to thank my family for supporting everything I have done being by my side through it all. Lastly, I would like to thank the coaches who took their time to have a conversation with me. With that being said after a long talk with my family I am proud to announce that I am 100% committed to Cleveland State."
He chose Cleveland State over other local Division I programs like Akron and Youngstown State.
Pryor, who transferred to St. Vincent-St. Mary's after his freshman year at GlenOak High school, has been with the Fighting Irish for nearly two seasons and has been a staple in helping keep the private school a basketball powerhouse at the high school level. 
He helped STVM win a D-II district championship in his sophomore year before the coronavirus pandemic shut down the season. The Fighting Irish are 17-2 this season with Pryor coming off the bench and averaging 12 points per game.  
Fighting Irish head coach Dru Joyce II has quite a strong connection with Cleveland State, as his son, Dru Joyce III, is the assistant to head coach Dennis Gates. Dru played a key role in helping Pryor look to the Vikings.
"He was at some of our games last year before Corona came, and he offered me at the St. Ignatius game and after that we just talked a lot," Pryor told the Cleveland Stater. "He talked to me throughout the summer and asked how my family was and how my grandmother was doing."
Joyce III  immediately showed Pryor that Cleveland State is a brotherhood, and it's much more than just basketball.
"They talked to me about how it's a family, and how it's all about the players, and to know what they need and what's best for them," Pryor said. "I just really liked that a lot. They talked about the future, not only just basketball, but what I want to do later on in life, and I really liked that too." 
With his relationship with coach Joyce III still evolving, Pryor has blossomed at the guidance of the elder Joyce while at St. Vincent- St. Mary. 
"He just had a lot of talks with me about how I should play, and how my actions off the court should work," Pryor said. 
Pryor hopes to sharpen his skills throughout his remaining high school years as he prepares for the next chapter of basketball.  
"Just really having that mindset to work harder every year and in the off-season, and getting into the gym a lot," Pryor said. "Just letting the game come to you and not try and force anything and just be a team player."
"I'm really excited to be at Cleveland State. I feel like it's home and I just can't wait to be there."