Image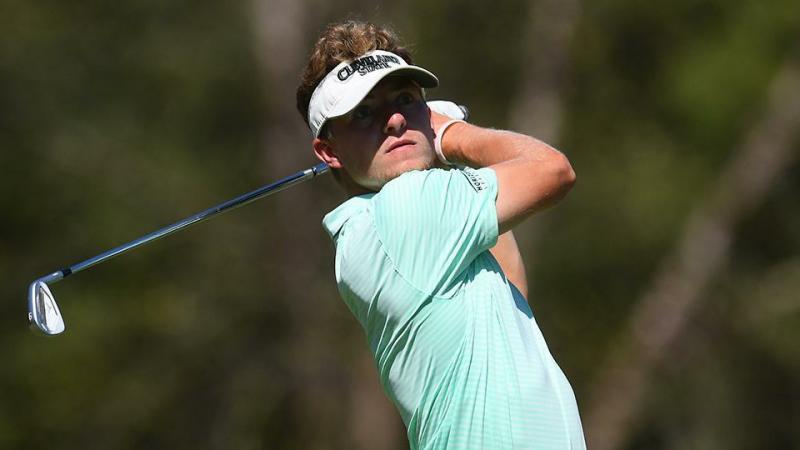 Credit: CSU Athletics
CSU senior Jules Blakely captures his first career hole-in-one
Senior Jules Blakely had a career-first — ace on the par-3, 5th during the Turning Stone Intercollegiate Tournament. It was testament to the support he's received at Cleveland State, and the men's golf team's season so far.
As soon as an aspiring golfer picks up a club, he dreams of sinking an elusive hole-in-one. But for Cleveland State senior golfer, Jules Blakely, that moment is just all part of the ride. 
"It's funny, I just think about playing every day and playing well," Blakely said. "How you play though, doesn't determine how many you'll have. It's more of a milestone."
Blakely hit that milestone on Sept. 6 on the Par-3, 5th hole on the Kaluhyat Course during the second day of the Turning Stone Intercollegiate Tournament in Verona, New York. 
After sinking the shot that had eluded him nearly his entire collegiate career, Blakely said he was frozen at that moment.
"It was awesome, especially since it was against Duke, and I just remember that I froze as I watched it go in," Blakely recalled. "All the parents were chanting for it to go in and when it did, I launched my club. My parents were there and they were really happy for me, and so were my coaches."
Though it was the highlight of the season thus far, Vikings head coach Steve Weir expressed frustration with CSU's performance that day and was honest about the team still requiring momentum. 
"I'm a little disappointed in today's round, but overall a great start to the season," Weir told Cleveland State athletics after the outing. "We have plenty to learn from and get better for our next tournament at Marshall."
Blakely believes the team is close to turning the corner and that they need to keep building each other up.
"We've had instances where we've played some good golf," Blakely said. "The team is close and everyone's fighting for each other. We're all going through some swing difficulties, but we need to stay engaged. I honestly don't like to say we need to get back on track because I feel we're so close."
CSU finished 11th out of 16 teams on Sept. 21 at the River Run Collegiate Event at the River Run Country Club in Davidson, North Carolina.
The Vikings will next compete at their annual hosted event, the Tom Tontimonia Invitational in Westlake, Ohio, on Oct. 4-5.