Image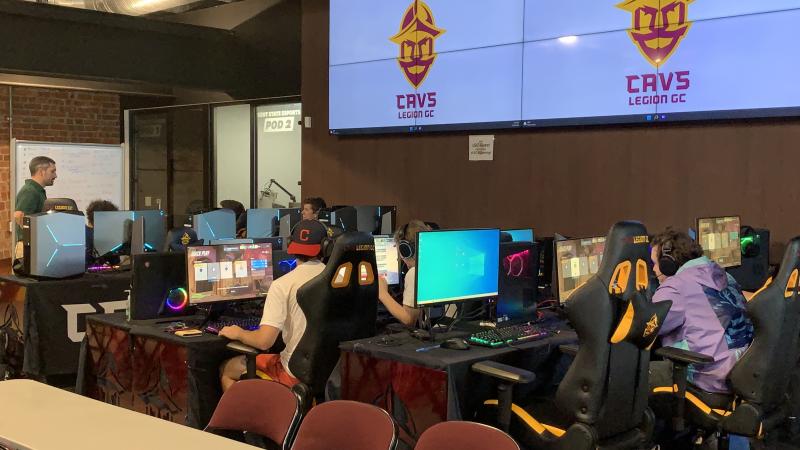 Credit: Mason Cole
CSU esports players are ready to make their mark
Student-athletes on the Cleveland State University esports team are preparing for their first full season as a varsity sport
When Ryan Yeary arrives at practice as a Cleveland State University student-athlete, he does not carry the same equipment as other competitors around campus. He does not put on cleats, he has no clubs or rackets to haul, and he has no need for a helmet. All Yeary needs is a computer with Overwatch installed, the video game he plays for the Vikings.
"I've been a part of other sports teams in the past," Yeary, a junior journalism and promotional communications major, said. "It's not anything new to me. I wouldn't say it's weird."
Yeary is one of the members of CSU's inaugural esports team which will be representing the Vikings as a varsity sport during the upcoming school year. 
Unlike most other sports in the CSU athletic department, the esports team is composed of players who compete in five different games – Overwatch, Valorant, League of Legends, Rocket League and Super Smash Bros. Ultimate. 
The Vikings coach is PJ Farrell and his role is to bring players to the team and make sure everyone is on the same page.
"My role is more trying to find people who specialize in one specific game," Farrell said. "Then try to get all those people to work together. My role is more of a director, really trying to make sure we have teams that are together, we have coaches for all of the different games, and then that everybody is working towards stuff."
Vikings esports athlete Ryan Yeary works on his Overwatch skills at practice at the Cavs Legion Lair on Tuesday, Sept. 13, 2022. (Mason Cole)
The esports team practices and will hold their games at the Cavs Legion Lair, a 2,700-square-foot venue located in Cleveland that is filled with all the necessary gaming equipment and operated by the Cleveland Cavaliers. The Vikings' partnership with the Cavaliers came naturally.
"The Cavaliers G-League team plays at the Wolstein Center so we already had a relationship," Farrell said. "Initially we were thinking about building something on campus in the recreation center, but after weighing some options about how much money that would cost versus coming here, we said a partnership with the Cavs just really makes sense."
For the athletes, practice times and locations are always the same. What each player does at practice varies based on the game they play. Anthony Kedacic, a senior information systems major who plays League of Legends, said his team works to get better during and outside of practice. 
"Right now with practices we're doing four days a week, two hour sessions from 4-6 p.m.," Kedacic said. "We'll play outside (of practice)... We'll play on the weekends for usually three or four hours. A lot of the guys will play with each other like 'hey are you on,' then get some games in."
CSU esports coach PJ Farrell address his team at practice at the Cavs legion lair on Tuesday, Sept. 13, 2022. (Mason Cole)
The CSU esports team is not sanctioned by the National Collegiate Athletics Association (NCAA) but instead will be playing games in the National Esports Collegiate Conference (NECC). Farrell detailed why the Vikings chose the conference.
"The NECC is a really cool league," Farrell said. "There are a dozen different leagues that are out there right now, but something that sets the NECC apart is they will allow us to do two weeks of what we call activation. After activation is done they're going to place us in a division, and that division will be with schools that we're competitive with."
After the activation period, CSU will begin playing games with other teams that share a similar skill level. The Vikings will play a set of games in the fall and spring, both of which end with a playoff bracket and eventually a final championship that could lead to player compensation.
"The winners from the fall and the winners from the spring get to compete in nationals," Farrell said. "The nationals are where you get to win all your money. Because we're not NCAA sanctioned we can award players money through our esports program."
The team knows that esports is not as well known as other sports on campus. That's pushing some players to earn the same level of respect through success.
"Once we start winning high-level leagues I think people will start respecting us," Justin White, a senior math major who plays League of Legends, said. "So we'll be just putting in the work and hoping it pays off."
Other players like Yeary are simply glad to be blazing new trails for CSU Athletics. 
"For me, it was kind of cool to think that we are going to be writing the record book," Yeary said. "To kind of set the bar up high for whoever else is coming in is something that no other sports here have to do. They're all coming in with a record book that's established but nobody here has anyone to look at from a Cleveland State perspective and I think that's pretty cool."