Image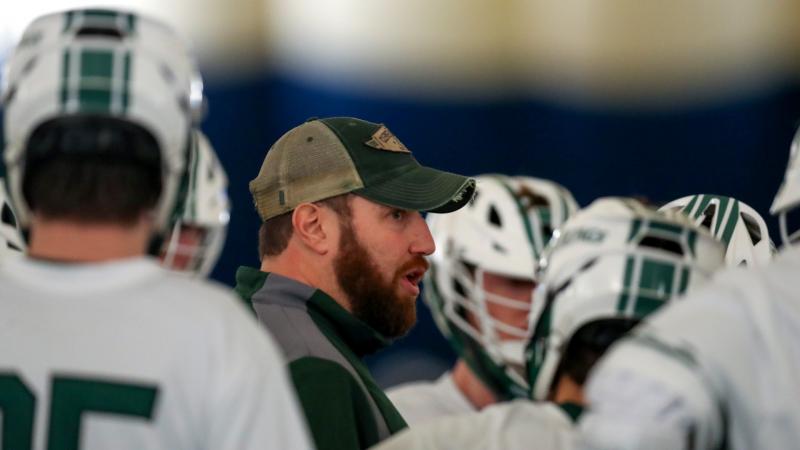 Credit: CSU athletic office
Coronavirus forces CSU sports recruiting to go virtual
COVID-19 has played a big role in how college teams are recruiting across the country. "Thankfully we have not lost any recruits since the beginning of the pandemic," CSU Lacrosse coach Andy German said.
COVID-19 continues to disrupt Cleveland State University sports. This time, the disruption is off the field, as the teams' ability to recruit has been hurt by the pandemic. 
One coach who has been affected by the changes to recruiting is CSU lacrosse coach Andy German. While he and his staff are recruiting in the ways that they still can, he says that recruiting virtually amid a pandemic and having their process change affects them in big ways.
"The pandemic has affected our process, as we have to navigate with the rules handed down from the NCAA," German said. "By the end of the year, it is going to be nine to 10 months of this going on, and with no face-to-face as well as on campus visits, we are at a loss for words."
CSU is one of many schools with teams that have been impacted by the shift to virtual recruiting. This comes after the NCAA has enacted a "dead period."
The "dead period", which began in March, essentially bans coaches from every college athletic program in the country from meeting with recruits face-to-face. All recruiting must now be conducted virtually, either over the phone or via Zoom. The ban on in-person recruiting will extend until at least Jan. 1, 2021. 
"It just has been a really interesting few months," German said. "I feel bad for the recruits and their families, but I understand why we are doing the virtual things for the health and well being of everyone."
Recruiting is a competition in itself. Teams from all around the country vie for recruits and pull out all the stops to persuade them to choose their schools. 
The CSU lacrosse team did not get to finish their spring season due to the pandemic. During a normal season recruits and families can come watch a game and experience the atmosphere surrounding the team and on campus. 
"That part of the recruiting and fighting hard to get the commitments during this has been really unique and interesting," German said. "Not being able to spend time with the kid and his family and having to do it virtually has, to me, become more personal."
The lacrosse coach emphasized that not being able to have recruits on campus or in the locker room is just one aspect of recruiting, but there is also the academic side.
"Students want to be a part of these types of moments for the right things... Do the academics line up?" German noted.
Another big challenge for German and his staff is they have not seen the athletes play a game of lacrosse in person yet. They are relying on film from previous seasons.
"Some kids on film are going to be better than others," German said. "But when you watch the tape you gotta take it with a grain of salt."
"You know it's hard because it's trying to figure out from tape, 'is that kid really fast in person, or are the others around him just really slow?'" he continued. "It's all about the due diligence, and if things start to align and you talk to other people about a certain player and hear good results you start to feel better about yourself as a coach."
The spring season for German and his team was canceled just a few weeks in, due to the pandemic. They don't know when their 2021 spring season will start, or if they will even have one at all. There is still a lot more to be sorted out.
Another unknown is what will happen with the current senior class if the 2021 spring season does get canceled again. It remains to be seen if they will get an extra year of eligibility, as there has been no word yet from the NCAA.
With recruits coming for the 2022 season a year later and the 2021 senior class waiting on their extra year of eligibility, there arises an issue about the number of roster spots. It would be nice to have a lot of players on the roster, coach German said, but it will be tough to make the roster moves to accommodate the seniors and the upperclassmen. 
"While all those questions looming on how the roster will look, some guys just may want to move on," he said.
German said how excited he is for his recruits that stuck with CSU through the pandemic, and he is happy for them to be signing the paperwork on National Signing day.
"Thankfully we have not lost any recruits since the beginning of the pandemic," he said.
This season will continue to be tough, but German remains positive about the people that are helping him and his team through the pandemic. German said that he puts it on the shoulders of his veteran players to work on connecting the team during these difficult times.
"I have really been pressing our older guys to engage with the younger guys," he said. "We have quite a few guys living in the dorms which makes it a little bit easier. That social [connection] off the field ... is very valuable."