Image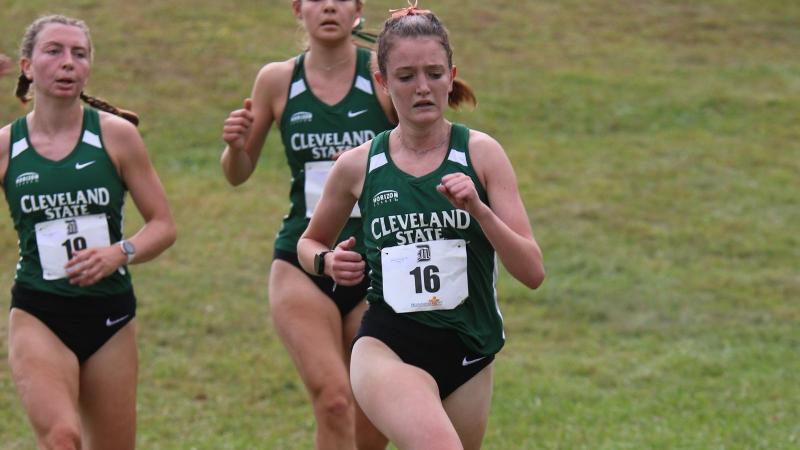 Credit: CSU Athletics
Cleveland State cross country has strong showing at All-Ohio Championships
In the first 6K race of the 2021 season, CSU placed 18th out of over 30 teams.
The Cleveland State cross country team returned to action at the All-Ohio Championship Friday afternoon, competing in the first 6K race of the 2021 campaign. 
For the second consecutive race Kiannah Sarver paced the Vikings, posting a 6K time of 24:08 to finish 55th overall. Madelynn Madison was the second Viking to cross the finish line, posting a time of 24:52 in her first collegiate 6K race. 
Juniors Emily Nemeth and Hannah Korte were the next two Vikings to finish Friday, recording a time of 25:59 and 26:02 respectively. 
Sara Timberlake (26:52) and Colette Conway (27:09) rounded out the Green and White's runners in the championship race, while Savannah Shaver represented the Vikings in the open race (29:39).
The 2021 All-Ohio Championship featured over 30 teams and 230+ runners.
Championship Results
55. Kiannah Sarver, 24:08
91. Madelynn Madison, 24:52
124. Emily Nemeth, 25:59
129. Hannah Korte, 26:02
149. Sara Timberlake, 26:52
153. Colette Conway, 27:09
Open Results
103. Savannah Shaver, 29:39
The Vikings will now have two weeks off from competition, before returning to action at the Lansing Invite in Lansing, Michigan on Friday, Oct. 1 at 2 p.m.