Image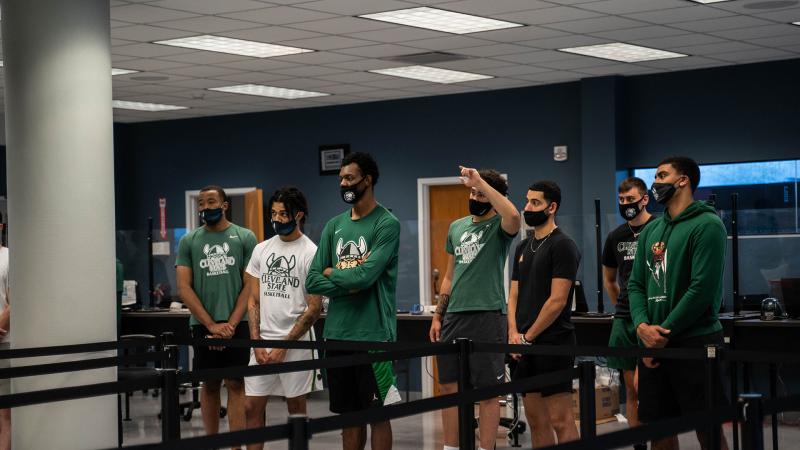 Credit: Maddie Saines
Civic engagement is the game of life
CSU men's basketball steps off the court and into the polls
As the presidential election approaches this November, the Cleveland State men's basketball team is taking the time to become more civically engaged.
The team, along with Head Coach Dennis Gates and the team managers, headed to the Cuyahoga County Board of Elections on Friday, Sept. 25 for a tour to educate themselves more on the importance of voting. 
For more than half of the team, this tour was their first time walking into a polling facility. Now, the entire CSU men's basketball team is registered to vote in the upcoming election. 
Coach Gates said he feels as though it is his responsibility to expose the student-athletes to the importance of civic engagement.
"There's a lot of fears in our country about the voting process and politics. I didn't want to get into the political side. This is not about who you're voting for, this is about exercising your right. A right that so many people have fought for," Gates said.
"So many people have lived a life of trying to get equal opportunity and sometimes when you look at the history you can get intimidated from that, and I just wanted to reduce the fears… Continuing to allow our guys to have educational opportunities to grow into responsible citizens."
Skip White from the board of elections explained to the team the importance of registering to vote, going to the polls or filling out an absentee ballot, continuing to be politically educated and understanding that voting matters on the local level as well as the national level.
This educational opportunity expanded beyond the board of elections when the team continued on to Case Western Reserve University to see the location of the first presidential debate of 2020. 
Coach Gates organized the trip to the Health Education Campus of CWRU and Cleveland Clinic's Sheila and Eric Samson Pavilion in order for the team to experience history, as the presidential debate is part of our country's democratic framework. 
"It was a rewarding experience," Gates said. "Part of history is happening right before our eyes in our city."