Image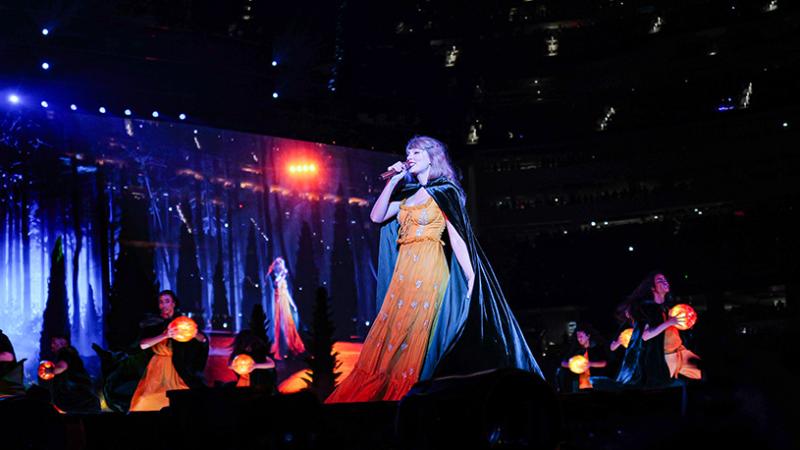 Paolo Villanueva | Wikipedia
Society's obsession with female celebrity relationships is getting out of hand
The NFL's Travis Kelce is rumored to be Taylor Swift's latest relationship, always a hot topic in pop culture. Luckily for Swift, she has found a way to use these discussions of her relationships to create many successful songs.
Female celebrities for years have faced scrutiny and dealt with a societal obsession over their relationships rather than their careers.
Most recently, this can be seen with the discussion surrounding Grammy Award winning singer Taylor Swift and Kansas City Chiefs' tight end Travis Kelce. 
Kelce is rumored to be Swift's latest relationship, always a hot topic in the pop culture community. Luckily for Swift, she has found a way to use these constant discussions on her relationships to create many successful songs.
"Dear John" is arguably one of the most popular break-up ballads by Swift and directly includes the name of the rumored celebrity it was inspired by, singer-songwriter John Mayer. Swift had a brief relationship with Mayer in 2010. 
The two had a 12-year age difference and the lyrics of the song suggest that this may have played a role in the pair's relationship ending.
"Dear John, I see it all now that you're gone. Don't you think I was too young to be messed with?" Swift sings in the ballad from her third album, "Speak Now."
In an interview with Rolling Stone, Mayer admitted to feeling "really humiliated" upon the song's release.
However, for many female celebrities, it's not always possible for them to lean into the rumors and discussions on personal matters of their life and spin them into something positive. Even for Swift, it seems like this situation with Kelce has gotten a bit out of hand.
After the rumors surfaced of Kelce and Swift's potential relationship, Swift attended three Chiefs games on Sept. 24, Oct. 1 and Oct. 12, all of which featured an absurd amount of camera cuts to Swift in the stands. 
Even as a fan of Swift and her music, this became too much for me. It feels like the NFL is trying to take advantage of the rumors as much as they possibly can, which is leaving a sour taste for many.
Double standard
For Kelce, these relationship rumors have more of a positive connotation as the dissection of a male celebrity's relationship tends to make him appear more likable to fans. Other men give him credit for his "success" of potentially dating Taylor Swift and view these rumors as a win for Kelce.
Another example of this double standard on celebrity relationships can be seen with comedian and actor Pete Davidson. His relationships have become huge news in pop culture as he has been repeatedly praised for dating women of higher status and that are arguably more attractive than him. Some of his most notable partners in the past were Kim Kardashian and Ariana Grande.
This is one of the biggest issues I see with tabloids and their discussion on female celebrities' relationships. There is a consistent negative tone that tears women down and places a focus more heavily on their love lives instead of their careers and success. Whereas men fail to receive nearly as much criticism for doing the same.
For Swift, a deep dive into her relationship leaves her with more negative feedback than positive. She faces headline after headline jam-packed with comments on her long history of relationships. On top of that, thousands of not-so-kind words are tossed at her from people on all social media platforms. 
NFL fan reaction to her appearances at Kelce's games have been mixed, but she's taken a lot of flack. HuffPost shared some of the negative comments people have left about Swift's appearances in an article posted after the Oct. 1 game. 
One user said, "You would think Taylor Swift was the quarterback the way [NFL commentators] cannot stop saying her name."
The "Swift effect" masks a bigger problem
Social media's growing use and presence has only worsened this negativity, as literally anyone can comment on a woman's relationships and looks. Women face so much scrutiny if they are not viewed as fitting the "societal standard" for attraction. Even more scrutiny is placed on top of that when there are circulating rumors on their love life.
Comments regarding women's decisions in their dating lives greatly shadow the actual success and goals women reach in their careers, leaving many women feeling defeated. 
The NFL's only mention of Swift's successful music career was seen with a lower-third graphic that said, "12-time Grammy winner" underneath her name. Besides that, commentators made jokes using Swift's song titles and briefly discussed the rumored relationship between her and Kelce. 
There is a much bigger discussion to be had here and it centers around female success and the inability for society to acknowledge that success. Instead, there is an emphasis placed on women's love lives and a lack of care for their career.
The current situation between Swift and Kelce has shown just how much we need to improve as a society. Specifically, we need to shift the lens on women and center it on their successes and careers just as we do for men.