Image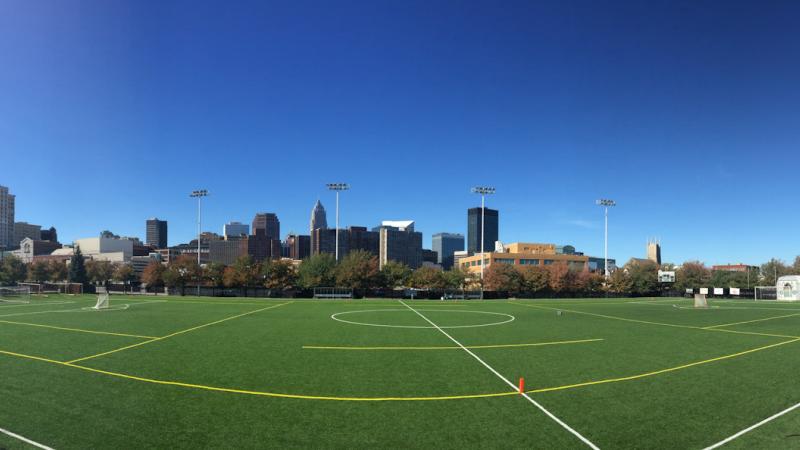 Credit: CSU athletic office
Fall sports in the Horizon League should be playing
The Horizon League is one of a few conferences yet to be playing since the COVID-19 shutdown.
The Coronavirus has made life in the sports world horrendous for so many. From the athletes to coaches, athletic offices and personnel, and to the fans themselves. The shutdown of sports was difficult for many reasons. 
The cancellation of many sporting events occurred back in mid-March when the pandemic started. No one knew when sports would be coming back. 
But as months went on, slowly but surely, sports were finding ways to make a comeback. Starting in late June, and early July sports leagues were finding ways to get back to playing, and bring back some normalcy to the world.
Some sports made it back...
Professional sports organizations like the National Basketball Association and the National Hockey League created their bubble formats to finish their respective seasons and crown their champions. While Major League Baseball had their own way of playing out their season, by playing teams in their own geographical region and having their own bubble for the playoffs. 
Some of the colleges and their conferences found ways to come back and play their fall sports. Conferences such as the Big Ten, Southeastern Conference, Big 12, and Atlantic Coast Conference. Even some smaller conferences like the Sun Belt, and the Mid-American Conference have reversed course and decided to play in the fall.
... but not the Horizon League
One conference that is not doing that, is the Horizon League. The conference with which the majority of CSU's sports teams are affiliated has not had a team play a game since early March due to the pandemic. It made the decision to postpone the fall sports season in August. 
While the Horizon League hopes to play in spring 2021, they should have tried to play now. With some of the big conferences playing and traveling from city to city, it has shown that college sports can be played safely. 
Even though there have been small outbreaks on teams across the country. The majority of them have gotten through the positive COVID-19 cases and are playing their games once again. 
This should be a comforting sight for the Horizon League. Knowing that teams have dealt with the virus, but have gotten right back out there and have begun playing.
What could the Horizon League do?
The Horizon League is not like the Big Ten, in terms of revenue, and attendance at sporting events. They should at least talk to other conferences if they haven't already, and see all the different protocols that are in place. 
They do not have to copy from another conference, but at least they can get an idea of how the protocols are set in place and get a plan of their own in motion for the possible winter sports season. 
All conferences are playing conference only schedules to limit travel and exposure to the virus. Some are allowed to play one non-conference game this fall, a majority of the teams are not. 
The idea of playing a conference-only schedule would benefit the Horizon League greatly. It would mean less travel, and they could add flexibility into their schedules for games that may have to be postponed due to COVID-19 being made up at a later date. 
Sports like soccer play one or two games a week. They do not have a busy schedule like other sports, so it is easy for them to play and have flexibility in their schedule to deal with the virus. 
The postponement is cause for concern with the conference, but at the same time it is not fair to schools like CSU that have to sit on the sidelines and watch other universities play.
Another thing to consider is the possibility of having the fall and spring seasons played at the same time. 
Playing with COVID-19?
If the Horizon League is so worried about the virus that they do not want to risk it in the fall. What makes them so sure that having two seasons going on at one time is safe? 
That is just asking for trouble as you could have up to possibly four or more teams on the same campus at once. This could lead to some hard consequences if the virus is still spreading like it is now.
The teams traveling back to their home campuses and going to in-person classes could put the broader community in danger as well. With issues like this still to be worked out, it is tough to say whether a dual fall and spring sports season would be a good idea.
Testing remains one of the biggest factors. The Horizon League is a small conference just like the MAC and Sun Belt, but those two conferences have been playing fall sports, so it is very possible for the Horizon League to play. 
Red, orange or green light?
The Horizon League could have come up with a way to play this fall. It did not have to be a full schedule. They could have started later and had a limited number of games to have a condensed season. 
A factor that is being weighed by CSU and other teams around the conference is roster depth. With some players of fall sports scheduled to graduate in the fall, will they be willing to come back and play in the spring if the season is played? 
That is a huge concern because a player that a team relies on the whole season may now be trying to begin their future and the team will need to replace them.
These Factors are why the Horizon League should have given the green light to get in a version of the fall season. Meanwhile, teams are being asked to have a range of plans in place, depending on what happens next.
For now we may not know if the decision to postpone the fall sports season was the right move. Being one of the only Conferences left to not be playing a fall season leaves a sad feeling for CSU and every other team in their conference that are not playing at the moment.