Image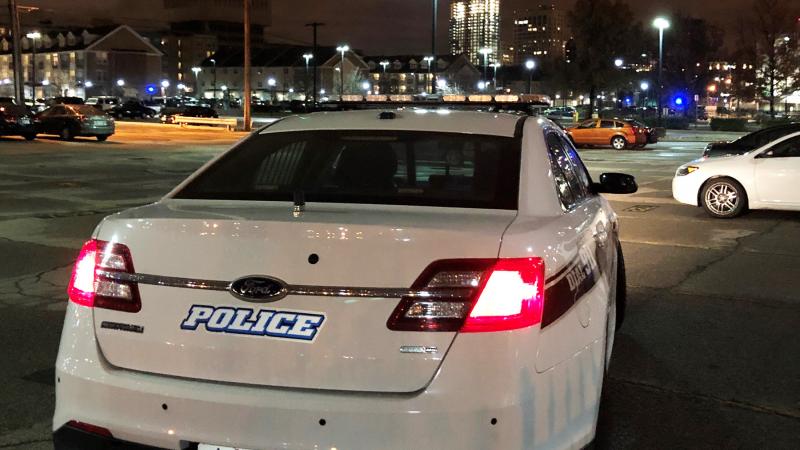 Photo by Kevin Coleman
CSU Police: Serving the city of Cleveland
Cleveland State University Police along with Regional Transit Authority Police and the City of Cleveland Third District Police work together to maintain safety on campus and consistent procedures for exercising police powers.
A legal document called a Memorandum of Understanding, or MOU, outlines the responsibilities of each agency and spells out protocols that each officer is to follow to maintain consistent methods of law enforcement, according to Chief Anthony Traska of the campus police.
A mutual aid agreement in 2006 extended CSUPD jurisdiction to 300 feet outside the boundaries of campus, giving the officers ability to enforce laws on the city streets, Traska explained.
"If we have something serious that happens here on campus, like a robbery, we will call the other districts, so we can get extra help," he said. "The more eyes, the better, when trying to apprehend the offender."
Cleveland's Third District Police take over some incidents on campus that need additional resources to investigate such as hostage situations, bomb threats or explosions, an unnatural death on campus or the use of deadly force by one the police officers, Traska explained.
Cleveland Police Department has an entire unit dedicated to homicide and one dedicated to sex crimes, which equips its investigators with extensive training in those areas, explained Sergeant Jennifer Ciaccia, Cleveland Division of Police Public Information Officer.
The departments share resources not just for crimes but for planned events in downtown Cleveland that cause heavy traffic flow. Towing services, the on-foot traffic unit, and traffic signs to move cars out of downtown are resources often shared by the districts when multiple events are happening at the same time, Ciaccia explained.
"We could end up with traffic clusters, especially if we have something going on at multiple venues," she said. "If we don't work together, we might be sending our traffic into their traffic or vice versa."
Effective communication among the departments is also critical for public safety in emergency situations, Ciaccia explained.
"It's important for [the departments] to echo what we are telling [the public], so we don't say 'evacuate' and they say, 'shelter in place' because it's just confusing people," she said. "It's important for us to have these partnerships and an agreement on how to do what and when to do what. That's the importance of the MOUs and that everyone is following the same protocols because the interaction is so close."
The mutual aid agreement evolved over the years to not only involve shared assistance but to also address accountability in police practices. The city of Cleveland entered into a consent decree with the Department of Justice to improve police practices after experiencing highly visible, use of deadly force incidents in recent years. This decree sought to improve police practices by holding each department accountable for use of deadly force incidents and pursuit of vehicle policy, Traska explained.
"Some agencies may let police pursue a vehicle for a misdemeanor offense, some do not," Traska said. "We do not, because Cleveland does not. It's a high liability issue because CSU's campus is very dense, so we don't want students getting hit by a pursuing vehicle or the vehicle leaving the scene over a very minor traffic violation."
The RTA police department gives campus police access to its camera systems at each RTA stop, in each bus and the Stephanie Tubbs Jones Transit Center, providing confidence that the person who committed the crime is found, said Michael Gettings, commander of the RTA Police.
"That helps give a sense of security and helps us with confirmation of the suspect," Gettings said. "We see fewer crimes committed by people because they are always being watched on public transportation."
Campus police and RTA police have shared jurisdiction of all RTA properties on Cleveland State's campus, providing back up for each other when responding to a call, Traska said.
"We can't be successful without each other," Traska said. "They don't know our campus like we do. We're a small police department and we need their assistance. It's a mutually beneficial relationship. Today, in law enforcement, we have to establish relationships with not only the community we serve but with other law enforcement."
---