Image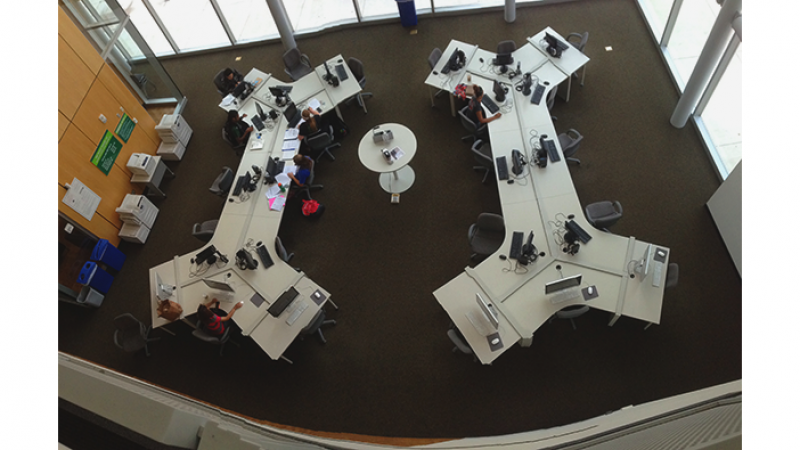 Credit: Cleveland State University
Taking care of Cleveland State's commuter students
Many CSU students live off campus and must travel to get to classes, placing increased importance placed on the commuter lounge and similar areas on campus. But how do the students feel about these spaces and what improvements would they like to see?
Liam Main and Eli Ameshie sit in the commuter lounge of the third floor of the student center on a Wednesday afternoon. The two friends use this space in their downtime between classes.
Both students have been on campus since around 9 a.m. and will remain through 3:30 p.m. With limited downtime between classes, it is difficult to leave campus.
"I only have an hour to two hours between my classes, so if I'm not eating then I'm in (the commuter lounge)," Main, from Brook Park, said.
Main and Ameshie, like many other CSU students, have to commute and stay on campus for a large part of the day. As a result, spaces like the commuter lounge are important and must accommodate the wants and needs of students.
Main expressed his satisfaction with the commuter lounge space and the environment which he said allowed him to get work done between classes.
"I really like rooms like this that are chill," Main said. "It's a quiet space where I can get work done and decompress."
Ameshie, from Berea, expressed similar content with the current commuter lounge.
"The commuter lounge has pretty much everything I need," Ameshie said. "There are couches, desks to work at, and it's a pretty quiet, large space to get things done."
Ameshie added that he would be in favor of the university implementing indoor spaces aimed toward art and music.
"I like art," Ameshie said. "It would be nice if there was a room with a bunch of art to work in or a space to play music."
Main echoed these sentiments, agreeing that the addition of a place for playing music is something he'd like to see.
"I play guitar," Main said. "So if there was a room where we could play music, that would be sick."
In addition to new spaces on campus, many students who utilize the existing break areas gave feedback to improve them.
Of these suggestions was the implementation of a resource that was previously offered by the lounge: video game consoles.
"The consoles used to be in the lounge over by the TVs before Covid and were removed," Udom Phay, from Strongsville, said. "I would like to see them brought back."
Another addition to the lounge that students want was more outlets. With a large portion of class workload being online, it is essential to be able to access files saved to personal devices.
"One thing I would change about the lounge would be to have more outlets," Marko Maric, from Willowick, said. "Especially since most of our work is done online and submitted on Blackboard."
In addition to all of the previously mentioned requests, a simple statement made by Desiree Stevens, from Lorain, was reiterated by nearly every student I had spoken with: longer hours.
With many students having classes that go well into the evening, the Commuter Lounge's current closing time of 4 p.m. can be an inconvenience for those looking for a space to work.