Image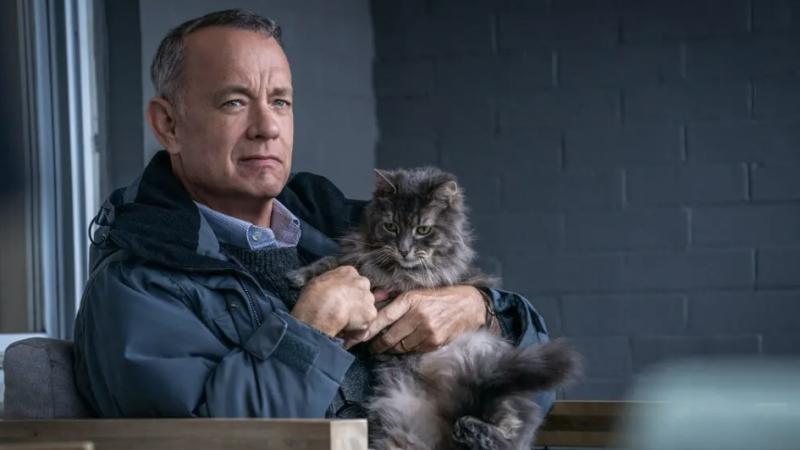 Credit: Niko Tavernise | Columbia Pictures
"A Man Called Otto" with Tom Hanks also puts CSU students on the big screen
Released in theaters on Jan. 13, Sony's "A Man Called Otto," starring Tom Hanks, filmed scenes in Cleveland and Toledo, with some Cleveland State students playing roles as extras. I was one of them.
Sony's "A Man Called Otto" recently debuted in theaters and some familiar faces can be seen in flashback scenes.
They're blink-or-you'll-miss-it moments, but CSU students can see some of their fellow students, including me, on the big screen in a feature film that shot a scene in Cleveland. 
Directed by Marc Forster, who directed "World War Z" and "Quantum of Solace," "A Man Called Otto" is a change of pace, an adaptation of the 2012 novel "A Man Called Ove," by Swedish author Fredrick Backman.
The film follows Otto Anderson (Tom Hanks), a grumpy widower, as he learns to appreciate life again after he meets Marisol (Mariana Treviño), a pregnant mother of two. 
On March 30, 2022, Cleveland State theatre students received an email from the Department of Theatre & Dance inviting them to apply to be extras in a "feature film starring Tom Hanks." A Pittsburgh-based casting agency, Movie Casting PGH, put out the call. 
Students who chose to apply were asked to fill out a form with contact information and to provide photographs of themselves. While no experience was required, they could choose to include prior theatre and film experience if they wanted to.
When I saw that email, I jumped at the opportunity.
CSU theatre majors eventually chosen to be background characters were sophomores Brooke Hamilton and Nicholas Hassan, juniors Emily Anderson and myself, and senior Gabe Jones.
While there was no guarantee we'd make the final cut, I figured why not? Doing background work for the film would look great on a resume, even if I didn't end up in the movie. I wasn't the only one.
"I definitely gained resume-building experience and being able to meet other extras who do this all the time gave me something to look forward to," Hamilton, 19, said. 
Filming also offered us a rare opportunity – to work alongside Hollywood stars.
"It was a pretty cool experience," Hassan, 19, said. "He (Tom Hanks) walked up and said, 'your button's upside down,' flipped it, and I just mumbled some things because I couldn't really come up with words to say."
Filming took place in Cleveland on May 3, 2022 and Toledo on May 4, 2022. Hamilton and I filmed in Cleveland. Hassan, Anderson and Jones filmed in Toledo.
The scenes we were in were a flashback to 1973, at a train station and on the train. Extras were needed to fill in as commuters. The shots in Toledo featured the station and footage taken in Cleveland was on the train.
Prior to filming, extras were fitted for costumes in Toledo, where we were also required to test negative for COVID-19. The warehouse where fittings took place housed a vast array of vintage, 1970s-style clothing. Extras were asked to bring any vintage clothing or accessories we owned, having been provided images of vintage clothing and accessories for reference.
Image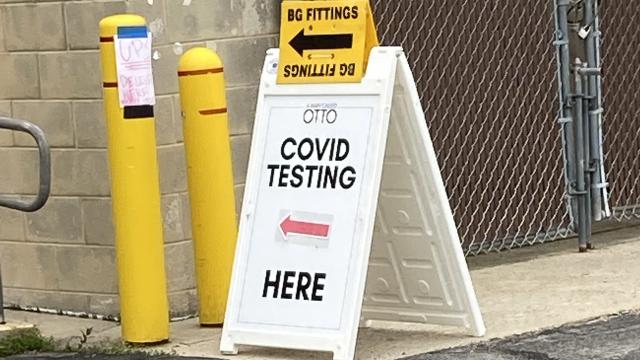 A sign in front of the warehouse in Toledo, Ohio where extras were fitted
for their costumes and tested for COVID-19. (credit: Kasey Sheridan)
On May 3, extras selected to film in Cleveland were called between 8 a.m. and 8:30 p.m. to meet at the Northfield Baptist Church. There we were tested for COVID-19, given our costumes and had our hair and makeup done by the film's wardrobe crew.
From the church, actors were shuttled to the Cuyahoga Valley Scenic Railroad, where filming took place. 
Most of the day was spent on the train, filming a moment where Truman Hanks, playing a young version of the titular Otto, runs across the train to meet Rachel Keller, who plays Otto's wife, Sonya. We were placed into groups that would cycle through the same train car, creating the illusion of multiple train cars as Hanks ran past them.
For most extras, the majority of the filming day was spent waiting to be called. This may seem long and tedious, but it gave rookies like Hamilton and me the opportunity to talk to the film crew and some extras who had lengthy acting resumes. 
Truman Hanks – Tom Hanks and Rita Wilson's youngest son – has worked behind the camera on the film crew of movies including Marvel's "Black Widow" and Steven Spielberg's "West Side Story." He made his debut as an actor in "News of The World" in 2020. "A Man Called Otto" is his second time in front of the camera. He sat across from Hamilton and myself for one shot, making a few jokes between takes. At one point, he asked the cast and crew on a small upstairs train car, "If a train is moving forward, what part of the train is always moving backwards?" 
Nobody knew the answer. I still don't.
Hamilton and I didn't realize Hanks was the son of a Hollywood icon. The penny dropped when another extra told us after he heard us marveling about how much the "actor playing young Tom Hanks looks like a young Tom Hanks." We assumed the young actor just happened to resemble the movie star. So, Hamilton didn't know the actor who earlier commented on her costume was a Hanks.
"Truman commented on my costume and we had a very short but meaningful conversation," she said ruefully.
All Truman said to Hamilton was, to paraphrase, "You're not wearing pants." His observation was accurate, as Hamilton was wearing a skirt.
While the flashback scene in the film itself runs for less than five minutes, it took entire workdays to film. 
Extras were paid for their time and fed by the film's catering department.
When I sat down to watch it at a local theater last month, I had to squint to see myself. I recognized the interior of the train we'd filmed on and, in a flash, saw myself on the big screen, if only for a moment.
I smiled and couldn't help but laugh. After an entire day of filming, I made it to the final cut for less than a second – but it was worth it to see myself on the big screen and be able to list it on my resume. And how many people can say "I'm in a movie with Tom Hanks."
The film was released in select theaters in Los Angeles and New York on Dec. 30, 2022. It was released in the rest of the country and internationally on Jan. 13, 2023. According to Box Office Mojo, the film so far has grossed over $83 million worldwide. 
With mixed reviews, the film received a 70% critic score and a 97% audience score on Rotten Tomatoes. I gave it a 14/10!
You can find showtimes and ticket prices on Fandango's website.
And if you don't want to fork out the big bucks to see me on screen, thanks to a 2022 agreement between Sony Pictures and Netflix, the film is set to land on Netflix sometime later this year.